2011 World Series: Neftali Feliz and the 10 Hardest Throwers in Baseball
Tom Pennington/Getty Images
Everyone loves a big fastball.
As much as we claim to have fun watching soft-tossers like Tim Wakefield, Jaime Moyer, and Livan Hernandez pitch, the type of pitching that sells tickets comes with the arms of baseball's flamethrowers.
These are the guys whose fastballs you can hear. With them, the approach at the plate is to swing early and hope you make contact.
Not everyone on this list is an elite pitcher. In fact, some of these pitchers are not very highly-regarded at all.
But it is nevertheless a spectacle watching these men pitch.
That being said, here are the 10 hardest throwers in baseball.
Note: Pitch speed data is taken from Fangraphs, using highest average fastball velocity between 2009 and 2011 among pitchers with at least 50 IP.
Just Missed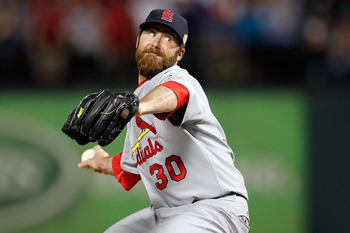 Tom Pennington/Getty Images
95.9 MPH
-Jason Motte, Cardinals
-Matt Thornton, White Sox
95.8 MPH
-Joel Hanrahan, Pirates
-Brian Wilson, Giants
-Bobby Parnell, Mets

No. 10: Three Pitchers at 96.0 MPH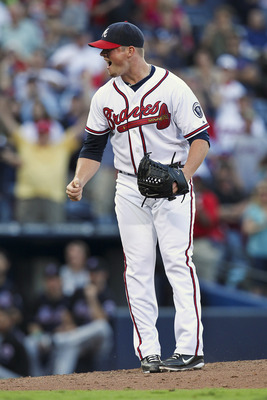 Daniel Shirey/Getty Images
Craig Kimbrel, Braves
The rookie flamethrower was by far baseball's best reliever in 2011, doing so behind his huge fastball and absolutely disgusting breaking ball. He finished with 46 saves, a 2.10 ERA and an incredible 14.84 K/9.
Rubby De La Rosa, Dodgers
The unassuming starter for the Dodgers packs quite a punch, combining his fastball with a very good slider and changeup. He finished the year 4-5 with a 3.70 ERA.
Matt Lindstrom, Rockies
After spending 2009 with the Marlins and 2010 with the Astros, the flame-throwing Lindstrom had a very effective year in Colorado, pitching 63 games and finishing with an even 3.00 ERA.
No. 9: Two Pitchers at 96.2 MPH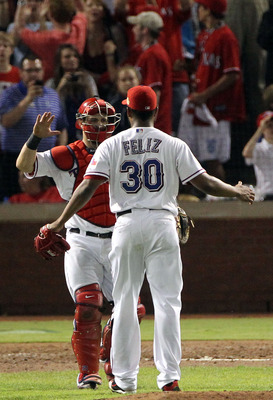 Ezra Shaw/Getty Images
Andrew Cashner, Cubs
The 25-year-old righty pitched only seven games this year, but threw 53 in 2010. In that time, Cubs fans got a glimpse of a huge fastball that Cashner possesses. Unfortunately, his numbers don't quite impress anyone.
Neftali Feliz, Rangers
Here he is! The Rangers' closer throws a very powerful fastball that often touches triple digits. Combined with devastating off-speed stuff, Feliz has claimed his stake as one of baseball's best closers.

No. 8: Jonathan Broxton, Dodgers at 96.3 MPH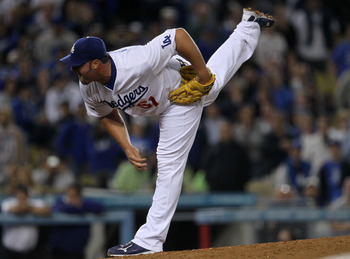 Stephen Dunn/Getty Images
This one is a little tricky. In 2011, Broxton's fastball averaged only 94.1 MPH, down from 97.8 two seasons ago. However, because he only threw 14 games this year, his average wasn't hurt much. As such, Broxton has become increasingly ineffective out of the bullpen.
He's still got the big fastball, though.
No. 7: Mark Lowe, Rangers at 96.4 MPH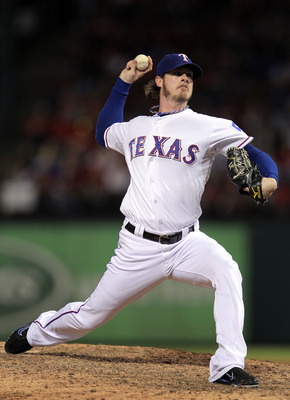 Doug Pensinger/Getty Images
Texas has some hard throwers, don't they? Between Lowe, Neftali Feliz, and Alexi Ogando (95.3), Texas has three legitimate 95 MPH-plus throwers. Lowe has been fairly effective for the Rangers this season, posting a 3.80 ERA in 52 games in the regular season.
No. 6: Stephen Strasburg, Nationals at 96.9 MPH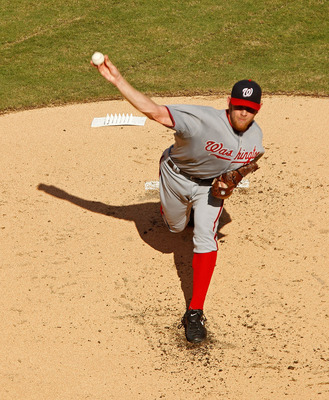 Mike Ehrmann/Getty Images
He's pitched 17 games in the majors, and that has been more than enough time for people to see how good Stephen Strasburg really is. The 23-year-old righty, back from Tommy John surgery, was fantastic in five starts this year.
His big fastball is just the start, as he also possesses a plus curveball and a plus changeup.
No. 5: Daniel Bard, Red Sox at 97.5 MPH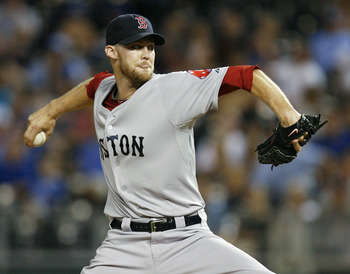 Ed Zurga/Getty Images
The Red Sox setup man and Jonathan Papelbon's heir apparent, Bard has been dominant up until late this year. His electrifying heater has been blowing American League hitters away, setting up one of baseball's nastiest sliders.
If he is promoted to closer next year, Boston will have one of baseball's hardest throwing men to shut the door.
No. 4: Jordan Walden, Angels, at 97.8 MPH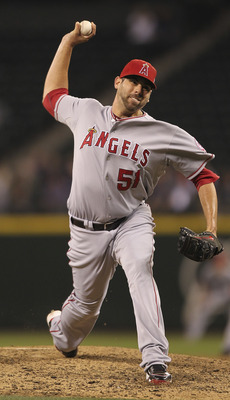 Otto Greule Jr/Getty Images
At 6-foot-5 and 235 pounds, it's no surprise that Jordan Walden can throw hard. But 97.8 mph? That's just unfair. The rookie closer for the Angels was a revelation this year, closing 33 games with an ERA of 2.98. There are great things to come from this man, especially if he continues to blow hitters away with that fastball.
No. 3: Aroldis Chapman, Reds at 98.2 MPH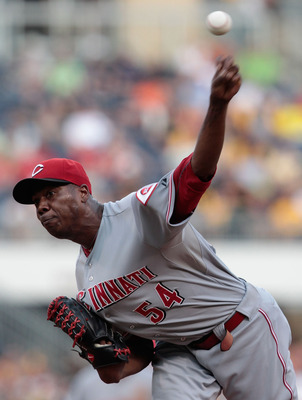 Jared Wickerham/Getty Images
Ever heard of this guy?
The hardest-throwing lefty in baseball, Chapman holds the MLB record with an (unofficial) 106 mph fastball. On average, though, Chapman's heater comes in at a much more modest 98.2 mph. Though he's had some control issues at times, the Reds' southpaw is one of baseball's most exciting pitchers to watch just because of his incredible high heat.
No. 2: Henry Rodriguez, Nationals at 98.3 MPH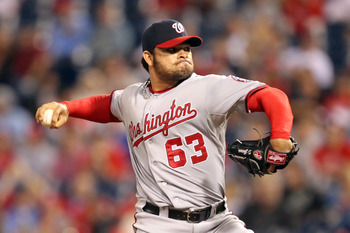 Hunter Martin/Getty Images
Perhaps the most unheralded flamethrower in baseball, Washington's Henry Rodriguez actually had his slowest fastball year this season, with an average velocity of 98.0 MPH. However, that is down from 99.1 and 98.8 in 2009 and 2010, respectively.
Rodriguez pitched in 59 games this season, posting a 3.56 ERA in a respectable year for the Nationals. He will be fun to watch.
No. 1: Joel Zumaya, Tigers at 99.3 MPH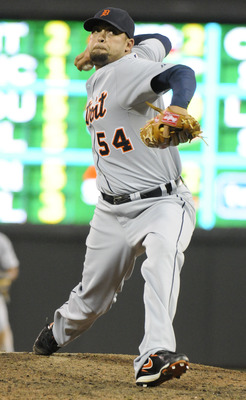 Hannah Foslien/Getty Images
Zumaya barely made it over the innings threshold for this list, throwing 69.1 innings since 2009, largely due to his almost constant place on the disabled list. But when he's healthy, there are few more electrifying pitchers in baseball.
It's hard to appreciate just how hard some of these guys throw, but it becomes easy to explain with Zumaya. The fact that he has missed most of the last three seasons because of arm injuries illustrates just how hard he throws.
Throwing a baseball at an average of almost 100 MPH puts a ton of stress on the human arm. Unfortunately, Joel Zumaya is exhibit A.
Keep Reading