NFL Picks Week 8: Washington Redskins and 3 Teams Destined to Fail
October 27, 2011
Dilip Vishwanat/Getty Images
Another week of football is on the cusp and teams are starting to really figure out who they are.  There have been seven weeks to tinker with game plans and lineups, but now as we're reaching the midway point in the season, teams are rising and falling considerably.
Dreams are falling apart for some teams and the others on this list never had their dreams begin.  Let the Andrew Luck sweepstakes begin!  There are some bad teams out there, but some just can't catch a break. 
If they are on this list, they will fall short again.
Washington Redskins @ Buffalo Bills

The Redskins fall into that category of a dream season falling apart.  They started out 3-1 and led the NFC East for a wink, just like Rex Grossman said they would.  Then Grossman let the unraveling begin with his own arm throwing four interceptions to the 1-4 Philadelphia Eagles.
Now it's when and not if the Redskins will take over the bottom spot on the NFC East totem pole.  In their defense, they have been riddled by injuries in the worst way.  They are now down their best receiver, Santana moss, for at least five weeks and have their lead running back, Tim Hightower, out for the season.
If I know Mike Shanahan, and I think I do, he will find someone to fill the void at running back.  The problem in Washington again lies at quarterback, where they now start inexperienced John Beck.  Beck got his first taste of starting action with the Redskins last week and failed to beat the 1-5 Carolina Panthers.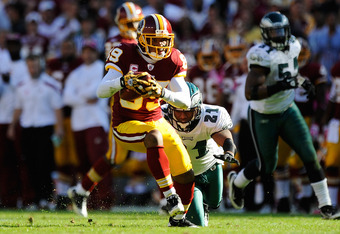 Patrick McDermott/Getty Images
The Panthers have played everyone tough, I mean everyone, but it was still a game the Redskins had to win.  Now Beck will have to play a better Buffalo team in Toronto and he'll be asked to do so without Moss or Chris Cooley.  Fred Davis is a great young target, but it just won't be enough.
With Jabar Gaffney as Washington's top threat at wide receiver now, the Redskins will struggle to score points even more than they already did.  They are a six-point underdog to a Bills team that thrives on jumping in front of balls on defense.
This could be a disaster for John Beck and possibly cause more turmoil at the quarterback spot.  All these changes in the offense will be too much for even the tough Redskins defense to overcome.
St. Louis Rams vs. New Orleans Saints

The Rams have the unenviable task of playing the red-hot New Orleans Saints.  The Saints just dropped a whopping 62 points on one of the league's other doormats, the Indianapolis Colts.
The Rams have failed to win a game this season and won't see any light at the end of the tunnel this week.  The Saints' offense has so many weapons the Rams won't even know where to begin in finding a way to stop them.
They may not have to face running back Mark Ingram this week, but the Rams and their last-ranked rush defense will see a lot of Pierre Thomas and Darren Sproles.  After allowing over 250 yards to a little-used rookie in DeMarco Murray a week ago, the Rams' hands will be full with Sproles and Thomas.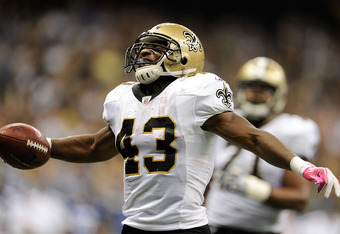 Stacy Revere/Getty Images
That is if the Saints even bother running the ball.  Drew Brees threw five touchdowns last week en route to their 62-point outburst.  The Rams will have to stop breakout tight end Jimmy Graham and the Saints' receivers first.
This week spells a lot of trouble for the downtrodden Rams.
Arizona Cardinals @ Baltimore Ravens
The Cardinals may assume they are catching the Baltimore Ravens in a lull after they failed to score until the waning minutes of last Monday night's game, I doubt it, though.
The Ravens had a lot of problems moving the ball against the Jaguars, but they've been as close to perfect at home as it gets.  They have won their three home games this season by an average of 32-12 and will be ready to prove their offensive worth this week.
The Cardinals are meeting the Ravens at the wrong time and certainly in the wrong place. 
As good as Baltimore has been at home, the Cardinals have been worse on the road.  They are only scoring 13 points per game on the road and have lost five straight overall.  It will be tough to move the ball against the Ravens this week, and their only shot will be to score in bunches.
That's something Arizona hasn't been able to do at any point this season.  They will fall to 1-6 with a whimper this weekend.