Montreal Canadiens: Habs Thankful for Max Pacioretty and Lady Luck
October 27, 2011
Richard Wolowicz/Getty Images
The Montreal Canadiens finally won at home last night, and they did it in a big way, beating the Philadelphia Flyers 5-1.
After a very strange early evening that included the firing of assistant coach Perry Pearn, the Habs took the ice hoping to turn their season around.
To be honest, it did not look like last night was going to be a good one in the first period.
Flyers goalie Ilya Bryzgalov looked like he could have taken a nap with the lack of action in front of his net. The Habs were on their heels, and it seemed like nobody wanted to score a goal.
And then, a twist of fate.
On a power play late in the first, down 1-0, the Canadiens finally got lucky. Yannick Weber tied the game with three ticks left on the clock.
Usually the Habs are the ones being scored on late in the period. They are the ones that hang their heads going into the locker room.
It was about time that the Montreal Canadiens caught a break.
Ilya Bryzgalov did not play a good game, surrendering five goals in 28 shots. Lucky.
Max Pacioretty suffered a partially torn ligament in his wrist during the Habs' game against the Florida Panthers. There was no timetable for his return—it was indefinite.
Guess what? More luck.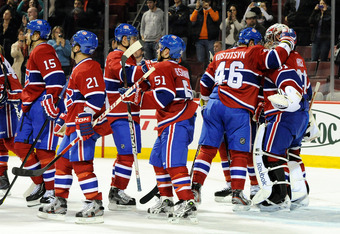 Richard Wolowicz/Getty Images
Max Pacioretty not only played last night, he scored two goals (including the game winner) and added an assist.
He was the best player on the ice and is a growing legend who is ingraining himself in Habs' folklore. Max cannot be kept down—if he isn't a motivational factor for the rest of the team, he sure should be.
The majority of Habs fans may want my head for saying this, but I think Jacques Martin did a good job in adjusting his lines during the game.
He moved Patches to the top line with Tomas Plekanec and Brian Gionta, and the Czech centreman responded well. For the first time since their win in Winnipeg, the Canadiens had a scoring first line.
Michael Cammalleri was able to score a goal (an insignificant one, but a goal nonetheless) late in the game skating on David Desharnais' wing along with Erik Cole, who keeps improving and looking like a very solid investment.
Lars Eller may have missed an open net, but he will continue to develop chemistry with Andrei Kostitsyn. The two make up a legitimate threat on the third line.
Credit Pierre Gauthier (even though he made a questionable call in firing Pearn on gameday) with trading for Petteri Nokelainen and calling up Mike Blunden from Hamilton. The Habs now have a fourth line that they can roll.
P.K. Subban looked like he should, as did Carey Price, who notched his 100th career win on his sixth try.
If the Habs can carry their momentum, the Boston Bruins, who are also struggling, will be in for a tough night. They will no longer be facing a team that is hanging their heads in shame.
Lucky or not, they won a big one—and they want more.
Jason is on Twitter: Follow @jhytel