Candid Cam: Carolina Panthers QB Cam Newton Is Just Being Himself
October 27, 2011
Scott Halleran/Getty Images
Think about that word for a second: candid.
Candid: relating to subjects that are acting naturally.
The key word there is "naturally." Cam Newton has done nothing but be himself in his rookie season. I don't believe anyone expected Newton to be this good in his first year in the NFL, myself included.
I honestly thought we had another JaMarcus Russell on our hands. A giant, athletic, beast of a QB who was a first overall pick and future bust. That was my initial thought. The preseason came and I thought, well, the same thing.
Then the regular season began. Newton became the first NFL QB to ever throw for over 400 yards in his first two games. His current stat line (as of Week 7) includes a 60.3 percent completion rate, 2,103 yards passing, eight TDs and nine INTs, all adding up to a 82.8 QB rating. That's not bad, especially whenever you add 266 yards rushing for seven more TDs.
The stats are much better than I, and many others, thought they would be. In fact, I wasn't even expecting Newton to begin the season as the starter. I thought good ole' Jimmy Clausen, Carolina's second-round pick from a year ago, would beat him out in the preseason.
However, Newton has showed that he can get it done on the football field, and has made believers out of many people.
The thing that is most impressive is Newton's intangibles. Only seven games into the season it is obvious that Cam is the unchallenged leader of the Carolina Panthers. He is one of those athletes who demands your attention, whether your on his team or not.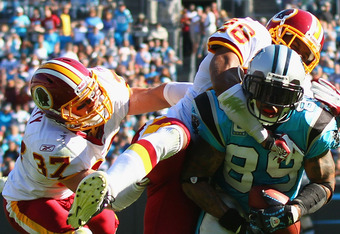 Dilip Vishwanat/Getty Images
He has not only brought athleticism and talent to a desperate team, but also attitude, confidence and, most importantly, swagger.
If you don't believe me, ask Steve Smith. He is playing like the Steve Smith of a few years ago; jumping over cornerbacks, running by safeties, occasionally trucking linebackers and catching everything in sight on his way. I'm sure that Smith is happy that the Panthers made Newton the No. 1 overall draft pick.
These off-the-field issues, that most scouts were worried about, have turned into Newton's strongest features. Many said going into the draft that Newton was too full of himself or would get into trouble in the NFL.
The only trouble I've seen Newton cause has been in the opposing defense's game plans. He will make mistakes (on the field) because he is a rookie, but he will also keep the Panthers relevant because he is a gamer.
If we look at the Panthers' record (2-5) then we may think that the Panthers have not improved, but let's take a closer look at that record. Four of the Panthers' five losses have been by seven points or less.
They were leading the defending champion Green Bay Packers at halftime and had a chance to win the game at the end. The Panthers also lost in the last seconds against a very good New Orleans Saints team. If a couple more plays had gone the Panthers' way, then we could be talking about the Panthers as a potential playoff team.
Newton has simply come in and done what he did last year for the Auburn Tigers: completely change their atmosphere, lead the team and play great football. He is not trying to be someone that he isn't.
Cam is just a natural. The playoffs may be a year or two down the road for the Panthers, but the most important part of a successful franchise has already found its way to the Panthers organization: a culture of winning.