Clemson Football Coach Dabo Swinney: From Hot Seat to Hot Coach
October 27, 2011
Scott Halleran/Getty Images
Weathering the storm
New Year's Eve, 2010. The clock had just hit zero as Dabo Swinney's Clemson Tigers lost to South Florida in the Meineke Car Care Bowl to finish the season at 6-7.
The charismatic coach who had always seemed to say all the right things was becoming aware that many of the Tiger fans were no longer "All-In." To a large portion of the Clemson fan base, Dabo Swinney was on the hot seat.
There was a large segment of the Tiger faithful who had never been happy with the choice to hire Swinney in the first place. Fans who wanted to completely change the culture of Clemson and return it to the glory days of the 1980s complained that he was really nothing more than a leftover of the Tommy Bowden era.
Many were displeased that a man with no previous experience as a head coach or even at the coordinator level was handed the keys to a once-proud program that expected to compete for an ACC Championship every year.
Things had  certainly changed in one year. Thirteen months earlier, in 2009, Clemson was celebrating their first Atlantic Division Title since the ACC expanded five years earlier, in just Swinney's first full season as head coach. Unfortunately, the 2010 Tigers were a far cry from the 2009 team.
What had started off as a promising season after a 2-0 start and a heartbreaking loss to Auburn in overtime quickly turned into a nightmare season full of close losses and stagnant offense.
When it finally ended in an uninspired effort against a middle-of-the-pack South Florida team, the Tigers stood at 6-7, giving them their first losing season since 1998 and only their fourth since 1976.
Perhaps even worse than that, Swinney was unable to beat arch-rival South Carolina for the second straight year, giving the Gamecocks their first consecutive wins over the Tigers since Richard Nixon was President (1971).
To say that Tiger fans were displeased would be an understatement. The mild discontent that had begun in earnest after three consecutive losses against Auburn, Miami and UNC had morphed into full scale disapproval. With top-tier facilities and a program rich in tradition, the Clemson Tiger faithful weren't going to put up with a mediocre product on the field.
Pinpointing the reason for these on-field failures wasn't at easy as it might seem.
Talent certainly wasn't the issue at Clemson. This was a team with plenty of highly-touted 4 and 5-star recruits on both sides of the ball. Clemson's recruiting classes are continually ranked in the top 25 in the nation nearly every year.
The level of competition also wasn't the problem. The ACC has long been known as one of the weaker automatic qualifying conferences and 2010 was no different. In fact, outside of Florida State, the Atlantic Division of the ACC was full of average competition.
That leaves only one thing—coaching.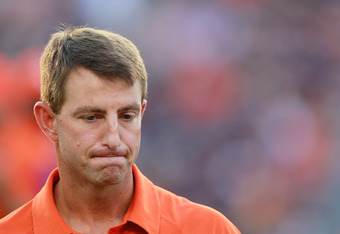 Kevin C. Cox/Getty Images
Clemson's defense had certainly performed well, but the offense was stagnant and lacked a definitive identity. The prevailing theory was that Swinney wasn't allowing offensive coordinator Billy Napier any autonomy in running the offense.
It was no secret that Swinney had wanted to implement some of his own offensive ideas throughout 2009 and 2010—he admitted to sometimes changing Napier's play calls. The result was a disorganized mix of Swinney's preferred spread style of offense and Napier's pro-style approach that emphasized a power run game.
A website with the domain firedaboswinney.com popped up. A Facebook group by the same name was created. The Internet message boards and radio call-in shows were inundated with fans calling for Dabo's head.
Results like this weren't going to be tolerated at Clemson, regardless of what level of success Dabo had experienced the previous year. Drastic changes had to be made, and the former insurance salesman wasn't going to waste any time.
Righting the ship
In his post-game press conference following the bowl game loss to South Florida, Swinney accepted responsibility for the outcome and promised to do everything in his power to make the program better.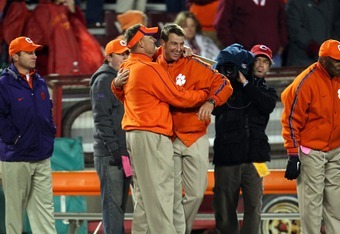 Ned Dishman/Getty Images
True to his word, he wasted little time in making good on his promises. He began to make changes.
On January 2, just two days after the final game of the season, Dabo began his offseason shakeup by firing offensive coordinator Billy Napier and running backs coach Andre Powell. Also, offensive line coach Brad Scott announced his intentions of stepping down as soon as the recruiting season ended on February 3.
If things were going to change at Clemson, it was going to start with the offense. 
The performance of the coaches chosen to fill these positions would likely decide the immediate future of Clemson football and undoubtedly Dabo Swinney's future as a head coach. Given Swinney's limited experience as a head coach, his selection of replacements was sure to get plenty of scrutiny.
It wasn't long before Ralph Friedgen and Chad Morris were reported as two of the leading candidates for offensive coordinator. When Morris was hired on January 9, there was a contingent of fans and analysts who were critical of the decision to go with a man who only had one year of college coaching experience instead of Friedgen.
The concern about lack of coaching experience amongst Clemson's offensive staff would have been quickly placated by Friedgen, who had 25 years of experience as an offensive coordinator both in college and the NFL as well as ten years of head coaching experience at Maryland.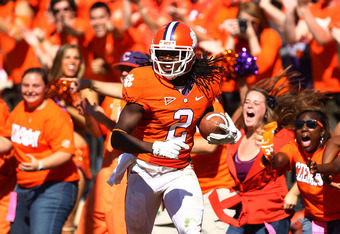 Scott Halleran/Getty Images
Instead of going with the proven commodity, Swinney made the high-risk, high-reward choice. Morris's lone season at Tulsa produced a high-powered offense that ranked in the top ten nationally in both scoring and yardage. It was also a very balanced attack, finishing in the top twenty in both rushing yards and passing yards.
Swinney's other choices were much less controversial. Robbie Caldwell was hired to coach the offensive line. Caldwell had 33 years of coaching experience at the college level, including stints at Furman, North Carolina, NC State and Vanderbilt.
Tony Elliott, formerly of Furman, was hired as the running backs coach, and former Duke co-defensive coordinator Marion Hobby became the new defensive line coach.
Of course, coaches weren't the only things that changed at Clemson in 2011. A nationally ranked recruiting class full of highly-touted recruits also headed into Death Valley.
The 2011 Clemson recruiting class of 29 players was ranked in the top ten in the nation by numerous national media services including Rivals.com and Maxpreps.com. It boasted a total of four 5-star recruits: Sammy Watkins, Mike Bellamy, Stephone Anthony and Tony Steward.
The two biggest weaknesses of the 2010 Clemson Tigers were wide receiver and linebacker. Clemson's 2011 recruiting class ranked near the top at each of these positions.
Sammy Watkins, Charone Peake, Martavis Bryant and Adam Humphries were sure to shore up the wide receiver position. Stephone Anthony, Tony Steward, Lateek Townsend and B.J. Goodson provided plenty of talented depth at linebacker.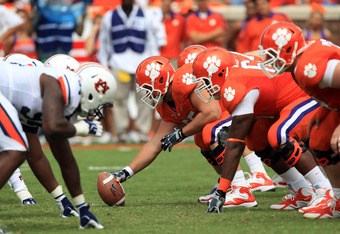 Streeter Lecka/Getty Images
Seeing the results
Between the new coaches and the incoming freshmen, there was plenty to be optimistic about heading into the 2011 season. However, everyone knows that coaches are only judged on one thing—winning games. The lingering question was whether or not all the changes would be enough to produce wins on the football field in their first year.
Clemson opened the 2011 football season with two lower-level opponents in Troy and Wofford. The contests were viewed by many as little more than warm-up games before the Tigers headed into a brutal three-game stretch against defending BCS Champion Auburn, a top-10 Florida State team and defending ACC Champions Virginia Tech.
The results of these three games against preseason-ranked opponents would give the Tigers the opportunity to show the world what type of team they had become in the previous 10 months.
The 2011 season didn't start off much better than the 2010 season. Trailing at halftime in home games against both Troy and Wofford did little to excite the Tigers' supporters about the changes that had been made.
Once again, the Internet message boards were lively and local sports radio shows were overwhelmed with calls from disgruntled fans who, despite the 2-0 record, were ready to write the season off as a failure. They were willing to suffer through it as long as Dabo Swinney would be shown the door.
It was the following week's game against the Auburn Tigers in which all the changes finally began to pay off for Dabo Swinney. Despite being down by 14 points twice in the first half, Clemson roared back in the second half to secure a decisive 38-24 victory, snapping Auburn's 17-game winning streak.
If that wasn't enough to silence the critics, the Tigers continued their success with a 35-30 victory against the No. 11-ranked Florida State Seminoles.
The following weekend provided an even tougher test against No. 11 Virginia Tech in a night game at the always-difficult Lane Stadium. Clemson passed this test with flying colors in a dominant defensive effort resulting in a 23-3 triumph. In doing so, Clemson became the first ACC team to defeat three consecutive opponents that had been ranked in the AP Top 25.
In the weeks following those three impressive victories, Swinney and his Tigers have continued their dominant ways with conference victories over Boston College, Maryland and UNC. The Tigers are sitting pretty with an 8-0 record and a No. 5 national ranking in the BCS.
If they can continue to win, they will not only play in their first BCS Bowl, but they will even have an outside shot at playing in the BCS Championship Game and earning their first national title since 1981.
Dabo Swinney is a leading candidate for National Coach of the Year honors from numerous national services including the Bobby Dodd Foundation, Heisman Pundit,  Liberty Mutual, the Bear Bryant Awards and Beyond Sports U. The national pundits are falling in love with Clemson as they continue to defy all preseason expectations.
Swinney's exuberant personality shows through in each of his interviews, and he has even become something of a minor YouTube sensation.
It's amazing how much the scenery has changed in a short ten months. If these Clemson Tigers can continue their winning ways, job security is something Dabo Swinney won't be worrying about for a long time.
Once again, everyone appears to be "All-In."