MLB Offseason 2012: San Francisco Giants Fielding Overview
October 27, 2011
Thearon W. Henderson/Getty Images
The defending World Champs were doomed from the get-go. Their 2010 victory was built on a house of cards. Of course, that is what makes baseball fun. They pitched over their heads and had a run of good luck down the stretch.
This year, they weren't so lucky.
Buster Posey went down early in the season, and Aubrey Huff turned back into a pumpkin. If it weren't for Pablo Sandoval (in more ways than one), the season could have gone up in smoke. The fielding was still good overall, but they took some shortcuts that ended badly.
DER: .701 (10th)
RA: 578 (2nd)
FLD%: .983 (16th)
Baseball Reference: +19 runs (10th)
Fangraphs: +12.0 runs (10th)
Fielding Bible: +17 runs (11th)
Baseball Prospectus: +13.4 runs (7th)
Composite Runs: +15.4 runs
Much like the San Diego Padres, the Giants went from brilliant (first in the NL in DER in 2010) to merely good. The problem was that their offense took a step backwards. Throughout much of the season, they continued the same magic and kept themselves in it. Then, Brian Wilson went down for the season and they just couldn't sustain it.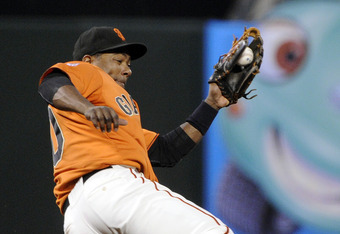 Thearon W. Henderson/Getty Images
Brian Sabean certainly tried in his own way to improve the offense. He brought in Miguel Tejada before the season and Carlos Beltran during the season. This doesn't even mention Jeff Keppinger and Orlando Cabrera. In fact, Sabean resembled a storm trooper with a machine gun. There were a lot of bullets fired, but none hit the target. All of them also had an adverse effect on their fielding.
Best Fielder
Pablo Sandoval doesn't look like a good defender, and goodness knows that you wouldn't think he would be a good third baseman, but you are looking at your Gold Glove third baseman. Of course, he won't actually win the award because, well, he doesn't look like a good third baseman.
Worst Fielder
Miguel Tejada used to rule the Bay Area, but that was on the other side of the bay and that was 10 years ago. Even then, Tejada was hardly what you would call solid with the glove. The spanning decade (actually 12 years in Dominican age time) has not made him better. He's a free agent if anyone wants him.
Possible Changes
Obviously, the Giants have a hole at short. Brandon Belt looks like he is ready to take over at first base. Carlos Beltran is a free agent in right field, and Cody Ross is a free agent in left field. Andres Torres is ripe for the taking in center field. Come to think of it, the Giants are only set at third, second and catcher.
2012 Overview
The Giants know they can't move forward until they get some offense. Carlos Beltran wants them to get more offense, and they know they have to. Now, it just remains to be seen how that is going to affect their fielding.