Notre Dame Football: Can Manti Te'o Lead the Defense to Elite Status?
October 31, 2011
Jonathan Daniel/Getty Images
The last four games of the 2010-2011 season for the Notre Dame Fighting Irish had fans drooling at the thought of a dominant defense. 
Unfortunately, those dreams didn't come to fruition for the 2011-2012 season. The defense just hasn't lived up to fans' expectations. 
So, if Manti Te'o forgoes the NFL draft and stays for his senior season, is it possible for him to lead the Irish defense to elite status?
Let's just say it is unlikely.
The Irish will lose a number of key starters next season.
Three of the team's four starting defensive backs, Robert Blanton, Gary Gray and Harrison Smith, will have used up their eligibility (Jamoris Slaughter, who has shared time with Zeke Motta at safety, has a fifth-year option). Darius Fleming, the team's starting outside linebacker, and the starting defensive ends, Ethan Johnson and Kapron Lewis-Moore, are in their senior seasons, too (Lewis-Moore has a fifth-year option). 
Although very young, the team has depth at the defensive line.
Aaron Lynch and Stephon Tuitt were both thrown on the field early in the season, and the experience they have gained this year will certainly show in 2012-2013. Sean Cwynar could decide to apply for a fifth year as well, and recruits Sheldon Day and Jarron Jones, both physical specimens, will likely add to a deep rotation on the defensive line immediately. 
The Irish are set at linebacker as well with Darius Fleming being the only starter who definitely will not return.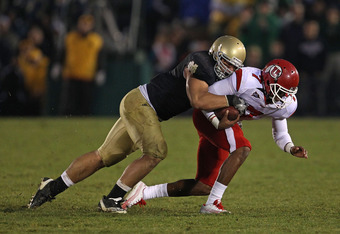 Jonathan Daniel/Getty Images
While Notre Dame has a number of young talented defensive backs on the roster and in its current recruiting class as well, there is no substitute for experience.
That's not to say that young defense backs can't play well, but it isn't probable.
Other than Zeke Motta (and possibly Slaughter), the Irish will practically have no experience at defensive back. Bennett Jackson, Lo Wood and Austin Collinsworth, have rarely seen the field this season (neither has Dan McCarthy who has a fifth-year option).
Fans shouldn't be surprised to see recruits Ronald Darby and Tee Shepard competing for playing time early on, and depending on how well they adjust, they could be fighting for the starting cornerback positions before Notre Dame reaches the shores of Ireland.
Irish fans should be praying for Te'o to return next year. His leadership will be a vital factor if the team wants to have a chance at respectability, but he doesn't play cornerback and expectations shouldn't be too high. 
Realistically, the Irish will be going through a dreaded transition year at key positions. Fans will be watching as a group of inexperienced defensive backs learn how to play their positions on the job.