Oakland Athletics: Curt Young Returns to Bay Area as Pitching Coach
October 26, 2011
Lisa Blumenfeld/Getty Images
It must have been relieving for Oakland Athletics starters to hear the news that Curt Young is returning to the Bay Area as their new former pitching coach.
There's something about the relationship between a starting pitcher and his pitching coach that's not like any other in sports—certainly unlike any in baseball. It transcends the working partnership and dives into the inner most personal comforts and analyses.
Partly the breakdown of physical ability, and partly a study of psychological fortitude, it's like having your auto mechanic and psychiatrist in one person. And as we all know, once you have a good mechanic or psychiatrist, you don't ever want to find another.
That's why starting pitchers have such a strong bond with their pitching coaches. A good one is hard to find.
From 2004 to 2010, Young served as the Athletics' pitching coach, but he left to join the Boston Red Sox in the same capacity last offseason.
However, after an end to the 2011 campaign that saw the playoff hopes evaporate before the Red Sox's eyes, Young was let go in the across-the-board coaching upheaval.
Now he returns to the organization he knows best, where he has worn green and gold for a total of 27 different seasons, both as a player and a coach. It's where he guided the American League's most touted pitching staff for seven seasons.
Young's coaching helped the staff produce an AL-best 3.56 team ERA in 2010, send seven A's pitchers to the All-Star Game, and two pitchers were AL Rookie of the Year winners—Huston Street (2005) and Andrew Bailey (2009).
Ultimately, the crux of the staff is largely intact from when Young departed in '10, led by starters Trevor Cahill, Gio Gonzalez and Brett Anderson, along with the relievers and Bailey, the Athletics' closer.
These familiar faces are the ones whom he has groomed since each of their Major League debuts—some he even farmed in the Athletics' Triple-A team. It's a reunion that will be welcomed with open arms by A's hurlers.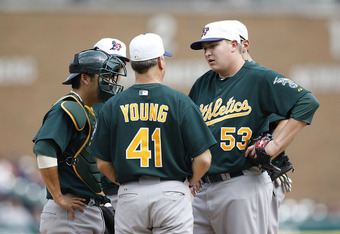 Leon Halip/Getty Images
Furthermore, Young is familiar with the A's catchers, Kurt Suzuki and Landon Powell, who in turn have a transitively comfortable relationship with the pitchers.
This level of continuity enjoyed under Young among everybody involved in the pitching side of the ball should resume as if nothing ever changed and no time has passed.
It's great news for A's fans, who saw Oakland's pitchers fail to meet the team's previously high standards. In nearly every category across the board, A's pitchers performed slightly worse.
Their team ERA, opponents' batting average and OPS all rose as the number of quality starts and team save percentage fell.
That's not to say the talent wasn't there this past year. The truth is, the A's pitchers were leading the league at this year's All-Star break, but they posted a combined 4.48 ERA in the second half of the season.
The rut that Athletics pitchers were in post-All-Star Game was ultimately a major factor in the team's inability to string together a consistent amount of success.
But Young's return will do wonders to re-righting the ship. Last season saw 10 different pitchers on the disabled list at one point or another, including five starters.
Hopefully, Young will be able to work on each player's mechanics, enabling them to stay healthy and remain productive.
In fact, one of Young's reclamation projects will be to fine-tune third-year right-hander Trevor Cahill, who labored through a starkly inconsistent 2011 campaign.
After a remarkable sophomore year, Cahill struggled to keep form throughout this season, tossing a rather ugly 4.16 ERA, while issuing the third-most walks in the league. Maybe he was a victim of high expectations that were set from his outstanding 2010. Maybe that level he reached was an aberration.
Or maybe, like many other A's pitchers, he simply missed Curt Young. Both Gonzalez and Dallas Braden expressed their excitement about having Young return.
It's like having that mentor and counselor back at their disposal. Or, in a similar sports comparison, a golf swing coach or quarterback coach. If you're used to a good thing to get you the success you are accustomed to, then why not bring it back?
For A's fans, it will be a great asset to have the old Young back in the fold, working with the bread and butter of the team—its pitchers. Let's just hope they stay healthy for him to work his magic.