Patriots vs. Steelers: TV Schedule, Live Streaming, Radio, Game Time and More
October 26, 2011
Jim Rogash/Getty Images
If you don't think this upcoming matchup between the New England Patriots and the Pittsburgh Steelers is going to be exciting, I seriously have to question whether or not you have ever seen these two teams play each other.
Simply put, this is a matchup of juggernauts.
Since 2000, the Steelers and Patriots have won the Super Bowl a combined five times, and have appeared in seven.
These are the two biggest dynasties of the AFC right now, if not the entire NFL.
Anytime these two teams get together you are bound to experience intense, physical and classic football, and this matchup isn't going to be any different.
The Patriots come in at at 5-1 and on top of the AFC East. The Steelers on the other hand, come in at 5-2 and are on top of the AFC North.
This is going to be a battle of two football giants.
Where: Heinz Field, Pittsburgh, PA 
When: Sunday Oct. 30. 4:15 p.m EST
Watch: CBS
Listen: 98.5 The Sports Hub, Sirius 91 New England; WDVE FM 102.5, WBGG AM 970 Pittsburgh
Stream: NFL.com packages
Betting Line (Bodog.com): New England Patriots -3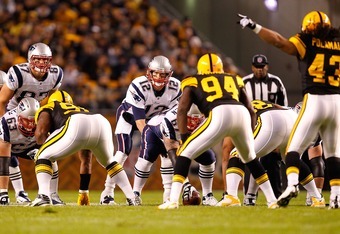 Jared Wickerham/Getty Images
What's At Stake: First place in two very competitive divisions is on the line, as well as an opportunity to stick it to a rival.
Patriots Injury Report: Defensive back Josh Barrett questionable (thumb, hamstring), defensive back Sergio Brown questionable (chest), defensive back Ras-I Dowling questionable (hip), wide receiver Julian Edelman questionable (ankle), linebacker Jerod Bayo questionable (knee).
Steelers Injury Report: Wide receiver Hines Ward questionable (ankle).
Fantasy Start 'Em, Sit 'Em and Sleeper:
Start: Tom Brady has been hitting over or near 400 yards a ton this season. Don't hesitate to start him just because it's Pittsburgh's defense.
Sit: Danny Woodhead has essentially fallen off the fantasy football map. If you're still holding on to him please let go.
Sleeper: Pittsburgh receiver Antonio Brown put up over 100 yards last week and should be a good play against New England.
What They're Saying: Oddly enough, the big news in New England is revolving around pictures tight end Rob Gronkowski took with an alleged adult film star. According to Chris Forsberg of ESPN, Gronkowski has apologized to the Patriots organization.
Will Graves of Boston.com writes about the impressive streak of wins the Patriots have over the Steelers since Tom Brady took over at quarterback in 2001. The Steelers have only beaten the Patriots once in that time period.
Patriots Player to Watch: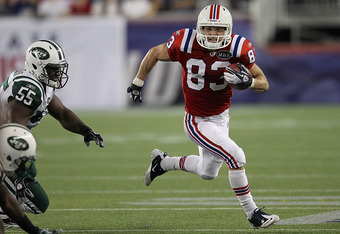 Jim Rogash/Getty Images
Wes Welker has arguably been one of the best receivers in the league this season. He's going to have to play a huge role in the offense as usual if the Patriots want to win this game.
Steelers Player To Watch: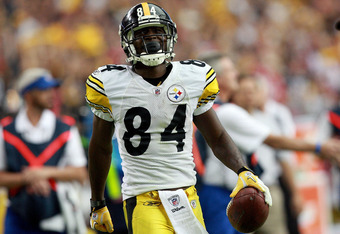 Karl Walter/Getty Images
Keep your eye on receiver Antonio Brown. He's been putting up some big numbers, and with Hines Ward questionable I expect him to be a big target.
Key Matchup:
If the Steelers defense can somehow get under Brady's skin with the blitz, then they have a good shot at a win. We saw the Lions do it earlier in the preseason, so it is possible.
On the Hotseat:
Rob Gronkowski is going to have to have a big game in order to get out of head coach Bill Belichick's doghouse.
Prediction: 
The Patriots are the better team here and will secure a huge road win.
Patriots: 31 Steelers: 28