Week 8 Fantasy Football Rankings: The Fantasy Leaders of the 2011 Draft Class
October 26, 2011
Scott Halleran/Getty Images
The rookie is usually a player that is easy to stay away from on draft day for fantasy owners, and this year was no different with the exception of possibly A.J. Green. 
You just don't know what they are capable of and how, if at all, the coaching staff plans to utilize them in the offense.
To my knowledge there is no one alive that could have predicted the success of Cam Newton or DeMarco Murray in Week 7, and if they had most of us would have thought them to be idiots. 
1. Cam Newton
Without a doubt the biggest fantasy contributor in the rookie class.
Newton could, in fact, be called one of the biggest football surprises of all time.
He came out of relative obscurity from Blinn College to a Heisman Trophy and a national championship at Auburn, then to everyone's surprise got picked No. 1 overall by Carolina in the NFL draft.
Now were at the halfway point of the season, and only one guy stands in Newton's way of being the top scorer in fantasy football, and that is Aaron Rodgers. 
If you were smart enough to snag him after his Week 1 performance, or that your league was filled with enough idiots for him to still be available after Week 2, you are in great shape. 
Heck, who knows? He might even win your league for you. 
2. A.J. Green
If he isn't starting for you every week you are either in a four-team league or you just can't bear to start a Cincinnati Bengal. 
Green has had one of the most consistent seasons of any wide receiver, and resides in the top 10 in points in standard formats in all of the major fantasy websites. 
He and fellow rookie Andy Dalton have quickly developed a rapport and Green gets the favored look from Dalton anytime the Bengals find themselves in the red zone. 
Green is tied for fifth with a stable of receivers with four touchdowns catches, and the best thing that Green owners have going for them is the easy schedule that the Bengals play. 
3. Mark Ingram
Man. Could Ingram have been drafted into a worse fantasy situation?
It is my firm belief that Sean Payton has it out for fantasy football, but that is beside the point. Ingram has had a pretty solid season, scoring three touchdowns and averaging 47 yards per game. 
The question I can't help but ask myself is where would he be right now if he would have gone to a team where he would have gotten a normal amount of carries? 
I truly think he could be in the top 15 running backs this year if he was given the opportunity. 
4. Andy Dalton
While Dalton has likely grabbed no starts from you so far this season, he could be a bye-week play in deeper leagues with the right matchups. 
Dalton has been the most successful rookie quarterback not named Cam Newton in 2011 completing 62.4 percent of his passes for 1,311 yards and seven touchdowns. 
Dalton's success has been affected by that of fellow rookie A.J. Green. 
Green has caught more than half of Dalton's touchdown passes and one-third of his passing yards. 
5. DeMarco Murray
While Murray has had only one big week, his 31 points in ESPN standard leagues Week 7 has made him one of the hottest commodities on the waiver wire. 
What Murray did in Week 7, no other Dallas Cowboy in the history of football has done. On only 25 carries Murray totaled 253 rushing yards, moving himself past the likes of Tony Dorsett and Emmitt Smith into the pantheon that is the Cowboys record book. 
Anyone that has paid any attention to the Cowboys this season should have noticed Murray's potential throughout the season, and were probably highly elated when they realized he would get a chance with Felix Jones' injury.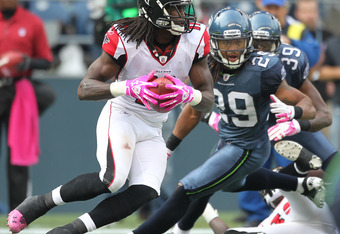 Otto Greule Jr/Getty Images
Who knows if Jason Garrett will give him the bulk of the touches when Jones returns, but I don't see how you can give him fewer than 15 carries a game after a performance like that. 
Best of the Rest
Daniel Thomas: 302 rushing yards, one receiving touchdown
Torrey Smith: 12 catches for 269 yards and three touchdowns
Denarius Moore: 14 catches 212 yards and two touchdowns
Julio Jones: 25 catches for 358 yards
Greg Little: 25 catches for 234 yards