Peyton Manning's Saga: The First True Test of the Indianapolis Colts Fanbase
January 24, 2012

Rob Carr/Getty Images
When I was born in Indianapolis, the Colts played in Baltimore, Bob Irsay had not rented any vans and Peyton Manning was just a football player's son and not the star of one-third of all commercials. In 1980, Indiana was a basketball state, with Bob Knight, Gene Keady and Digger Phelps holding court.  The Pacers existed. The RCA (or Hoosier) Dome wouldn't open for another four years.
The year before, in 1979, community leaders created the Indiana Sports Corporation to attract an NFL franchise through relocation or expansion. Archived articles mention economics more than football, with Indianapolis aiming to position itself as a burgeoning urban center. The city took a risk that their citizens would support football, and it initially paid off, as 143,000 season ticket requests were placed following Irsay's exodus from Baltimore.
I was too young to remember exactly what the air in Indianapolis was like when the Colts came to town. I do know that when it came to football support amongst my peer group, the universities still ruled the day. You were more likely to see a Notre Dame, Purdue or Indiana football jersey than any member of the Colts.
I also know this: When you grow up in an area without professional sports, you typically become a fan of a team based on how close you are to the nearest team, who your father rooted for or through a relationship that you form with a specific player. 
For example, baseball was my favorite sport. There are no MLB teams in Indiana. I always supported players who grew up in Indiana. Don Mattingly grew up in Evansville. Don Mattingly played for the Yankees. I rooted for the Yankees. It's that simple. 
Seeing as how there wasn't an NFL team in Indianapolis until 1984, it stands to reason that there was a large group of people who aligned their rooting interests elsewhere. It would also stand to reason that these roots were deep.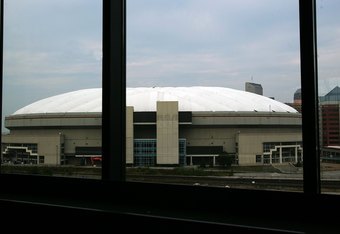 Ronald Martinez/Getty Images
Imagine being 25 years old. You have rooted for team X your entire life. Your father rooted for that same team. You have went to games, bought jerseys and screamed at the television. How easy would it be to switch just because the city you live in gets a team? Would you throw away that allegiance?
Even in the present, the Colts still struggle to gain support in the northwest (Bears) and southeast (Bengals) corners of the state. Those roots are too deep. They aren't moving.  
Small market teams that relocate can work, but they need success and they need a "face of the franchise." In the mid-80's the Colts mortgaged their future for Eric Dickerson. If you do not remember, he was a beast.  
He led the Colts to their first playoff appearance in Indianapolis, a 9-6 (the 1987 season was shortened due to a strike) record and an AFC East (not the East you are thinking of) title. They lost to the Browns in the divisional round. 
The Dickerson Era continued with another winning season in 1988, but no playoff appearance. The Colts also didn't have a pick until the third round of the 1988 draft because they sent six picks (and two players) to the Rams for Dickerson. In 1989, they went 8-8 and missed the playoffs again. 
The next year, Dickerson held out, was suspended for conduct detrimental to the team and the Colts posted a disappointing 7-9 record. They followed that up with a season worse than the one they just endured to finish 1-15. He was traded to the Raiders in 1992, and his time with team was rocky at best.
In 1994, the Colts opened the season in front of 47,000 people. The RCA Dome was already at the bottom of the league in terms of capacity; drawing 13,000 less than a sellout to OPEN the season should tell you all you need to know about the apathy towards the team at the time.
Al Messerschmidt/Getty Images
The organization finally had their first "moment" in 1995. Jim Harbaugh was the top-rated passer in the league, future Hall of Famer Marshall Faulk was running wild and the Colts lost a tough AFC Championship game to the Steelers on a dropped Hail Mary pass to end the game. Unfortunately, this success was short-lived, as they lost in first round of the playoffs the following year and finished 3-13 in 1997 to set them up with the pick that would deliver Peyton.
From 1984-1997, the Colts never won more than nine games during the regular season. They made the playoffs three times, going 2-3 in those games (all of the wins in 1995). Harbaugh and Faulk should receive their due; they were able to get the Colts to the playoffs twice in a row. They also made it possible for people to believe that this franchise can be successful.
Jim Irsay and Bill Polian should also receive their due. When Jim took ownership, he put his heart and soul into developing a winner. He was determined to get Bill Polian in Indy, where he would do an incredible job managing a roster in the "stars and scrubs" mold typically reserved for fantasy owners in auction leagues who eschew the beige ideology of balance.
Peyton Manning changed everything. He was the face of the franchise and the leader of an unprecedented dynasty that made the Colts matter in Indianapolis. 
He has been a Colt for 13 seasons. The 2011 season was the Colts' 27th in Indianapolis. Peyton Manning has nearly been a Colt for half of the existence of the franchise in Indy.
Peyton Manning turned Indianapolis into a football town. If you are a 20-year-old Colts fan, all you really know is Peyton Manning, and winning. If you are a 40-year-old Colts fan, chances are you rooted for a different team at one point in your life.
Regardless, Manning won the city, and now ,both of those fans bleed blue.
Manning has created industries. He has created careers. 18to88.com's (now www.coltsauthority.com; the URL change is not a good omen) Nate Dunlevy would just be writing fantastic books about Indiana basketball if it wasn't for Manning.   
His charity is well-documented (see: St. Vincent's Hospital). His commercial appeal is unrelenting.
Indiana University head football coach Kevin Wilson cited Manning's success as part of an uptick in high school football talent in the state. Manning made it possible to build a stadium that cost over $700 million, while the Colts only ponied (had to) up $100 million, without causing a riot. That stadium will hold the Super Bowl this year, an economic windfall for the city of Indianapolis estimated between 200 and 400 million dollars (not doll hairs).
For some, Peyton Manning is greater than or equal to the Colts. His interview with Bob Kravitz of the Indianapolis Star (published 1/24) indicates a man who knows the road ahead leads out of town.  Manning does nothing by accident, so when he says that he does not want to start a fan campaign about him staying in Indy...he knows what he is doing. He also knows how this ends.
So what say you, Colts fans?  If Manning is under center in a Jets uniform next year, who wins? Is your allegiance to the man, or to the team?