TUF 14: Team Bisping vs. Team Miller, Live Results and Analysis, Episode 6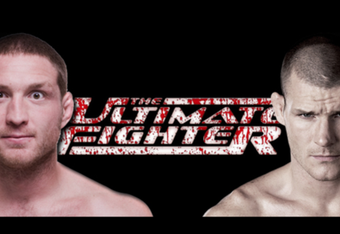 We're over the edge now with The Ultimate Fighter: Team Bisping vs. Team Miller entering its sixth episode and riding the momentum of scintillating fights as well as our first outbreak of genuine reality-show nonsense.
Episode 5 saw yet another exciting bout between Michael Bisping's guy, Akira Corassani, and Jason Miller's entrant, Dustin Neace.
Corassani and Neace had a thorough and sincere taste for each other entering the Octagon, having nipped at each other over various slights while in the house and actually coming to blows during the fight announcement. That animosity lost none of its vigor when they stepped into the cage, and probably still hasn't lost much edge considering Team Miller was convinced (not unjustifiably according to the replays) that Akira tapped to a first-round heel hook before eventually winning by unanimous decision.
Regardless, the Count's squad got its first victory and that promises to add further fuel to the Bisping-Miller flame; one that's beginning to burn bigger as the 14th season progresses.
We've already had exchanges of verbal and prank fire—with the last salvo coming from the Count, who got Mayhem Miller's car towed from a handicap spot—so things could escalate quickly.
And even if the cooler heads prevail between the coaches, we've got the fiery Diego Brandao set to battle Steven Siler, which is yet another grudge match. Additionally, we've got a second scrap between bantamweights.
In other words, it should be another fast and furious TUF installment. So tune in tonight at 10 pm ET/7 pm PT and join us as Bleacher Report brings you live commentary on all the antics.
Next week's looks like another good episode with Team Bisping trying to teach T.J. Dillishaw a crash course in humility—we'll see how that goes, but I'm not optimistic in said course's success—and Tito Ortiz makes a cameo.

Incidentally, I feel like I've seen him give that same lesson in turning through elbows several times already.

Anyway, lots of irons in the fire seven days from now so be sure to catch it all with us.

Thanks for stopping by and see ya next week.
***Waterworks Alert***
John Albert is straight broken up about that loss and (unsuccessfully) choking back tears. Hey, can't blame the man—this must feel like it's for all the marbles and he came up empty.

Luckily, there's Bisping being as classy as ever.
When your own teammates are yelling at you to "fight this guy," it's generally a bad sign.

Oh well, every fight can't be a burner.
Albert was in a bad way in the second round—you could tell he was in there with an opponent whose speed and power he feared because he was sooo tentative.

Consequently, it shouldn't be surprising that we didn't get the stoppage, instead waiting for a five-minute concession to expire.

Call the second round 10-9 for Dodson to clinch a too-easy unanimous decision.
John Albert's doing a nice job blocking those kicks with his ribs.

What's that? You're supposed to catch them before they get to your ribs?

Gotcha.

Easy 10-9 round for John Dodson is in the books and this looks very much like a formality.
Dodson might actually be having more success with his kicks, which is saying something because he isn't struggling with his hands.

Albert gets hurt by one of a blur of punches and finally manages to drag Dodson to the ground, but only momentarily. Now, he's hurt and looks winded in a scrap he was losing when completely fresh.

Uh. Oh.
Dodson comes out of the gates as the quicker and more aggressive individual, but he's also landing the crisper, heavier shots and that doesn't leave much for John Albert.

Team Bisping better hope Dodson comes down with a case of the lazies right quick, otherwise this tussle won't have a happy ending.

And did I mention Team Miller's John is mixing his strikes more effectively?

Yeah, things aren't going well for Prince Albert.
Prince Albert's getting a little ahead of himself…I don't think anyone's eligible for Fight of the Night quite yet.
That UFC gym door has really taken a beating, hasn't it?

It often absorbs the best shots some of these dudes land.
"Fighting is supposed to fun."

Is it?

I'd say that's a novel perspective, although one that Mayhem Miller obviously shares.
"He's talented, but lazy."

Ugh, the other pro sports have enough of those—that's practically the NBA's motto—let's try to keep MMA relatively clean of that particular blight.

Whaddaya say, fellas?
John Dodson is not as cute as he thinks he is, but he just might be the first fighter who is too small to be annoying. Look at el hombre—he's a borderline midget.

How can you really hold anything against him?
Someone might want to remind Prince Albert about the existence of Chuck Liddell and Lyoto Machida because those two light heavyweights rose all the way to the top of the 205-pound division making people chase them.

And it's tough to force a pursuit without backing up.
Except for Bisping, who says he has the best hands out of all the bantamweights and pegs him as a legit contender to win the show.

We'll call Bisping's take the vocal minority.
Ah, his name is John Albert. Now I get the "Prince" nickname.

Sounds like a good dude, but everyone seems down on his chances vs. Dodson.
Hmmm, and now Josh Ferguson sounds off regarding Mr. Dillishaw. Seems like T.J. has rubbed more than a few of his teammates the wrong way.
Uh oh, trouble brewing now between Akira Corassani and T.J. Dillishaw. Aren't Swedish people supposed to get along with everyone?

No, wait, that's the Swiss.
Cute fight announcement all around.

I feel like I need a shower after that display.
I'm gonna zig where I usually zag and say that Team Miller should listen to Michael Bisping's advice on what makes you look like an a******.

I mean, who would know the subject better than someone who's made looking like an a****** into almost an art form?
Holy swollen foot, Batman!

That might be a problem for Roland Delorme, who is apparently not half the fighter that John Dodson is.
I've always had a visceral, negative reaction to people who talk as fast and as much as T.J. Dillishaw. Something untrustworthy about people who spew so much noise at you.

In most cases.
"I don't understand what makes Michael such an a******, I mean, possibly he has a small penis, I don't know. But…he's a d***."

Jason "Mayhem" Miller, ladies and gentlemen.

In his defense, Bisping was shamefully giddy after that knockout. He was practically bouncing around and giggling as he needled Mayhem's coaching staff.

I'm also astounded at how calm Miller is in the face of such antics. I think we need to revisit that whole Nashville Brawl thing; are we sure he charged the cage of his own volition?

I'm thoroughly confused.
Good grief, the Count literally chases after Team Miller to keep talking s***.

Somebody remind this joker that his team has still lost twice as many bouts as its won.

Man, like Miller said, could Bisping be any more of a douche bag?

I say no. At least not with the way he's being depicted here.
Michael Bisping simply cannot help himself—it's like he has a pathological need to talk trash which presents a problem because he's utterly awful at it. Plus, it makes it seem like he just wants his fighters to win so he can rub it in Miller's face whereas Mayhem appears to be far more preoccupied with how his gladiators fare for them i.e. not what their victories enable him to do.

Or maybe Mayhem Miller is merely selling it better.
Ooof, Dana punks out all the other 145-pounders in the wake of Brandao's emphatic victory, implying they're intimidated by the Brazilian's performance.

I doubt that's true, not that I would blame any of them.

I say again, yikes.
This article is
What is the duplicate article?
Why is this article offensive?
Where is this article plagiarized from?
Why is this article poorly edited?