Lions vs. Broncos: Breaking Down Detroit's Matchup Against Denver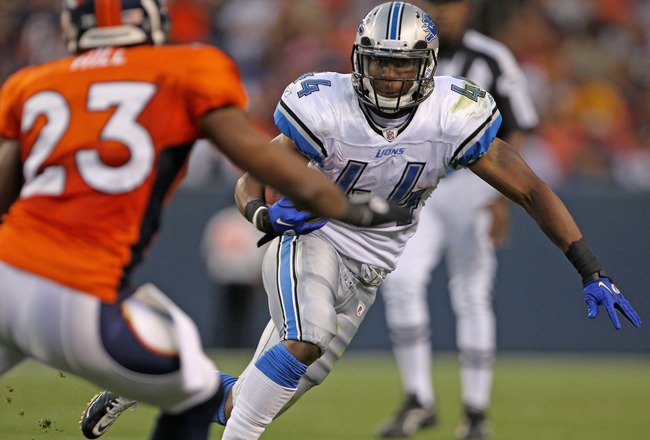 Doug Pensinger/Getty Images
Sunday's matchup against the Denver Broncos presents a very meaningful game for the Detroit Lions.
A win against the struggling Denver Broncos (2-4) would go a long way toward building momentum before a tough stretch of games against opponents like Chicago, New Orleans and Green Bay. This is a very winnable game for the Detroit Lions, and it is one of the games where a victory is needed for the Lions to hold their top spot in the NFC Wild Card race.
A loss against the Broncos would be devastating for Detroit. Denver is not a strong football team, and a loss would reveal there are many more problems with the Detroit Lions than previously expected.
Here is a look at how the Detroit Lions and Denver Broncos will match up on Sunday.
Detroit's Pass-Offense vs. Denver's Pass-Defense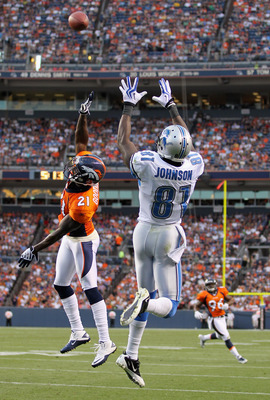 Doug Pensinger/Getty Images
The Detroit Lions' spread offense style passing attack is what has carried this team all season long. With weapons like Calvin Johnson, Nate Burleson and Brandon Pettigrew, Detroit has had great success moving the ball downfield through the air. Detroit is averaging 260.3 passing yards per game and has scored 16 receiving touchdowns, the third-most in the league behind Green Bay and New Orleans. In addition, the Lions rank 16th in fewest sacks allowed and fourth in fewest interceptions.
This success passing the ball for the Detroit Lions may take a huge hit this weekend depending on the health of quarterback Matt Stafford. Stafford is currently listed day-to-day and was in uniform for practice today, but his play was limited.
The Denver Broncos' pass-defense, however, has been anything but special.
Led by veterans Champ Bailey and Brian Dawkins, the Broncos are allowing 247 passing yards per game and have given up 11 touchdowns through the air, the eighth-most in the NFL. Denver has given up six passes of more than 40 yards (third-worst in the NFL) and has picked off the opposing quarterback just three times.
Even if Stafford is unable to go this weekend, Detroit's explosive weapons on offense should have no trouble overcoming the Broncos' defense. Shaun Hill will be ready to go, and he has shown he can win games in the past.
Advantage: Detroit Lions
Detroit's Run-Offense vs. Denver's Run-Defense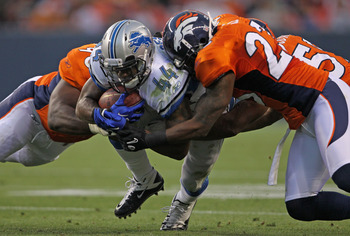 Doug Pensinger/Getty Images
If the Lions' passing attack is what has been carrying them through the season, the rushing attack has been what is slowing them down.
Detroit has had very little success running the ball, ranking near the bottom of the NFL in yards per game (92.7), touchdowns (3) and yards per carry (4.1).
To make matters worse, running back Jahvid Best is not expected to play Sunday. Best is a running back capable of making big plays, but was sidelined in Week 6 after suffering a concussion. The Lions are now left with Maurice Morris and Keiland Williams to carry the struggling rushing game.
The Denver Broncos' rush-defense, while not fantastic, should be enough to shut down any hopes of the Lions establishing a ground game. Denver ranks 18th in yards per game allowed, 10th in rushing touchdowns allowed and eighth in yards per carry.
Advantage: Denver Broncos
Detroit's Pass-Defense vs. Denver's Pass-Offense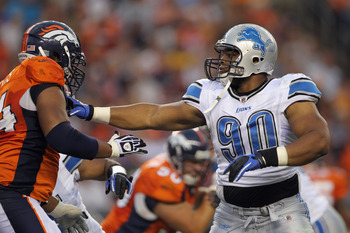 Doug Pensinger/Getty Images
The Detroit Lions' pass-defense has been outstanding this season.
Detroit ranks in the top 10 in passing yards per game allowed and passing touchdowns allowed. In addition, the Lions are constantly making big plays, recording 10 interceptions this season. These playmakers include Chris Houston (three interceptions), Amari Speivey (three interceptions) and Eric Wright (two interceptions). These three defensive backs are some of the best ball-hawks in the league.
The playmaking secondary gets plenty of help from arguably the most dominating defensive line in the nation. Led by Ndamukong Suh and Kyle Vanden Bosch, the Lions have sacked the quarterback 17 times this season.
The Denver Broncos' passing attack will be very limited this week once again. The Broncos are passing for just 189 yards per game this season, have given up 16 sacks and have thrown seven interceptions.The passing game was hurt even more after Denver traded away its leading receiver, Brandon Lloyd.
Last week, Tim Tebow took over at quarterback for Denver and won his first start of the season. However, he only threw for 161 yards and had a 48.1 completion percentage. This was against a Miami defense that has been much worse than the Lions'.
Advantage: Detroit Lions
Detroit's Run-Defense vs. Denver's Run-Offense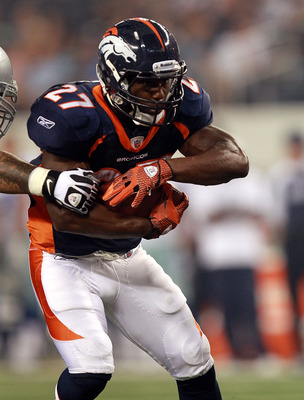 Ronald Martinez/Getty Images
The past two losses against San Francisco and Atlanta have revealed an obvious flaw in the Lions' rushing defense. In consecutive weeks, the Lions allowed 141 yards to Frank Gore and 122 yards to Michael Turner.
This weak defensive play has been the story all season, with the Lions ranking 28th in rush-defense and giving up the fifth-most yards/carry. The lack of rush-defense has been a huge reason for the Detroit Lions' struggles in 2011.
Since the Broncos' running game has also been less than exceptional this season, this battle may come down to which team makes less mistakes. The Broncos are averaging 115.3 yards per game and have just two rushing touchdowns.
However, these numbers may drop even more with the recent injury to Denver's leading rusher, Willis McGahee. A broken finger will keep him off the field for Sunday's game, leaving Knowshon Moreno as the feature back. Moreno was the feature back for the Broncos in 2010 and 2009.
(Slight) Advantage: Denver Broncos
Final Prediction: Detroit Lions 24, Denver Broncos 13
Keep Reading

Detroit Lions: Like this team?