Rooney vs. Messi: 10 Things Wayne Rooney Must Improve to Match Lionel Messi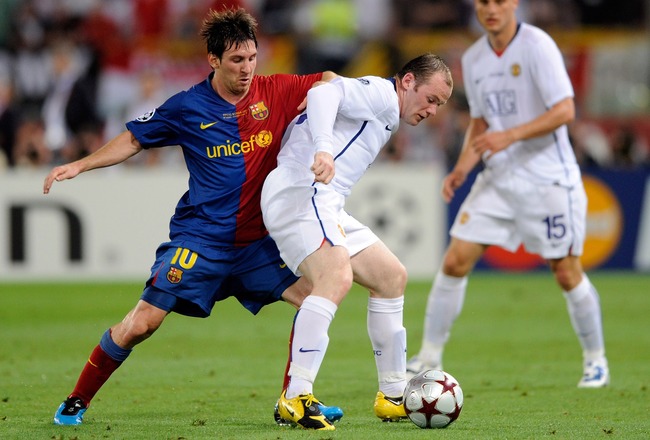 Claudio Villa/Getty Images
Wayne Rooney versus Lionel Messi.
It is a popular topic of conversation among football fans, but the truth is that they are very different players.
A comparison between the two is always hard to make as their styles and play are so contrasting, but it is always a fun assessment to make.
Here is a look at 10 things Rooney could improve if he is to match Messi.
The Players Around Him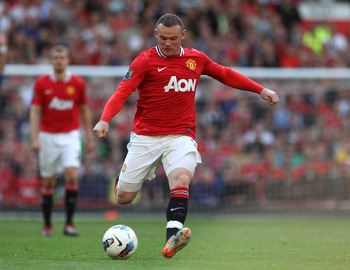 Clive Brunskill/Getty Images
To start off, we should be fair to Rooney with the fact he does not have the talent around him at Manchester United that Messi does at Barcelona.
Messi gets many opportunities laid on a platter for him weekly by world-class midfielders Xavi, Andres Iniesta and Cesc Fabregas.
United, on the other hand, lack the same creativity in midfield.
Wesley Sneijder has long been rumoured as a transfer option for United, and a player or two of that calibre would go a long way to helping Rooney flourish even more.
Temperament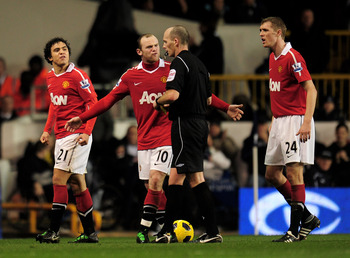 Shaun Botterill/Getty Images
Rooney is famous for losing his cool on the football pitch.
He plays the game with so much passion that his emotions sometimes get the better of him, which is to the detriment of his game.
One could argue that he thrives off that fire in his belly, but at the same time he is supposed to be the finisher, and often the creator, which calls for a cool head.
Messi, on the other hand, plays with almost a careless freedom and rarely becomes flustered.
Discipline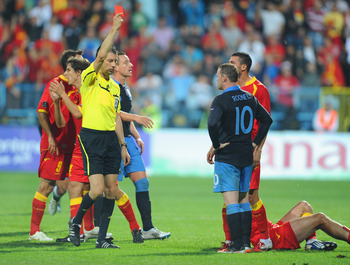 Michael Regan/Getty Images
The direct result of Rooney's erratic temperament is his disciplinary record.
He has been sent off twice in his England career—in the 2006 World Cup quarterfinal against Portugal and recently against Montenegro in a Euro 2012 qualifier, which is likely to see him banned for all three of the tournament's group stage contests.
His Premier League record, however, does look to be improving.
After clocking up eight yellows in 2007/08 and 2008/09, he got six in 2009/10 and five in 2010/11, and so far this season he has picked up no Premier League yellow cards.
Close Ball Control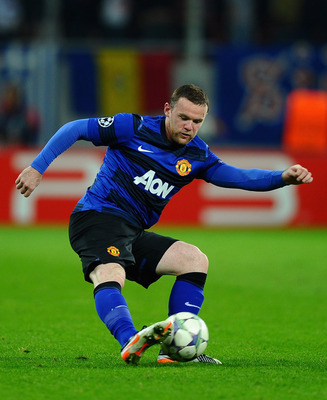 Laurence Griffiths/Getty Images
While he will never be able to match the amazing dribbling skills of Messi, something Rooney could work on is his close ball control.
Messi is such a natural with the ball at his feet and often plays as though the ball is glued to his boots. When he goes on one of his mazy runs, he can look impossible to tackle.
Rooney will never be this sort of player, but he could work on a sharper first touch and take on opponents more, which would make him more dangerous.
Creativity and Flair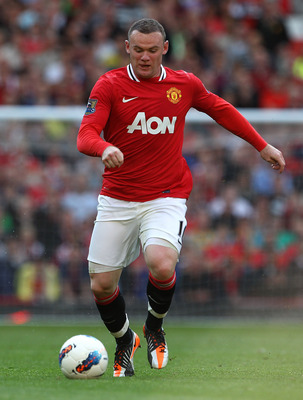 Clive Brunskill/Getty Images
Again, Rooney possesses a completely different skill set to Messi, but a noticeable difference is Messi's ability to create on the spot with absolute precision.
Rooney, the more physical player, does not play with this finesse, but it would be nice to see him try to be a bit more inventive with the ball at his feet.
This is probably the biggest difference between the two players, and while it would be nice to see Rooney try to be more "flashy," one must remember he plays in the Premier League and his style suits English football.
Consistency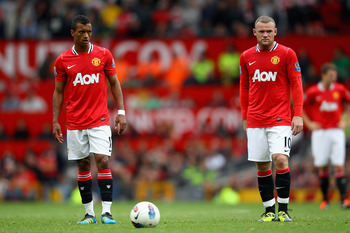 Alex Livesey/Getty Images
Possibly the biggest knock on Wayne Rooney over the past few years has been his consistency.
After a breakthrough season in 2009/10, where he banged in 26 Premier League goals, Rooney suffered a huge slump in form at the 2010 World Cup, which carried over into a lackluster 2010/11 EPL campaign.
He has started the 2011/12 season with a bang and looks back on track with nine goals in eight games, and will be hoping he can now maintain that form.
Messi meanwhile is always a threat with the way he plays and doesn't seem as prone to a form slump. Even if things are not going his way, his pace and dribbling is so electric that he can spark something at any time.
Adaptability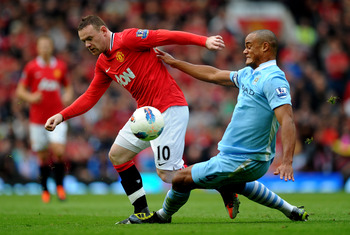 Laurence Griffiths/Getty Images
Rooney has struggled to play in various positions, but this is probably not all his fault.
Such is his value for Manchester United and England, his managers try to squeeze every little bit out of him by moving him around the park.
His form has suffered in recent times and this is maybe a direct result of the lack of opportunity to settle in on one position.
However, if he does become more adaptable at playing in different roles, he will become a much more complete player.
This is easier for Messi because he has a role with more freedom at Barcelona, with a team stacked full of creativity and flair.
Running at Defenders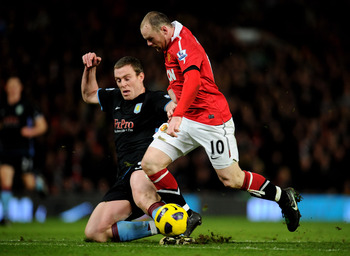 Clive Mason/Getty Images
What make Messi such a pleasure to watch is his ability to take players on and beat them with sublime touch and dribbling.
While this is not really Rooney's role—he is more of a team player and likes to create for others as much as finish himself—it wouldn't hurt for Rooney to take on defenders more often.
He obviously has the skill set to do so, and it would no doubt frighten the opposition to see Rooney become more aggressive with the ball at his feet running at defenders.
Creating Opportunities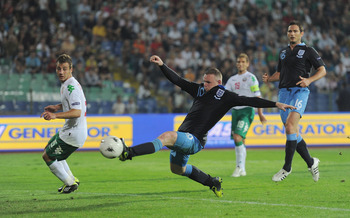 Michael Regan/Getty Images
Again, a lot of this can be put down to the players Rooney plays with each week compared to that of Messi.
Messi has 10 goals in eight Spanish La Liga games this season, with five assists to show he may be improving what was considered a weakness—trying to finish off chances instead of looking for team mates.
But even so, the attention he automatically draws opens up space for others.
Rooney meanwhile is renowned as an unselfish player, but such is his skill level one could forgive him if he did become hungrier with his opportunities.
Respect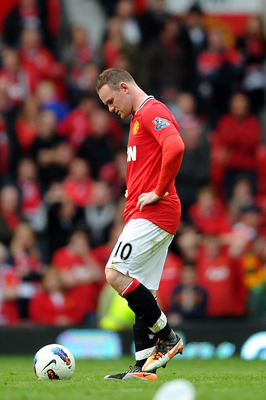 Laurence Griffiths/Getty Images
Football fans around the world respect Rooney as a hugely talented footballer, but it is too soon to say he will go down as one of England's greats.
Messi is well on his way to being an Argentinean football legend. He is held in the highest regard by Argentina fans—the Maradona of his generation.
If Rooney wants to be held in similar esteem, he will need to mature and become a true leader in the coming years.
Keep Reading

Manchester United: Like this team?