Wisconsin vs. Ohio State: TV Schedule, Live Streaming, Radio, Game Time and More
October 26, 2011
John Gress/Getty Images
The Wisconsin Badgers saw their BCS title hopes take a huge hit on Saturday night, but they need to get back on track against the Ohio State Buckeyes if they hope to at least win the Big Ten this year.
In years past, a road tilt at Ohio State would have been just short of an automatic loss, but it's no secret that the Buckeyes football program is going through some tough times this year. It could be many years before they are a national contender again.
As for the Badgers, the best hope for them at this point is probably to at least make it to the Rose Bowl. To get there, they first need to get through Ohio State.
Let's take a closer look at what we can expect to see on Saturday night.
Where: Ohio Stadium

When: Saturday at 8:00 p.m. ET
Watch: ESPN and streaming live on ESPN3.com

Listen: Live streaming audio at iheart.com for Wisconsin and OhioStateBuckeyes.com for Ohio State; see list of radio affiliates for Wisconsin, WBNS (FM 97.1 The Fan) for Ohio State.
Betting Line: Wisconsin -7.5, according to Bodog.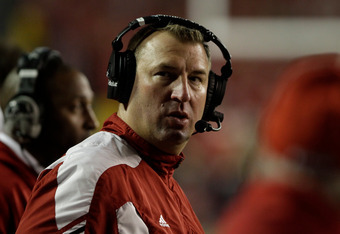 John Gress/Getty Images
Key Storyline
This one's all about Wisconsin.
After looking like one of the most dominant teams in country through their first six games, the Badgers looked pretty human in their first true road test at Michigan State.
Saturday night's tilt against the Buckeyes will be their second true road test. They need to pass it in order to accomplish big things this season.

Who Might Not Play for Wisconsin
Per the USA Today's team report, it sounds like the Badgers are generally quite healthy.
Running back Montee Ball turned out to be okay after leaving briefly with a head injury against Michigan State, wide receiver Nick Toon looked pretty good after sitting out against Indiana and defensive tackle Patrick Butrym showed no ill effects after suffering an ankle injury against Indiana.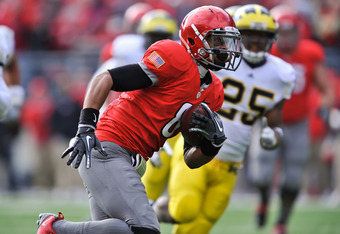 Jamie Sabau/Getty Images
Who Might Not Play for Ohio State
According to Ohio State's team report, the Buckeyes are also pretty healthy, but wide receiver DeVier Posey is currently in the midst of a second five-game suspension.

BCS/Top 25 Poll Implications
This game doesn't have any real implications for Ohio State, but Wisconsin needs to win it in order to keep pace in the BCS race. The Badgers are currently No. 15, and a win will allow them to move up, as somebody has to lose Saturday's contest between No. 11 Michigan State and No. 14 Nebraska.

What They're Saying
Tom Mulhern of Madison.com penned a good piece about Badgers quarterback Russell Wilson, whose poise late in Wisconsin's loss to Michigan State is being largely overlooked. However, Wilson's resolve won't truly be tested until the Badgers take the field on Saturday night:
It was one thing to watch Wilson sail through the first six games with hardly a bump in the road.

Now comes another test, as a co-captain and team leader, to help the Badgers regroup after one of their most agonizing losses in a while in time for another difficult road night game at Ohio State.
If Wilson falls flat, the Badgers will fall out of the BCS race. In addition, Wilson would likely fall out of the Heisman Trophy race. Make no mistake, he has a lot riding on Saturday's game.
Meanwhile, Tim May of The Columbus Dispatch points out that Wisconsin's loss on Saturday night creates at least a little hope for the Buckeyes:
Luke Fickell estimated he was 45 minutes or more into sleepy time when Michigan State converted the desperation pass on the last play of the game that knocked off unbeaten Wisconsin late Saturday night, but the Ohio State coach said he has seen it replayed many times since. He knows the ramifications: The Wisconsin loss put the once-reeling Buckeyes back in control of their destiny, at least as it pertains to the once-rolling Badgers.
Hey, the Buckeyes may be far out in the Big Ten Leaders division, but they might still have a shot to win it if they can beat Wisconsin. You never know.
Wisconsin Player to Watch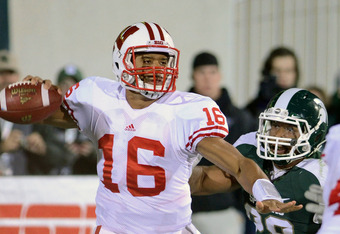 Mark Cunningham/Getty Images
It has to be Russell Wilson. The dude has been brilliant for the bulk of the season, but he got a bit of a reality check against Michigan State. He was still pretty good, mind you, but nowhere near as electric as he was in Wisconsin's first six games.
Don't be surprised if he gets back on track against the Buckeyes.

Ohio State Player to Watch
The Buckeyes don't have much in the way of offense, but they got a huge boost from Dan Herron in his first game back from a suspension against Illinois. He rushed for 114 yards and a touchdown on 23 carries.
If the Buckeyes can get anything out of him against Wisconsin, the Badgers might be on upset alert.

Key Match-up
The Buckeyes play some pretty decent defense, and they're going to need all of it on Saturday. We all know what Wilson can do, but the Badgers have some pretty dangerous weapons at running back as well in Montee Ball and James White. Ohio State's best hope is controlling the line of scrimmage, which could throw the Badgers out of whack.

On the Hot Seat
Ohio State is going to need something out of Braxton Miller in order to stand a chance in this game. He threw just four (yes, four, and he only completed one of them) passes against Illinois, and you have to think Luke Fickell is going to call his number at least a few more times on Saturday.
If he can't produce, the Buckeyes are likely doomed.

Prediction
I racked my brain to think of ways for the Buckeyes to win this game, but I came up empty. I'm a little wary of the Badgers playing a second straight road game, but they should take this one with relative ease.
Wisconsin 35, Ohio State 10