Miami Dolphins: Would Jon Gruden or Bill Cowher Be a Good Fit?
October 26, 2011
After an 18-15 overtime loss at the hands of Tim Tebow and the Denver Broncos, the Miami Dolphins find themselves 0-6 to start the season.
In that same game, head coach Tony Sparano reportedly urged two officials to review a Broncos touchdown and was caught by CBS Miami cameras saying, "If I don't call a timeout, I'm (sunk) and now I'm getting fired, OK?"
Think Sparano is just a little worried about his coaching job?
Interestingly enough, Jason Cole of Yahoo! Sports reported on Tuesday that ex-coaches Bill Cowher and Jon Gruden have "quietly planted seeds" that they're interested in returning to coaching and would be open to hearing out an offer from Dolphins owner Stephen Ross.
Given the way things are going for the Dolphins, it's hard to imagine Ross at least not contacting Cowher or Gruden if they are indeed available. It's also worth noting that Cowher is close to ex-Kansas City Chiefs GM Carl Peterson, who has worked as a consultant for Ross.
So now the question becomes, who should Ross hire if he has a choice between Cowher and Gruden?
Dolphins fans appear split for the most part.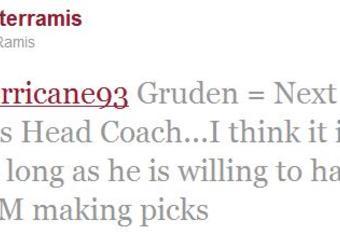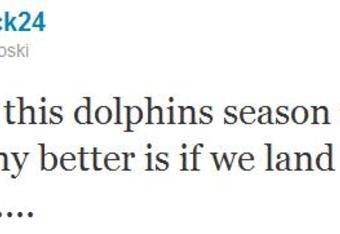 Both Cowher and Gruden come from respectable coaching trees. Cowher started out under Marty Schottenheimer with the Cleveland Browns in 1985, while Gruden began his coaching career under George Seifert and Mike Holmgren.
Both coaches have a Super Bowl title to their name, Cowher with the Pittsburgh Steelers in 2005 and Gruden with the Tampa Bay Buccaneers in 2002. Cowher left the Steelers after an 8-8 mark in 2006 while Gruden quit coaching after a 9-7 mark in 2008.
In terms of specialties, Cowher worked on the defensive side of the ball (secondary, defensive coordinator) before he became a head coach, and his Steelers defenses became well-known throughout the years. Gruden is a former college quarterback and learned Bill Walsh's historic West Coast offense under Holmgren. He's also conducted the popular "Gruden's QB Camp" on ESPN in which he gets into the minds of young quarterback prospects.
The reality is both would offer something the Dolphins need. The Dolphins are not only averaging just 15.0 points per game behind lousy quarterback play but they are also giving up 24.3 points per game behind a bad pass-defense.
Gruden could help mold a new quarterback, with Chad Henne's contract up after this season and backup Matt Moore not the answer. Cowher could mold a top-notch defense and rely on a hand-selected offensive coordinator and quarterbacks coach to work with a young quarterback (don't forget, Stanford's Andrew Luck is in play for the Dolphins at this point).
My thoughts?
I think the Dolphins would rather go with Cowher given his connections and a greater legacy with the Steelers.