NFL Week 7 Awards: DeMarco Murray Has a Record-Setting Day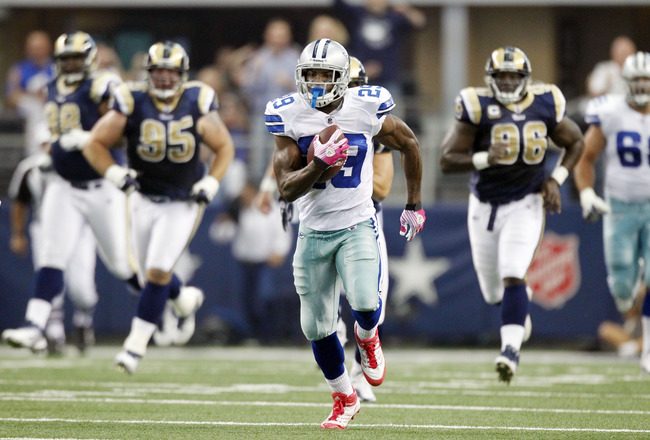 Layne Murdoch/Getty Images
It's popularly noted that the NFL has become the league of the quarterback.

In Week 7, it was the running backs that stole the spotlight. Some played hero, while others weren't in long enough to be the goats.

Injuries can sometimes cause the questioning of someone's toughness, but amidst the slew of injuries in Week 7, could a kicker have been the toughest player in the NFL this week?

Who rose to the occasion, and who wished they could've gone and hid during this weekend's games?
MVP of the Week: Arian Foster, RB, Houston Texans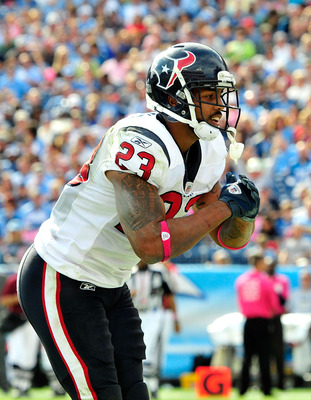 Grant Halverson/Getty Images
Last year's breakout player had an absolutely monster game for the Texans against the Titans. In the past four games, Foster had only broken 100 rushing yards once. But against the Titans, Foster not only had 100-plus rushing yards for the second time this season, he also had over 100 receiving yards for the second time this season.

Foster had 115 rushing yards on 25 carries and two touchdowns as well as 119 yards—a team high—and caught all five passes thrown to him. He also scored a receiving touchdown. He picked up six first downs and, oh yea, the Texans won by 34 points.
Foster was just flat-out untouchable Sunday.

Honorable Mentions: Drew Brees, QB, New Orleans Saints; Plaxico Burress, WR, New York Jets
Bust of the Week: Philip Rivers, QB, San Diego Chargers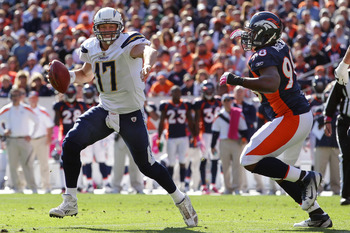 Doug Pensinger/Getty Images
He missed on 16 passes, completing only 50 percent of his passes. He threw for under 180 yards (outgained by guys like Matt Moore and John Beck). Yes, the Jets defense, especially its corners, is supposed to be very good, but Rivers was abysmal.

His two interceptions were game changers. Sure, the second one was tipped by Vincent Jackson, but the interceptions untimely both came on third down. Also, on the all-important last drive down by four, the Chargers faced a fourth down and three. Rivers threw a pass intended for Antonio Gates, but the ball sailed into the sideline. On a potential game-ending play, you need a much better effort than Rivers gave.

(Dis)Honorable Mentions: Josh Freeman, QB, Tampa Bay Buccaneers; Indianapolis Colts; Miami Dolphins
Surprise of the Week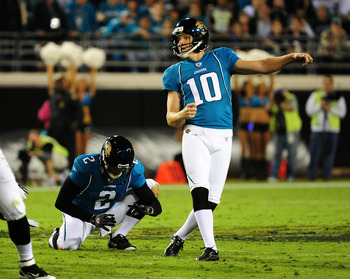 Scott Cunningham/Getty Images
It wasn't pretty on offense, but they scored just enough point to beat the Ravens while Jacksonville's defense manhandled Baltimore's offense.

The defense held Baltimore scoreless, until 2:02 left in the game. They limited Ray Rice to 28 rushing yards, his lowest total since Week 4 of last season, and they forced the Ravens offense into two turnovers.

But really, come on, did anyone expect Jacksonville to even be in this game, let alone win it? Gutsy performance from the guys in Jacksonville.

Honorable Mentions: Mark Sanchez, QB, New York Jets; Ben Tate, RB, Houston Texans
Play of the Week: Neil Rackers, K, Houston Texans
All defensive players in the NFL should watch Neil Rackers's form on this tackle. That's how you take down a guy. No need to spear him with your helmet.
Rookie of the Week: DeMarco Murray, RB, Dallas Cowboys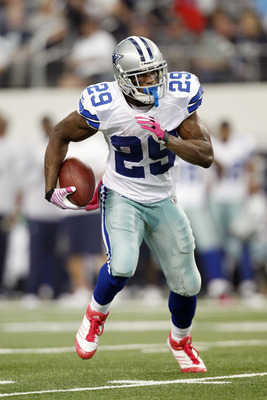 Layne Murdoch/Getty Images
In his first start ever, Murray, filling in for the injured Felix Jones, surpassed legendary RB Emmitt Smith, for the record for most rushing yards in a game by a Cowboy.

Murray ran for 253 yards and a touchdown—on a first-half run for 91 yards—on 25 carries. Other ways Murray made the history books; he has the most yards run for in the NFL this season so far, it was the second-longest run in team history, it was the second-most rushing yards in a game by a rookie in NFL history and it was the most yards rushed for against the St. Louis Rams.

"I never thought in a million years that I'd ever have a day like this," Murray told the press after the game. "This is what I've been working hard for since my Pop Warner days."

I don't know if anyone else thought he would either, but it was a very impressive performance nonetheless. Maybe he won't have another game this good, but at the very least he probably passed Felix Jones and Tashard Choice on the depth chart.


Honorable Mentions: Cam Newton, QB, Carolina Panthers; Von Miller, LB, Denver Broncos
Tough Luck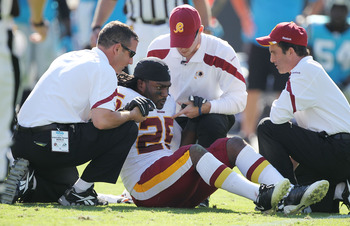 Scott Halleran/Getty Images
Despite the successes of DeMarco Murray and Arian Foster, it was a tough day to be a starting running back in the NFL.

Darren McFadden, Beanie Wells, Marshawn Lynch, Joseph Addai, Willis McGahee and Mark Ingram all left their respective games and did not return because of injuries—Lynch didn't even make it to the game, he was pulled during warm ups. Also, Tim Hightower and Earnest Graham not only were taken out of their games because of injuries, but they will miss the remainder of the season.

It is unfortunate for all these backs, but for the ones that do miss more time maybe their replacement could be as big a surprise as DeMarco Murray.

Honorable Mentions: winless teams still winless
Keep Reading