Earnest Graham Injury: Buccaneers Dealt Major Blow as Graham Misses Season
October 25, 2011
Al Messerschmidt/Getty Images
The Tampa Bay Buccaneers hardly needed another piece of the puzzle to fall out, but that is exactly what happened as Earnest Graham takes to the Injured Reserve for the rest of the season with a torn Achilles' Heel. 
The Bucs No. 2 running back was injured in this past weekend's game in London. Tampa Bay lost a tight game, and it seems they also lost a great deal of depth in the back field as well. 
Graham is hardly a star player that derails the entire season by his mere absence. However, the Bucs are indeed scrambling on Tuesday because of this news. 
NFL reporter Jason LaCanfora tweeted the awful news to the masses. The post was only a few words long, but the gravity of the situation is well known. 
The fact is the Buccaneers offense has hardly been clicking on all cylinders. Josh Freeman has been mired by inconsistency making the ground game all the more important.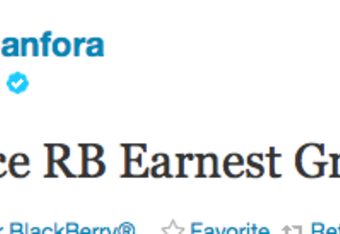 The good news, if any can be gleaned from this, is that the Buccaneers have a bye week to enjoy as they get healthy. After that, they should have their starting running back ready to assume his role on the field.  
LeGarrette Blount is hopeful to return in Week 9 after suffering a knee injury. The issue is now obvious. The young Bucs need another back to take a great deal of the load off a struggling Josh Freeman and an ailing Blount. 
The duty falls on Kregg Lumpkin. We will see in a couple weeks just how much the 27-year-old can carry as Tampa Bay takes on the New Orleans Saints. 
Lumpkin is averaging just 2.9 yards per carry on 12 attempts this season. The hope is that Lumpkin only needs a bigger role to make an impact, because they will certainly need him going forward. 
It's clear that when Blount comes back, Tampa Bay is going to monitor him for the first couple weeks. The last thing they want is to lose both of their key running backs. 
A struggling team has yet another hurdle to maneuver past. The injury didn't kill them, but I don't see it making this team any stronger.