Bibi Jones: Why Porn Star Would Be More Appealing Patriots WAG Than Gisele
October 25, 2011
Now that Gisele Bundchen and Tom Brady have completely settled down, the mystique of having a guy in the locker room who has a super model WAG has lost its mystique. A hot, young, porn star is exactly what the Patriots need to spice up their boring organization.
Bibi Jones and Rob Gronkowski took some pictures together that ended up on Jones' Twitter account. The two hung out while Gronk blew off some steam during the bye week.
This may have been a very minor and brief meeting between the two, but Patriots fans should be begging for Jones and Gronkowski to become a unit.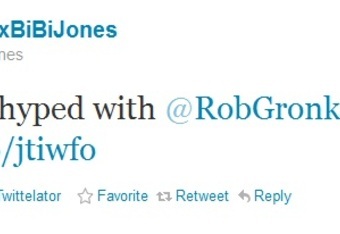 The Patriots are a young team with zero locker room intrigue. They've got a quarterback who swung one of the hottest women in the world, but she's old news. Bill Belichick has built an uneventful team in his own image, but it's nice to see Gronkowski get out there and get away from his day-to-day grind.
Jones is hot, and Gronkowski is a beast (on the field and off it seems). They are the sort of celebrity couple you find yourself rooting for. Unlike TB12 and Gisele, who are disgustingly perfect, Jones and Gronkowski can be classified as downright awesome.
Whatever their encounter was, let's hope there is more to come. Belichick might need to up his blood pressure meds, but this is just the sort of PR the team needs.
Jones has to have some hot friends that would love to party with the single Patriots population (sorry ladies, Vince Wilfork is taken). Even though partying with porn stars becomes nothing more than a bye week tradition, the Pats are better for it.
Bunchen's an aging hot mom. Jones is a wild single girl who hasn't hit her prime yet.
Edge: Jones.