Jets Beat Chargers 27-21 in a Statement Win
October 25, 2011
Nick Laham/Getty Images
New York Jets! That is more like it. That's the Jets team we've all been waiting on to show up.
This was a total team effort top to bottom. Let's break down what happened.
Brian Schottenheimer. Just when I am getting ready to throw up my hands with the playcalling, he comes up with a fantastic game plan. Like I said last week, I think that there has been a power shift in the way they handle Mark Sanchez ever since he audibled (I believe) to the QB draw for the touchdown last week against Miami. 
Apparently last week after Miami, Rex Ryan sat down with Sanchez and the coaching staff to discuss what to do to get over this horrendous slow start problem. Long overdue. Sanchez' answer, predictably, was: go fast. Sanchez indicated in his press conference that the pace at practice last week had been the fastest all year. About time.
The handcuffs are off and they let Sanchez improvise when necessary against San Diego without fear of repercussions. Sanchez, for his part, quit trying to be a hero and threw the ball away when he didn't have a play. Except for the ill-advised throw to Plaxico Burress in double coverage, it was a solid effort on his part and a ton to build on for everybody. 
Mark Sanchez—let the haters hate. You just keep balling. Nice job, especially in the second half. Second week in a row that he refused to lose. This team notices that. Maybe the rest of the league and the media will catch up soon. I can only imagine him thinking to himself: No way do we go into a bye with a loss. No way. Will NOT happen.
The whole offense did a great job.  LaDainian Tomlinson set the emotional tone and the whole team picked up on it. Don't let the 21-10 halftime score fool you. It would have been 21-17 easily if not for the holding penalty that negated Santonio Holmes' sensational TD catch.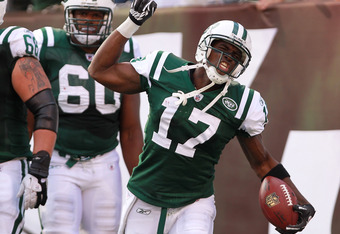 Nick Laham/Getty Images
The run game was exponentially better, and I am fairly certain it has to do with the offensive line. I think they have their confidence back, and I can't prove this, but I think they have dispensed with fancy-pants blocking schemes in favor of "outphysicalling" the guys on the other side.
New plan: You just take your guy and push him back and whatever you do, don't let Sanchez hit the ground. That had the happy by-product of opening holes for the backs and, voila, Shonn Greene had the kind of run game we haven't seen in forever. THAT is what a feature running back looks like.
What's that Merril Hoge always says? Oh yeah. You were a FACTOR back! Awesome work. Plus, way to inspire your team and keep playing even when it looked like your right leg got dinged up.
Jeremy Kerley—outstanding catches on some crucial third downs. The coaches must be seeing something in practice to call your number in those critical plays. Well done. 
I also liked how the Jets stayed patient and didn't panic even after Dustin Keller was stripped of the ball for the touchdown return early in the first quarter. 
And of course, Plaxico Burress.  That first touchdown catch was inspiring to watch. Burress was visibly moved afterwards. It was nice to see his teammates rush down the field to congratulate him. 
Equally touching to see him give the TD footballs to his family in the stands. Plax talked about how he had worked hard all week studying film of Antoine Cason, San Diego's cornerback. The preparation showed. Cason is no slouch and Plax beat him three times. 
The other thing is, it looks like Plax finally has a feel for Mark's touch on the ball. When plays break down and Mark starts to scramble, the ball comes out hot. It took Santonio Holmes time to adjust to that last season after his four game suspension. And now I think Plax knows what to expect. Some of those throws, especially the third TD, were bullets into the end zone from only a few yards out.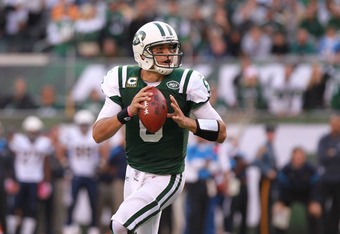 Nick Laham/Getty Images
How about the defense? Darrelle Revis is so good it's almost like we take it for granted. And not only is he tremendous on the field, he's a good guy off it. It turns out that Revis spent some time this summer working with Kyle Wilson. Yeah, who's only being mentored by the best defensive player in football. 
So what happens? Wilson has a pick of his own. Strong work. And what about Aaron (Mayhem) Maybin?!   I am very impressed with the new, rookie and second-year players on this team who are stepping up with smart execution and strong effort.  
But there is another part to this story and that is San Diego. Their first half was strong, but they disappeared in the second half. They couldn't convert on third down and had silly penalties all game long.
(By the way, when did Sanchez get so good at using the snap count to draw offside penalties? Did Mark Brunell teach him that? That was going to be on my list of things for him to work on in the second half of the season. Well, I guess I can check that off!)
Anyway, after the Jets kicked the late field goal you knew the Chargers would get the ball back and needed to drive for a touchdown. A little less than a minute and a half is more than enough time for a quality QB like Philip Rivers to march his team down the field.
The Jets defense was on point and ready. You could see them communicating. Something along the lines of: Whatever you do, don't let any Charger get behind us, and defend the sidelines. Try to push them into the middle of the field and keep the clock rolling. 
What happened next was mind-boggling. The Chargers kept calling in plays and switching formations like there were seven minutes left on the clock! What are you thinking? This is a textbook case of situational football. Teams practice this.
They were so nonchalant it was shocking. And it's not like the Chargers got the ball off an INT. True, they had no timeouts, but they knew from the two-minute warning on that this was likely going to be their final drive.
Why didn't Rivers and Norv Turner have the offense ready to roll?  And the lollygagging getting back to the line, getting set and snapping the ball was unbelievable. Phil Simms and I wondered aloud in unison, "Why don't they spike the ball?!"  Why didn't they? They lost precious seconds.
As the clock ticked, ticked, ticked you could see the Jets' defenders looks of incredulity:  They can't really be wasting this much time can they?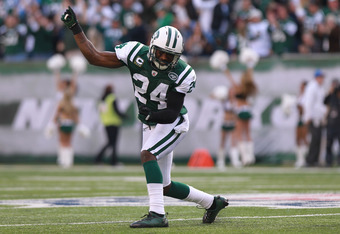 Nick Laham/Getty Images
Three- and four-yard throws to the flat? Again, what are you thinking? Send everybody long. You have good receivers and a QB who can rifle it. Somebody is just going to have to try and get open. I can't recall seeing anything like it from a veteran team, QB and coach. 
San Diego beat themselves with that drive. 
But the Jets will take it. Nothing is sweeter than when the other team hands you the ball with three seconds left and your quarterback gets to take a knee in victory formation. 
This is such a good win for the Jets to build on for the second half. They are incredibly lucky to get their bye right now coming off a strong team win against a quality AFC opponent and pitching a shutout, no less, in the second half. Just unbelievable teamwork and effort.  
Everybody feels confident and optimistic going forward. Internal strife is banished for now. Plenty of time to rest, get treatment, and study film of upcoming opponents.  
The objective from here on out is simple—win the four remaining divisional games. Period. Don't worry about going undefeated or playoff seedings or any of that nonsense. Just play Jets football. Smart, mistake-free, full of hustle and effort.  
It's been a bumpy first half. But, sometimes adversity pulls the family closer together. The Jets reminded us and, more importantly, themselves what winning Jets football looks like. The team closed ranks, played smart, and hung together to record a quality win.
That's how you head into a bye week.