Tarvaris Jackson May Give Charlie Whitehurst a Chance for Redemption
October 25, 2011
Mike Stobe/Getty Images
Pete Carroll is uncertain if Tarvaris Jackson's pectoral strain will be healed enough for a return when the Seattle Seahawks host the Cincinnati Bengals on Sunday, opening the door for Charlie Whitehurst to prove he can play in the NFL.
The man many fans call Clipboard Jesus would likely embrace an opportunity to ask forgiveness and seek redemption in front of his home crowd. After all, that was scene where he did his part in the game that sent the Seahawks to the playoffs last season.
This is also the crowd that began chanting "Charlie, Charlie, Charlie" last season when Matt Hasselbeck was struggling behind a crumbling offensive line and a lack of a rushing attack.
Whitehurst has let his fans down. He's done little in his three starts aside from demonstrate why he was a third-string quarterback in San Diego and show he is best suited to hold the most beloved position in football: backup quarterback.
Some fans are still in Whitehurst's corner. They point out it is only his third start and that he needs more time to grow. A comment on another article made the claim that he should get four or five more starts to show fans what he can do.
The fact is, fans have no "right" to see what a player can do in game situations. The Seahawks have a very highly compensated team of coaches that watch every move these players make during games, practices and drills. The simple fact is, Whitehurst is making the same mistakes now that he made during the 2010 training camp.
The goal of this article is not to pin all of the Seahawks' offensive issues on one person. Many of the Whitehurst fans chose to do that with Jackson, when the offense was having issues at the start of the season. It wasn't fair to him, and it wouldn't be fair to Whitehurst.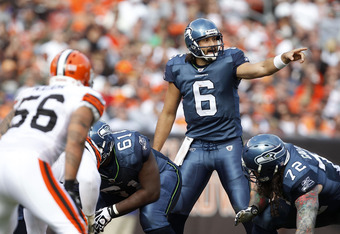 Matt Sullivan/Getty Images
However, this is the first game where the argument can be made that poor quarterback play cost the Seahawks a victory. Some fans were very critical of Jackson's performance in Pittsburgh, but he was often facing eight defenders in the secondary and an offensive line that struggled with a three-man pass rush. He still completed 20-of-29 passes, with three of the incomplete passes falling through receivers hands.
Whitehurst connected on just 12-of-30 passes on Sunday. Granted, he suffered from a few untimely drops, but he flat out missed on too many passes, and that proved to be the difference in the game.
Whitehurst under-threw two second-half passes to Sidney Rice. The first pass resulted in an interception after Seattle took over at their own 45 yard-line. It was an opportunity to change momentum right after a poor penalty took away a Leon Washington touchdown.
The Seahawks next possession provided ample protection for Whitehurst. On second down he had a receiver more than 10 yards behind his defender, a bit reminiscent of Ruvell Martin pass route last season. Whitehurst turned an apparent long touchdown into just a long gain this time, too. The ball was not only short, it was pushed into the sideline. Rice couldn't stay in bounds after making the catch—what should have been an easy touchdown led to the team's only three points of the game.
Whitehurst also missed an open Ben Obomanu in the first half. "Obo" repaid the favor later in the game, dropping a very catchable ball.
Whitehurst also made some poor decisions, such as forcing a shorter pass to a double-covered Baldwin when he had Golden Tate open over the top. He didn't seem to have the confidence to make the passes he needed to make.
If Charlie is starting this week, I would like him to be more comfortable on game day. Just be in control of the stuff that we try to do and not try too much and try too hard. Charlie has a good conservative nature about him to take care of the football for the most part. That's good. But we need him to just be comfortable and start playing and rip the ball around a little bit more than we did.
This was a similar progression that Tarvaris Jackson had to make this season. Early on, it seemed as though a very short rope was placed on Jackson, an issue I discussed early in the season.
When I suggested that Carroll and the Seahawks needed to unleash their offense headed into the game vs. the Falcons I took some harsh criticism, but the Seahawks do have the weapons to move the ball. The quarterback just needs to deliver on passes…something Jackson has done better.
When discussing the Seahawks' quarterback situation, Carroll was noncommittal on Jackson's injury and availability for Sunday's game. "We're just going to start over again this week and see where it is," Carroll said. "We'll just take it one day at a time and see how it goes."
If Jackson is not able to play on Sunday, this could be Whitehurst's last audition for an NFL contract in 2012. In three starts, he's done little to show his is even a quality backup. Granted, other quarterbacks have struggled in their first starts, but Whitehust has been getting coached-up for six seasons in the NFL. If he is ever going to be ready, the time was last Sunday.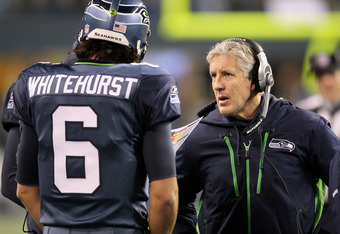 Otto Greule Jr/Getty Images
Some fans are attempting to make the argument that Whitehurst should be given more starts to see if he can improve. This approach holds no merit, though.
There is no reason to believe Whitehurst will be anything other than a decent quarterback—at best—which is not what the Seahawks are looking for in a franchise player. There is also ample evidence that Jackson is the better option in 2011 if the Seahawks are going to fight to revive their season.
The Seahawks are obviously down with a 2-4 record, but they are not out. Their defense has been solid and the offense has shown progression with Jackson. He is the only logical option once he can play without threat of further injury to his pectoral muscle.
Neither quarterback is the future at the position. However, Jackson can at least hold down the position and give the Seahawks a chance to win while the team works on getting their franchise quarterback on the roster.
Whitehurst may get an opportunity to prove he can be that guy as well, but at this point, there is no credible proof that he will be.