New York Mets: Realistic Expectations for This Offseason
October 25, 2011
Patrick McDermott/Getty Images
A lot of people are beginning to make their predictions of how the New York Mets' offseason will shape up. While some make sense, others come up short. The Mets are in a similar position as they were last offseason.
The team doesn't have a lot of money to spend and it will most likely have to go hunting for bargains.
Sandy Alderson brought in the likes of Ronny Paulino, D.J. Carrasco, Tim Byrdak, Chris Young, Scott Hairston, Willie Harris and Chris Capuano last offseason. Most of those players could be referred to as low-risk, high-reward players.
Some of those players panned out better than others.
Capuano overcame one of his biggest enemies: his health. Capuano put together a decent season after coming off of two successful Tommy John surgeries. His stats were solid, but the main positive from Capuano's 2011 season was that he stayed healthy throughout the entire season.
Young was the opposite of Capuano last season. He was looking to have a healthy season, but it got cut short when he suffered from an injury early.
Young did put together a few quality starts before he was done for the season. Young might be back next year for the Mets, where he would compete for a starting spot in the rotation.
Alderson didn't make any dynamite moves last offseason, but it is safe to say that it was a successful one. We have seen how all of his acquisitions performed last season, and although a lot of them didn't contribute greatly to the team, a few players did.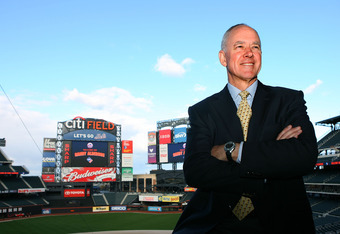 Andrew Burton/Getty Images
That was Alderson's idea all along: to bring in a bunch of low-risk, high-reward players and hope that a few pan out. Capuano and Byrdak were a few that panned out for Alderson and the Mets.
It is well known that Alderson will have a similar approach to this offseason.
It seems as if the only difference between this offseason and last offseason is Jose Reyes. The All-Star shortstop will become a free agent and the Mets will have to fight for him to stay in Queens.
The Mets have made it clear they plan on trying their best to retain Reyes. With that said, the team will not hand out a ludicrous contract to him.
Coming off a sensational season, Reyes and his agents will be looking to make him a nice amount of money. Reyes is said to be looking for a contract worth at least five years, and possibly worth a total of $100 million. 
It's no secret the Mets don't have the authority or financial flexibility to be handing out a contract like that to an injury-prone player like Reyes. I am one of Reyes' biggest fans, but let's be honest because he does not deserve a contract like that.
He had a fantastic season and I'm not trying to understate that, but his injuries continued to be a problem. 
Terry Collins has also stated that if Reyes comes back, then he will most likely miss most of the day games after night games, and get days off more than other players. 
With that said, I do believe that the Mets should go after Reyes aggressively.
A four-year deal with a fifth-year option worth $90 million sounds reasonable to me. The Mets will have to be smart in their negotiations with him, and I have full trust that Alderson will handle the situation greatly.
Reyes will be the Mets' primary target this offseason, and the fans and front office are keeping their fingers crossed that Reyes re-signs with the Mets.
If Reyes does return to the Mets, then the team will have around $10 million left to spend on free agents. That money will most likely be invested in a center fielder, catcher, bullpen arms and possibly a cheap starting pitcher. 
If Reyes decides to pack his bags and move on, then Alderson will be presented with a big question: What do we do now?
Alderson and Co., will have the option of whether to spend their "Reyes" money on a big-name free agent like Prince Fielder or Albert Pujols, or to save the money for future acquisitions and continue to sign low-risk, high-reward players.
This offseason will have no lack of excitement for the Mets. Many rumors will swirl around the team, and many new players will make their way to Queens, and other may leave Queens.
The Mets have a bunch of holes that need to be filled and Alderson will look to fill them this offseason. Besides the possibility of re-signing Reyes, I don't believe that the Mets will make any big-name acquisitions this offseason.
There is a slight possibility the Mets will go after a top-notch closer like Heath Bell, but that currently looks unlikely. Rather, the Mets will continue their recent trend of looking for bargains and there is nothing wrong with that.
This team is in a rebuilding stage and they need to make moves that would benefit the team not just for the present, but for the future, even if that means not making any splashes.
Expect this offseason to replicate last year's, but just with a Jose Reyes sweepstakes thrown in.