Chelsea vs Arsenal: 10 Bold Predictions for London Derby at Stamford Bridge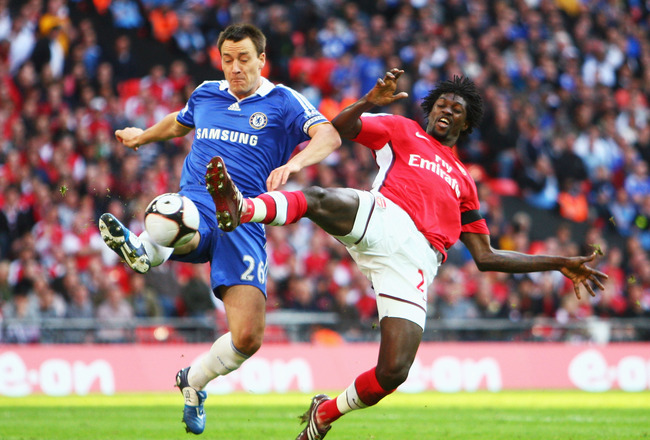 Phil Cole/Getty Images
Last weekend could not have gone any worse for Chelsea. City smacked United in a 6-1 beatdown at Old Trafford, giving them a strong six-point lead in the league. And Chelsea were embarrassed at Loftus Road, losing 1-0 to newly-promoted QPR, as well as getting straight red cards for Didier Drogba and Jose Bosingwa. Yes, things looked pretty bleak on Sunday if you bleed blue.
However, things could quickly take a turn for the better with an exciting week of Chelsea football on the horizon. After a Carling Cup match away to Everton on Wednesday, the Blues return back to the capital for a chance to retake London in a rivalry that has become as fierce as any over the past decade against Arsenal.
Chelsea cannot afford to drop any more points, especially against the Gunners, who have already been the whipping boys for United. Arsenal will be looking to continue their climb back to the elite grouping that makes up the top four. Both sides see this as a near must-win, which will give them a victory worth noting, something both sides have yet to achieve.
Here are 10 BOLD predictions for the London derby.
There Will Be a Critical Injury Leading Up to the Match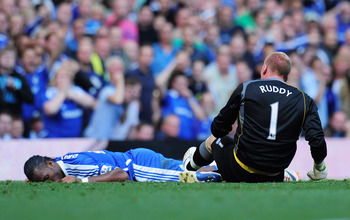 Shaun Botterill/Getty Images
I don't really like to make predictions like this, but it seems too likely, with both teams playing tough Carling Cup games in midweek, to not happen.
Chelsea are heading up to Goodison Park to play David Moyes' Everton, who are currently looking at the Carling Cup as the best chance they have at silverware this season. Arsenal hosts Bolton, whose position in the table gives them similar incentive.
Neither of these sides is known for its grace and fluidity on the pitch. They are the hard-tackling bullies of the EPL, and play with intimidation and a chip on their shoulder. The managers of the London clubs both understand that the Carling Cup is not at the top of their priorities, but neither is willing to flat-out concede victory.
I am sure that Arsene Wenger and Andre Villas-Boas' midweek lineups will have an eye toward the derby on the weekend, but there will no doubt be a handful of starters on the pitch. Those players will I'm sure have special instruction to take care on challenges and not risk anything. But it is in the nature of sport to be unpredictable, and even in the most controlled environment, everyone is vulnerable.
The Game Will End with Only 20 Players on the Field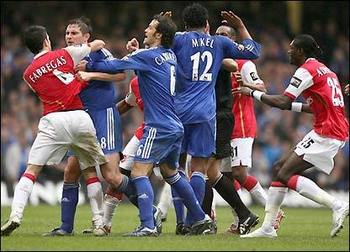 There is so much at stake in this match for both sides; you could easily guess that emotions will be running at an all-season high. Challenges will be hard and direct, as the veterans of Stamford Bridge will want to impose their will and intimidate the group of visiting youngsters. Arsenal will fight back and go in equally as strong to show that they have as much right to be there as anyone.
Things could get out of hand quickly should it not be held under control by the official, Andre Marriner. The 40-year-old referee is just about on the average for the amount of red cards he doles out, but is quick to the whistle on fouls. He averages over 20 fouls a game, and has already shown almost 30 yellow cards this season. He does not stand for whining and disrespect, both of which will get your name in the book.
Chelsea has always been a team that borders that fine line between tough and reckless. John Terry, for all his leadership, will be the first to go into someone with an elbow and crowd the ref to argue against a call. The way he and the team reacted to Chris Foy's decisions last Sunday against QPR will be even less tolerated by an official who gives out many more cards on average.
The red cards will probably come in succession. Perhaps a rash tackle by someone gets him sent off, and then an idiotic overreaction by another player in retaliation for the tackle will give him his walking orders. Either way, the history these two teams have (ie League Cup final 2007) surely gives this outcome potential.
The Outcome of This Game Will Be Looked at as a Turning Point for Either Team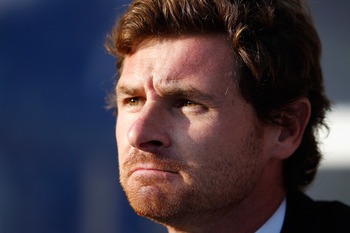 Paul Gilham/Getty Images
Often a game in late October is not one that generally holds a ton of weight in the final outcome of a season. However, both teams are at a very critical juncture in their seasons.
Chelsea needs to get back on track immediately following their upset to QPR. They were not fortunate enough to see the teams of Manchester tie, so City now is six points ahead of them in the table. Anything less than the full three points will see City probably add to their lead, as they host the Wolves.
Arsenal, for all the guff they have had since the start, has won six out of their last seven matches and currently sits seventh in the table, with the real prospect of moving all the way up to fifth with a win.
There is still plenty of season left to play, but a win for either side would really go a long way in helping the team reach their season's goals.
Van Persie Is Silenced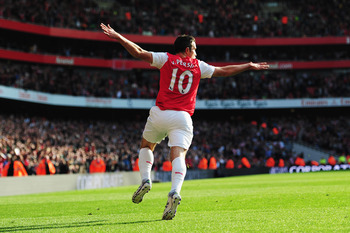 Jamie McDonald/Getty Images
Not much has gone right for Arsenal in these opening months. From transfers that saw their two best players now playing better on much better teams to the fact that Arsene Wenger is walking on a razor's edge in every game.
However, Gunner fans have found some promise in their Dutch superstar Robin Van Persie. The forward has seven goals in the league, almost half of the team's total amount, and seems to be the only consistent player on the entire squad. Week in and week out he is keeping the team in games with some incredible goals. Their climb from the relegation zone back to relevance in the league has been on his back.
In the past, Van Persie has been the bane of Chelsea, most notably scoring twice against the Blues back in '08. However, he has not gotten a goal against them since then, despite having some of the best scoring years of his career. Things will continue along those lines as he will be shut out in Saturday's derby.
Gervinho Will Prove His Worth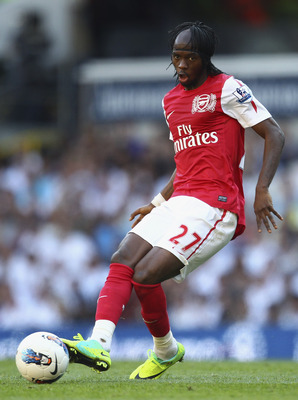 Julian Finney/Getty Images
Wenger's big summer signing was the Ivorian Gervinho. The forward was expected to come in and be a big, strong-bodied player, who just has a knack for finding the goal and get the Gunners back to the success they had in the early 2000s. Instead he has been somewhat stagnant. With only two goals in nine appearances, he has hardly lived up to expectations.
Saturday could be his day to prove skeptics wrong. Chelsea will be without Jose Bosingwa, who is on suspension. Depending on who Villas-Boas picks to play the right back position, Gervinho may be licking his chops to get on the field.
Branislav Ivanovic would be the best option, but with David Luiz being a continual liability in the center, Ivanovic may be needed more there.
Paulo Ferreira is a reliable choice, but without much first-team experience this season, the game may seem a little fast, and he could easily be beat by the African's pace.
Gervinho may not get a goal in this matchup, but he will be a constant threat throughout.
Goals Will Be Scored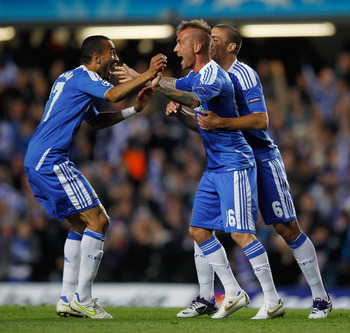 Paul Gilham/Getty Images
Out of the 174 times Chelsea has played Arsenal, the game has finished scoreless only 14 times, dating back to 1907. History alone tells you that these two sides rarely go in looking for a defensive-minded draw.
Beyond that, you would have to go back to 2007 to find the last time a game between the two sides finished 1-0.
Both of these teams play with attack in mind. For years Arsenal has been characterized as the fluid team of England, developing attacks through great technical play, quick passing and creative touches.
Villas-Boas' arrival to Stamford Bridge marked a new era for Chelsea, one where they would no longer rely on brute force and goal-scoring by sheer will power, but rather developing a swift offense.
The way these two teams are playing, there is little to suggest that a single goal will be enough to win the game. Not to mention that every goal from here on out counts, as City's goal differential climbs astronomically high.
This all works out nicely for the fans who will witness an exciting and goal-filled game.
Frank Lampard Will Be the Man of the Match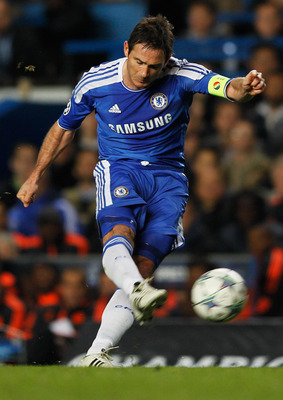 Paul Gilham/Getty Images
The feelings toward Frank Lampard have split the Chelsea contingency. Some see him as a player past his prime who needs to step down and allow the youth to take his place. Others believe he is a legend in his own right, and has earned the right to play until he decides it is enough.
The jury is still out on what Lampard brings to this team. At times he is able to score goal after goal, and look like that lethal force that helped make him one of the best midfielders ever. However, he has also been prone to being too slow for the swift style of play that has the ball moving rapidly from one foot to the next.
All of this will be moot on Saturday. The one thing that is constant in a player like Lampard is he is a winner and a champion. All champions do one thing better than anyone else, and that is rise to the occasion. His play in the midfield will be a deciding factor in the outcome of the game. Goals will start though him, and by the end of the match, praise will rightfully befall his name.
Torres Will Score, but Only Once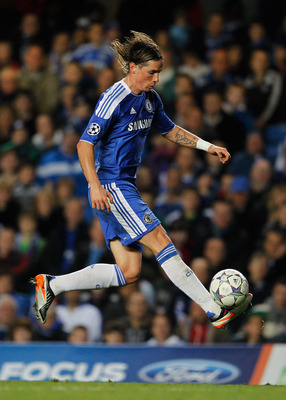 Paul Gilham/Getty Images
If you are a Chelsea fan, the past few weeks have been like the second coming. Finally Fernando Torres is beginning to look like the player we all thought he was. He is scoring goals, creating chances and, most importantly, playing with confidence.
With Drogba suspended for the match, Torres' abilities will be wholly relied on to get Chelsea a win. His progress will need to continue this Saturday to give the Blues a shot.
However, this is the biggest pressure game he has been in since the United match a few weeks back, and we all know how that went.
I am expecting a similar outcome—great play throughout, but ultimately he will finish with a single goal and having muffed on a few chances.
The Game Is Decided in Controversy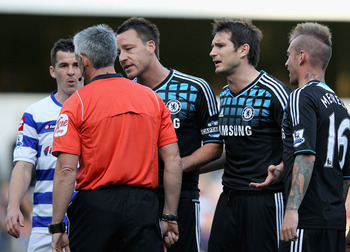 Dean Mouhtaropoulos/Getty Images
We all hate to see a game that is left up to the ref and not the players, but it happens far too often in the modern game. It is not so much that the game has changed, but rather the technology around it. High Definition, instant replay and public forums for fan reaction has all lead to many times controversial calls deciding a game, rather than the players.
In a hotly contested derby like the one on Saturday, these instances seem rather frequent. It may be due to the high pressure that the ref is put under, or perhaps the fact that there are more people closely watching than in other matches. Whatever the case may be, it seems to have all the right fixings to occur this weekend.
I see it as being something that is more debatable than a missed or bad call, one of those instances where your view on the decision is more based on your team allegiance than what you see.
Chelsea Wins Late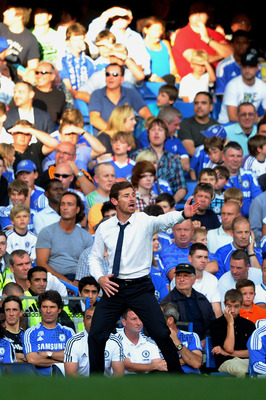 Laurence Griffiths/Getty Images
Andre Villas-Boas is in need of a marquee win. So far, he does not have a single victory in any competition that he could really hang his hat on and say, "that was a good one." Saturday provides him with the perfect opportunity.
The game will be close throughout, a back-and-forth affair that will be one of the most entertaining on the weekend. Everyone will feel the pressure, as the two giants of London look to reign supreme in the country's capital.
Ultimately, it will be the energy of the coach and the fans that will give the Blues that boost they need to take home a critical victory.
Let's remember these are BOLD predictions and not to take them for the word. What do you think will happen in this Saturday's London derby?
Keep Reading

Chelsea: Like this team?