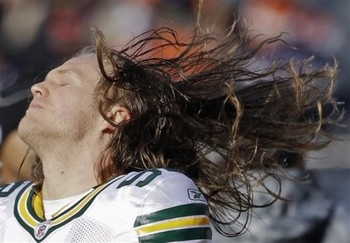 How anyone can be comfortable with a mop of hair wedged under a sweaty football helmet, we will never understand. The characters of the NFL have some of the wildest, weirdest hair-dos known to man.
Some cases of ugly hair are the result of benign neglect. But almost more offensive are the ones actually trying to be stylish but end up with hair looking like the lead singer of Sexual Chocolate.
Here is a list of the ugliest hair in the NFL and who their crazy mops remind us of.
Curtis Painter: Indianapolis Colts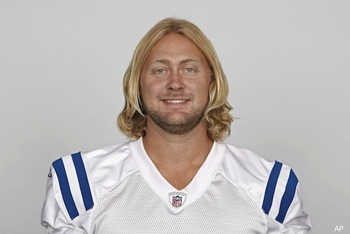 Curtis Painter's hair style rotates between a failed attempt at a short Ceasar cut and long, baby-doll hair. The result looks like a mix of Kurt Cobain and Randy Quaid.
Brett Keisel: Pittsburgh Steelers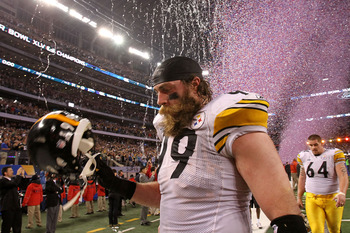 Ronald Martinez/Getty Images
Brett Keisel's hair is what happens when you feed a garden gnome past midnight. Supposedly, he grew his hair and beard for charity.
Here's a tip, Brett: Write a check next time and spare us all.
Matt Light: New England Patriots
Matt Light has finally lost the long mop, but his hair and beard just keep growing in thicker and thicker. Put him in a cloak, and he'd fit right in with Robin Hood's merry men as Friar Tuck.
Robert Gallery: Seattle Seahawks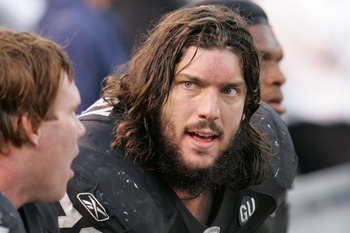 If Ben Affleck ate Matt Damon and then went into hibernation, he'd emerge looking like Robert Gallery.
Paul Soliai: Miami Dolphins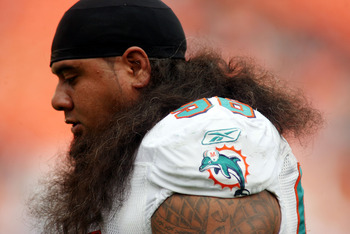 Marc Serota/Getty Images
Paul Soliai's is like a jolly Kevin James (King of Queens) living on Fantasy Island with no barber. Someone please tell him that when the hair on your head and your beard unite as one big ball of fur, its time for a change.
Travis LaBoy: San Diego Chargers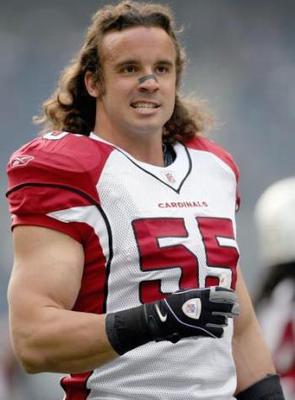 The number one rule for any man with a receding hair line: Don't emphasize it. Travis LaBoy looks like a cross between Wolverine and Fabio.
TJ Houshmandzadeh: Free Agent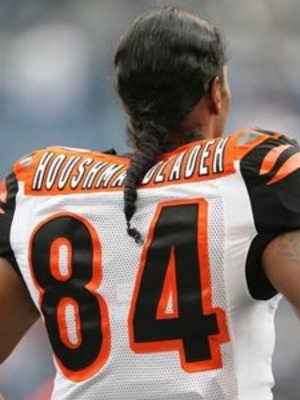 TJ is the Rock crossed with Steven Segal. Newsflash, neither the rat tail or jerricurl have been stylish for a while.
Domata Peko: Cincinnati Bengals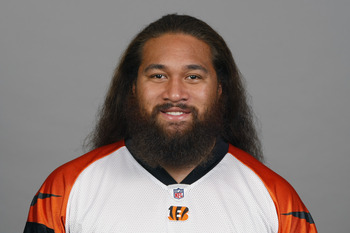 Handout/Getty Images
Domata Peko's hair gives new meaning to the word frizz. Clearly, he is the love child of Don King and Tina Turner.
Clay Matthews: Green Bay Packers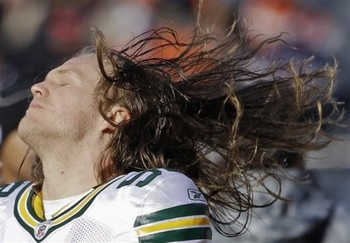 The Princess Bride of the NFL, Clay Matthews' long greasy locks are calling out for both shampoo and a pair of scissors. Worse is the way he constantly flips it around for dramatic effect. Sorry, Buttercup; it's still not working.
Tim Tebow: Denver Broncos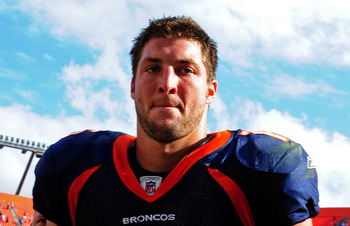 Scott Cunningham/Getty Images
Tim, your name is not Tom, and you do not fly Top Gun. Take care of business and lose the gel and the spiked hair.
Rey Maualuga: Cincinnati Bengals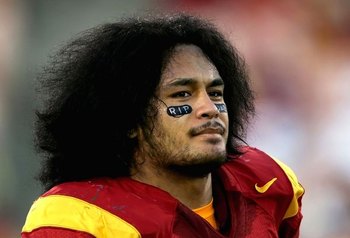 Rey Maualaluga looks like he's paying tribute to Slash from Guns N' Roses with his wavy bush. Sorry, Rey; please take a look in the Paradise City Yellow Pages for the nearest barbershop.
Chris Kemoeatu: Pittsburgh Steelers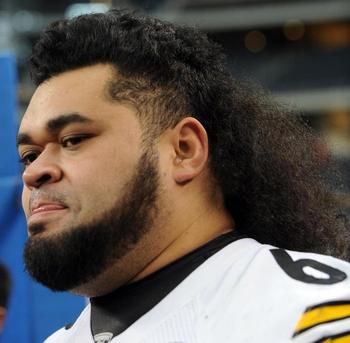 When Jack Black and Gary Coleman collide, you get Chris Kemoeatu's hair. He's trimmed the length lately, but unfortunately kept most of the mohawk intact.
Kyle Orton: Denver Broncos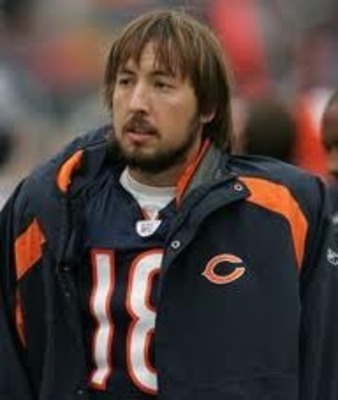 Kyle and his forward swept bangs are trying hard to look like Justin Beiber. Orton's hair is begging for an exception to the "Never say never" rule.
Troy Polamalu: Pittsburgh Steelers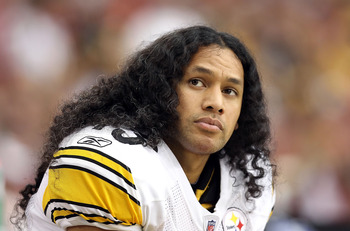 Christian Petersen/Getty Images
The obvious ambassador of bad hair is Troy Polamalu. Those curls would look great on Beyonce; just not on you, Troy.
AJ Hawk: Green Bay Packers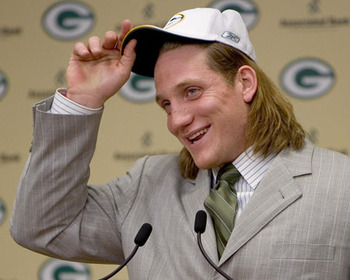 AJ Hawk won't give up trying to become Cameron Diaz. His hair is a greasy mess even when it's short.

Nick Mangold: New York Jets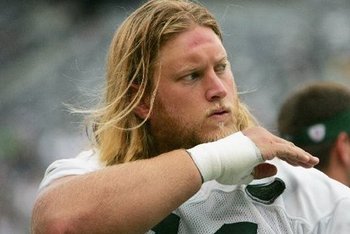 Why Nick Mangold would try to style his hair like Mickey Rourke we will never know. Even the Olsen twins are over the trailer-park-chic look. Move on, Nick.
Julio Jones: Atlanta Falcons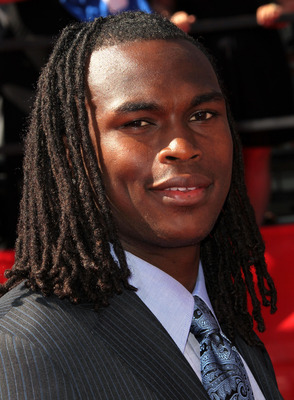 Frederick M. Brown/Getty Images
Dreads are cool, but not with a shaved-down widow's peak in the front of your head. Julio might as well change his name to Avatar and grow a tail.
Note: Slide title has been corrected.
Blaine Gabbert: Jacksonville Jaguars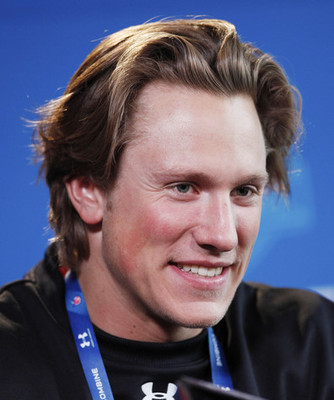 Attention Blaine: Jessica Simpson called and wants her feathered bangs back.
Laurence Maroney: Free Agent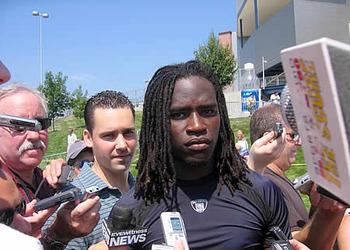 Theo Huxtable and Milli Vanilli were not meant to play football, and neither was their hair. Laurance has had to learn the hard way not to get mug shots taken on the days he braids his dreads into pigtails.
Drew Brees: New Orleans Saints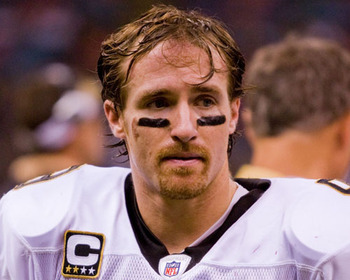 Drew Brees reminds you of a balding Clay Aiken. Both Clay and Drew's hair are hanging around too long.
Keep Reading