2012 MLB Offseason: Milwaukee Brewers Fielding Breakdown
October 25, 2011
Christian Petersen/Getty Images
The Brewers came within two games of the pennant in 2012, and fielding improvement could be one of the underrated reasons for their success. The Brewers have a reputation for being a poor fielding team, but the numbers come out average. Yet, when we look deeper we see one of the more interesting dichotomies in baseball.
The infield defense continued to be subpar, but the outfield defense was spectacular. Therefore, flyball pitchers on the team experienced as much success as they ever had. If combined Gold Gloves were possible, Nyjer Morgan and Carlos Gomez would win one for their combined work in center field. Plus, Ryan Braun and Corey Hart turned in solid campaigns around them.
DER: .694 (15th)
RA: 638 (8th)
FLD%: .982 (20th)
Baseball Reference: +24 runs (7th)
Fangraphs: +16.2 runs (9th)
Fielding Bible: +21 runs (10th)
Baseball Prospectus: +13.8 runs (6th)
Composite Runs: +18.7 runs
One could argue that the Brewers were even a bit unlucky in their final fielding numbers. In essence, DER is the final determining factor. Yet, all of the advanced metrics had them outperforming their DER. On the other hand, their runs allowed followed their collective performance very closely. You'd almost think there were a link between fielding and pitching.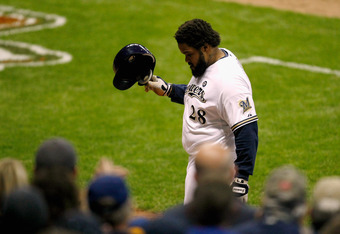 Scott Boehm/Getty Images
Best Fielder
This one goes to Carlos Gomez by a nod. Nyjer Morgan was excellent, but there was no other reason for Gomez to get the time he did. He is subpar offensively and Morgan had an excellent season with the bat. Inning for inning, Gomez rates better than Morgan with the glove. Both single handedly made the Brewers defense what it was.
Worst Fielder
The Brewers swallowed hard and took Yuniesky Betancourt for the privilege of getting Zack Greinke. Betancourt rewarded them with solid production in the second half, but he was the same butcher he has always been. In reality, his error numbers don't tell the story. He simply doesn't have the range that most of other shortstops have.
Possible Changes
Prince Fielder is a free agent. Losing his bat would be a killer, but losing his glove would actually be an improvement. If the club were to lose him, they could replace him with someone like James Loney. If the Dodgers let him go he could be had for cheap and he would make an improving defense that much better.
2012 Outlook
The Brewers are two players away from having one of the best defenses in baseball. Prince Fielder is out of their hands and you'd trade his bad glove for his huge bat everyday of the week and twice on Sunday. Yet, if you were to replace him and Betancourt with quality defenders the Brewers defense would be tough to match.