The Sexiest NFL WAGs You've Never Heard Of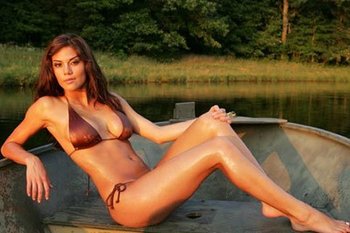 Sure, you're familiar with Gisele and Evelyn Lozado, you now know who Candice Crawford and Melissa Molinaro are, and chances are you'll recognize whomever Mark Sanchez or Aaron Rodgers happen to be dating at the moment.
But what about the sexy NFL WAGs out there you haven't heard of?
Well, that's where I come in, folks. On the following slides, you'll be introduced to 20 lovely ladies you likely weren't familiar with before today (or for you more intrepid WAG fans out there, at least a handful).
It's a WAGs to riches story, folks—let's get it started.
20. Brittany Henne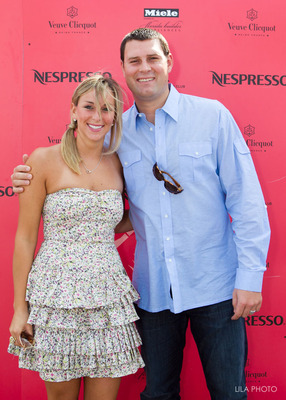 When Chad was lost to injury for the rest of the season, Brittany asked him what all of this "Suck for Luck" business was about.
Chad smiled, noted that he could use some luck after being injured, then offered an explanation that did not include the name "Andrew Luck."
Photo from International Polo Club
19. Britney Johnson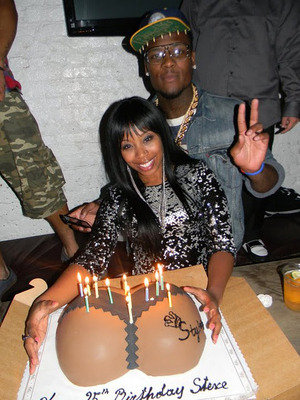 Meet Stevie Johnson's wife Britney, who is so cool she posed with him over the birthday butt cake his friends bought for him.
Wisely, Johnson refused to share the cake with anyone. Okay, so I can't back that last sentence up with any facts or anything, but he would have been smart to hoard the cake for himself.
18. Alison Grossman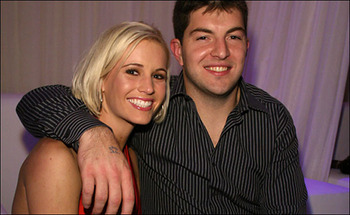 The two have been married since 2005, though word is they would have gotten married earlier if Rex hadn't accidentally given the ring to the wrong woman.
Rex, it would seem, has a history of turnovers.
(Again, none of the above is actually true—I'm just a jerk.)
17. Jordan Jones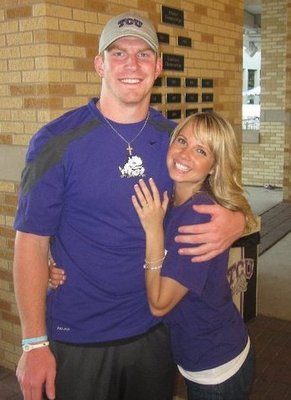 Andy Dalton has shown promise in his rookie season, though he truly piqued a nation's curiosity when he was seen kissing his gorgeous girlfriend on draft day.
What a day that must have been—you get drafted on the same day that your new team selects stud rookie A.J. Green, and you get to celebrate with Jordan Jones.
Nice.
16. Laurie Flynn Schaub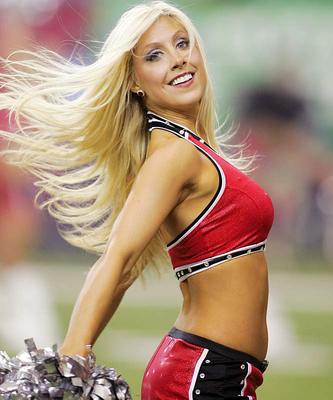 It's the classic quarterback-cheerleader union: He's now the quarterback for the Houston Texans, she was a cheerleader for the Atlanta Falcons (they met when he was Michael Vick's backup in Atlanta).
If there was some sort of prom for adults, this high school fantasy would be complete.
15. Rachel Rackers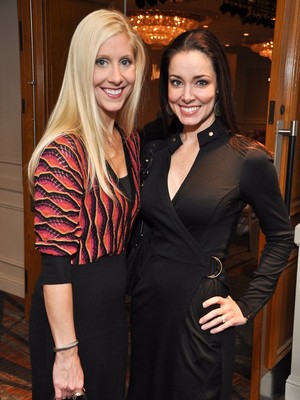 Here we see the lovely wife of Texans' kicker Neil Rackers (on the right) posing with Laurie Flynn Schaub.
And men everywhere are thinking, "Nice, Rackers!"
But without the comma.
14. Kelly Hall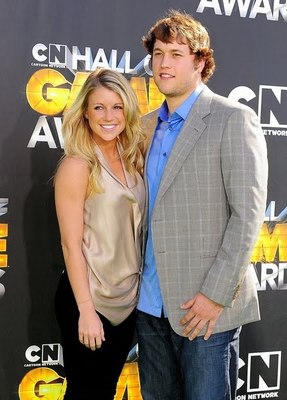 When Matt Stafford isn't leading Detroit to a 5-2 start or throwing touchdown passes to Megatron, he's hanging with his lovely girlfriend, Kelly Hall.
She recently did one of those "5 Questions" segments on Busted Coverage, and offered some insight into the memorabilia Matt likes to keep around the house:
BC: Matthew was seen on TV grabbing the game ball and saving it. Where will it be going in the Staff house?

Kelly: Well, unfortunately, it will probably end up in one of our dogs' mouths. That's where most end up. This one is pretty special to him, though, so it might end up in the office.
13. Karlie LeRoy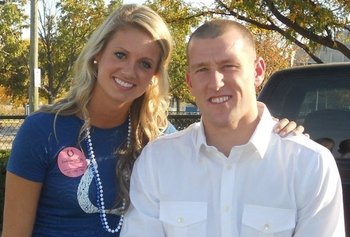 Colts' receiver Blair White has been quiet this year after teasing fantasy football fans with a few decent weeks last season.
What's that? You would just like to admire the beauty of Karlie LeRoy for a moment without all the chit-chat?
I totally understand.
12. Rachel McCoy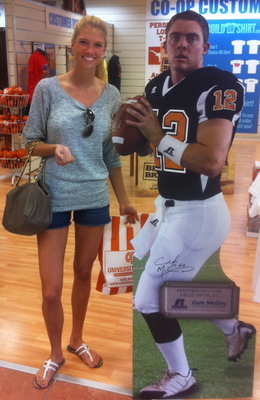 11. Elizabeth Smith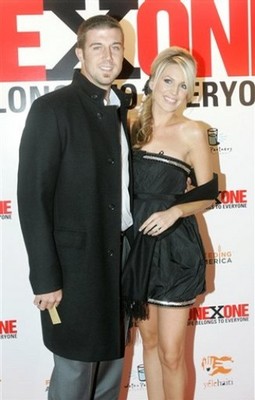 Is anyone else happy to see Alex Smith finally having some success? He's been through a lot (that includes coaches and schemes) since being the top overall pick in the 2005 NFL Draft, but things seem to finally be falling in place for Smith since joining forces with Jim Harbaugh.
And he has a hot wife. Gotta make sure I stay on task here.
10. Alicia Jammer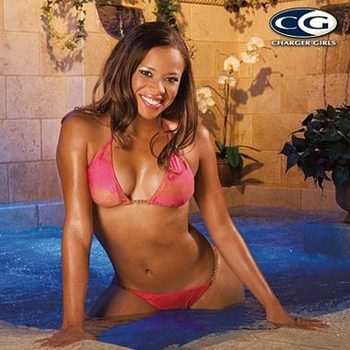 Alicia Jammer is married to Chargers cornerback Quentin Jammer, which of course is the greatest last name in the history of cornerbacks.
9. Janelle Winslow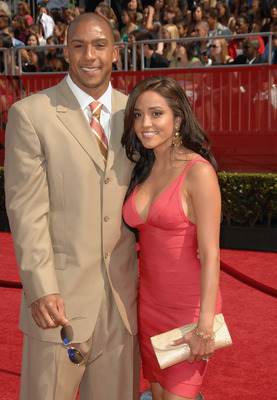 Stephen Shugerman/Getty Images
Well played, Kellen Winslow II.
Well played indeed.
8. Ashley Heap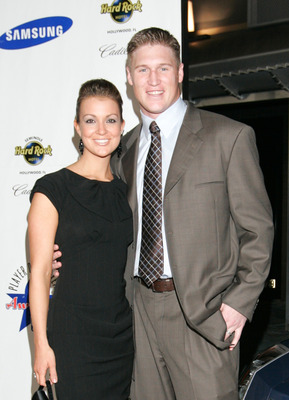 Ben Rose/Getty Images
The now-Cardinal and his wife are high school sweethearts. Awwww. From BaltimoreRavens.com:
With the help of wife Ashley, whom he first met in junior high school, he has become a proud husband and father who instills in his children the same lessons he learned from his parents.

"A huge importance growing up for me was family," Heap says. "I always had parents that taught me right from wrong and tried to provide for me everything that I needed to grow up. That's the same for my wife, who was one of five kids. There is just such a strong sense of family present in both of us."

Married before his rookie season in the NFL, Todd and Ashley Heap have been developing this bond since their first date in high school.

"We know each other so well," Heap says. "She's been the best thing in my life because of how she knows me and the values we share. It's great to go home to somebody that understands not only me, but what I go through. She's a great wife and a great mom."
7. Kelsi Reich
This is how good life is for David Nelson this year—not only are the Bills a shocking 4-2 to start the season, but he is dating a Dallas Cowboys cheerleader.
Yes, I want to be David Nelson, too.
6. Lacey Minchew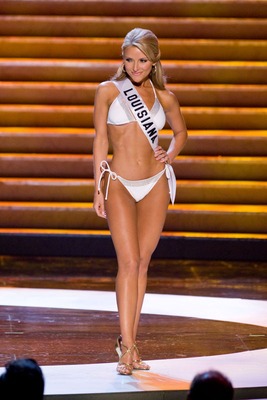 Packers back-up quarterback Matt Flynn has one thing on starter Aaron Rodgers—he is dating the Miss Louisiana USA 2009, Lacey Minchew.
(Min)chew on that for a second, Rodgers.
5. October Gonzalez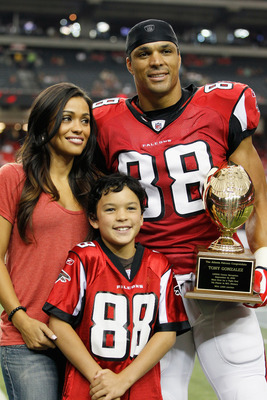 Kevin C. Cox/Getty Images
October in October is a beautiful thing.
Though I'm sure October in November, or December, or any other month is just as beautiful.
This calendar joke has been brought to you by What An Idiot Productions: Scraping the bottom of the barrel for cheap laughs since he was born.
4. Carrie Prejean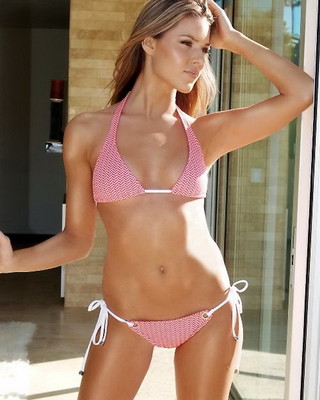 It was a rough week for Kyle Boller: The Raiders traded for Carson Palmer but decided to give Boller the start to ease the transition for the still-rusty Palmer.
Then Boller threw three interceptions in the first half and was promptly benched for the rusty Palmer, who threw three interceptions himself.
There is a reason his last name is Boller and not Baller. That reason is because his father's last name was Boller, but it is also because he isn't a very good NFL quarterback.
Oh, and that Carrie Prejean—the former Miss California USA 2009—is quite the looker, huh?
3. Julie Dorenbos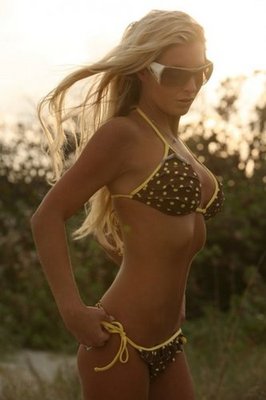 Jon Dorenbos is the long-snapper for the Philadelphia Eagles.
And this is his beautiful wife.
And this is his beautiful wife dressed as Smurfette for Halloween.
God bless America.
2. Anna Burns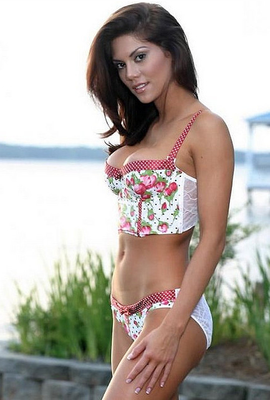 1. Sasha Dindayal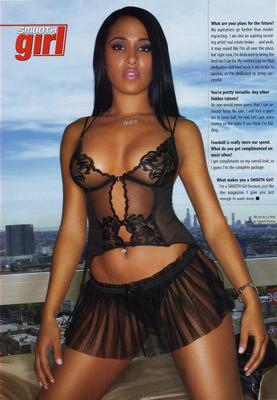 If you are up-to-date on your Hip Hop video models, then you might be aware of the wife of Antonio Gates, Sasha Dindayal.
If you are anything like me and the last model you recall making an appearance in a music video is Pamela Anderson because you stopped watching music videos in high school after MTV became the home of reality television for frothing-at-the-mouth teenagers, then I'm glad I could introduce you to Dindayal.
For you the world, loyal reader.
My name is Timothy Rapp, and I put the "grrrr" in Swagger.
Keep Reading