NFL Week 8 Picks: Score Predictions for Every Game on the Schedule
October 25, 2011
Karl Walter/Getty Images
We are inching ever-closer to the halfway point of the NFL season and the postseason picture isn't any clearer. With bizarre outcomes, unexpected frontrunners and injuries making the year far more unpredictable than any of us could have imagined, it makes picking winners and final scores a most entertaining undertaking.
And, with that in mind, here are my picks, and final score predictions, for every game on the Week 8 schedule. Winners are in all capitals, for your convenience.
Arizona Cardinals at BALTIMORE RAVENS
The Ravens are just off of an embarrassing road loss to the Jacksonville Jaguars on Monday night, but they return to the comforts of their home stadium, where they are undefeated, to host the struggling Arizona Cardinals. The Ravens will be looking for redemption, and they're sure to find it; it's doubtful the team falls to two bad squads two weeks in a row.
Final Score: Ravens 17, Cardinals 7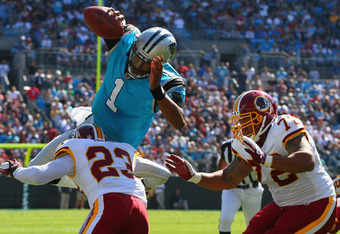 Dilip Vishwanat/Getty Images
Minnesota Vikings at CAROLINA PANTHERS
This is a hard game to predict; on one hand, the Panthers are a better team than their 2-5 record would suggest, while the Vikings, now with rookie quarterback Christian Ponder at the helm, held their own against the undefeated Green Bay Packers in Week 7. If there's anything clear about this game at all, is that it will be close—the two teams' histories this season almost guarantee it. I'm going with the Panthers, as they are the home team.
Final Score: Panthers 27, Vikings 24
Jacksonville Jaguars at HOUSTON TEXANS
The Jaguars pulled out a win over the Ravens in Week 7 thanks primarily to their defense; on offense, they managed 12 points, all courtesy of kicker Josh Scobee. Rookie quarterback Blaine Gabbert has yet to get comfortable, leaving the bulk of the production up to running back Maurice Jones-Drew. On the other hand, the Texans continue to impress, stomping the Tennessee Titans in Week 7, 41-7.
Final Score: Texans 31, Jaguars 13
Miami Dolphins at NEW YORK GIANTS
The New York Giants may be the best team in the NFC East, but it's still hard to tell what that really means. However, the Dolphins are the worst team in the NFL, and it's hard to imagine a way that they could pull off a road win this Sunday.
Final Score: Giants 27, Dolphins 6
Stacy Revere/Getty Images
NEW ORLEANS SAINTS at St. Louis Rams
Rams quarterback Sam Bradford may miss a second game with a high ankle sprain, meaning that A.J. Feeley will be under center for his winless team. The Saints are coming off of a 62-7 victory over the also-winless Indianapolis Colts, and a similar blowout win is in the cards for this Sunday.
Final Score: Saints 45, Rams 10
Indianapolis Colts at TENNESSEE TITANS
The Titans had a serious wake-up call in Week 7, being bested handily by division rivals Houston Texans, but at least they host a less challenging team in Week 8, the 0-7 Indianapolis Colts. For a team looking for a rebound, the Titans are practically getting a win handed to them on a platter.
Final Score: Titans 20, Colts 10
DETROIT LIONS at Denver Broncos
Losing two in a row at home is no way for the Lions to remain a convincing playoff contender, but a chance to return to dominant form on the road is certainly welcomed. Broncos quarterback Tim Tebow just doesn't have the skill set necessary to evade the Detroit defense's pressure, while Denver's defense won't be able to stop the Lions' offense, even if quarterback Matthew Stafford is sidelined with his ankle injury.
Final Score: Lions 24, Broncos 6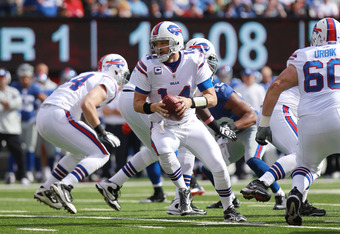 Nick Laham/Getty Images
Washington Redskins at BUFFALO BILLS
The Redskins are in serious trouble now that quarterback John Beck, in no way more inspiring than Rex Grossman, is starting under center, especially since starting running back Tim Hightower is lost for the season with a torn ACL. The Bills, at 4-2, are still a major threat in the AFC North despite the New England Patriots holding the top spot in the division. Buffalo gets the win this week; they've got too many weapons.
Final Score: Bills 34, Redskins 13
CINCINNATI BENGALS at Seattle Seahawks
The Seahawks clearly regressed to the mean in Week 7, losing to the Cleveland Browns 6-3, after defeating the New York Giants, 36-25, before their Week 6 bye. While Seattle has one of the biggest home field advantages in the NFL, it won't be enough to stop the surging Bengals, even though they are without starting running back Cedric Benson, who is serving a one-game suspension. Bengals quarterback Andy Dalton has found himself one of the most reliable receivers in the league in rookie A.J. Green, and that Cincinnati defense has what it takes to stop the Seahawks offense.
Final Score: Bengals 21, Seahawks 10
Cleveland Browns at SAN FRANCISCO 49ERS
The Niners have gone from being an afterthought in the weak NFC West to one of the NFL's most legitimately powerful and well-balanced squads. The Browns, on the other hand, cannot get anything consistent going on offense, and their defense hasn't lived up to expectations either.
Final Score: 49ers 27, Browns 10
New England Patriots at PITTSBURGH STEELERS
Any time the Patriots are playing a successful offense, there's the temptation to predict the game will be a shootout, and for good reason. New England has issues in its secondary, something that the Dallas Cowboys tried to exploit in Week 5. The Steelers' offense is becoming top-notch and they boast the top passing defense in the league. While the outcome might be different were this game played in Foxboro, the fact that it's at Heinz Field has me picking Pittsburgh to win.
Final Score: Steelers 31, Patriots 27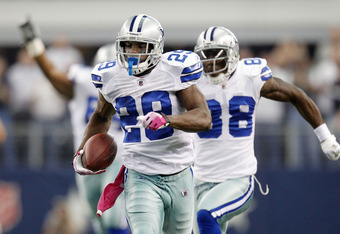 Layne Murdoch/Getty Images
DALLAS COWBOYS at Philadelphia Eagles
The Eagles appeared to have their defensive issues shored up in their Week 6 win over the Washington Redskins, but against the Cowboys, I don't believe they will sustain the momentum. Running back DeMarco Murray filled in brilliantly for the injured Felix Jones last week, and while he won't reach those heights this week, he will be a major factor; I don't think the Eagles' run defense issues are as solved as they appeared in Week 6. The only thing that could harm the Cowboys chances here is the play quality of quarterback Tony Romo.
Final Score: Cowboys 24, Eagles 20
SAN DIEGO CHARGERS at Kansas City Chiefs
The Chiefs are coming off of a surprising three-game win streak, while the Chargers appear flatter and flatter every week. And yes, Arrowhead is a loud stadium that's going to be extra electrified with the national spotlight on Kansas City this Monday night. But this game is for control of the AFC West, and San Diego is going to come in prepared to win.
Final Score: Chargers 35, Chiefs 17