Bellator vs. the UFC: Could Bellator's Best Cut It in the UFC?
October 25, 2011
I guarantee you, there is a section of the MMA fanbase that read this title and uttered a hearty sigh, or most impassioned groan.
So to those fans, I apologize for kicking up another long, entirely subjective fanboy debate. And I didn't even have the common courtesy to make this about pointless P4P rankings, or whether or not Fedor's record is padded with more cans than a Canadian cooler.
No, this week's debate is centered on a classic showdown of No. 1 versus No. 2. And no, I don't mean that No. 2, or that No. 1. I'm talking about the UFC vs. Bellator, the MMA world's monolithic fight juggernaut vs. the plucky, upstart competition.
Yes, Bellator is competition! No. 2 by default is still No. 2. It doesn't matter if they took the General Veers approach to promotion by being elevated into the vacuum left by a suddenly dead superior. (Dana White to Coker: "Apology accepted, Scotty boy.")
So what could be more fun than a hypothetical No. 1 vs. No.2  debate? I mean didn't Bellator CEO Bjorn Rebney (who, by name alone, sounds like he should be fronting a Scandinavian death metal band) recently claim Hector Lombard could hang with the all-mighty Anderson Silva?
Empty promoterspeak, or careful analysis? Let's break down this hypothetical clash of the champions, and see how Bellator's champions would fare if they jumped, today, into the UFC.
Heavyweight: Cole Konrad
Would He Make It in the Division?
Definitely. The heavyweight division in MMA in general is pretty thin, and the UFC's 265-lb class is no exception. Konrad would likely survive in the division based on his wrestling pedigree alone.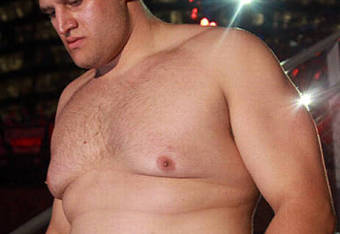 Would He Be a Contender?
Hard to say. Like I said, it's not a very deep swimming pool even in the upper end of the HW division. But to get there, Konrad would have to overcome serious obstacles. Shane Carwin, Junior Dos Santos and Alistair Overeem would all pose serious—possibly insurmountable—problems.
Would He Be Champion?
Probably not. I just don't see Konrad's rudimentary striking ot questionable gas tank surviving Cain Velasquez's grind. I think his (likely) reluctance to face teammate Brock Lesnar could also hurt his upward mobility in the division.
Light-Heavyweight: Christian M'Pumbu
Would He Make It in the Division?
I'm going to be the pessimist here and say no, he wouldn't. Sorry M'Pumbu, but we just don't know enough about you as a fighter yet. I see LHW gatekeepers like Stephan Bonnar or Tito Ortiz giving him fits.
Would He Be a Contender?
Like the old magic eight ball used to say, "Not looking good."
Would He Be a Champion?
Excuse me while I sprinkle some rock salt on the places where hell just froze over.
Middleweight: Hector Lombard
Would He Make It in the Division?
Yes. Middleweight is a "starved" division, eager for some star, any star, whose glow can withstand the pull of the black hole known as Anderson Silva. Chael Sonnen is an exception but for the most part, the division looks shallow and boring because of how easily Anderson Silva has kicked its ass. A slugger like Lombard could make a name for himself very quickly.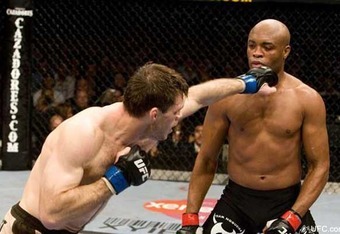 Would He Be a Contender?
Maybe. It all depends on if he was given the right fights. Feed him a steady diet of Chael Sonnen, Yushin Okami and Demian Maia, and Lombard will quickly find himself in the outside of the title picture looking in. Match him up with some brawling-minded people—"Sexyama," Chris Leben, Brian Stann, Wanderlei Silva—and he could climb the ranks very fast.
Would He Be a Champion?
Being a heavy-handed brawler would likely punch Lombard's ticket in the MW division. It would also get his ticket—and his face—punched if he ever made it to a title fight. Lombard vs. Silva would resemble Morpheus vs. Agent Smith from the first Matrix movie.
Welterweight: Ben Askren
Would He Make It in the Division?
Welterweight is a division full of world-class wrestlers, so Askren would fit right in as perhaps the most accomplished wrestler in MMA today. His "funky" wrestling style would bring him consistent victory outside the division's top 10.
Would He Be a Contender?
I say yes. Those without an elite wrestling game would be prey to Askren, and even the elite wrestlers at the top of the division (Fitch, Kos, Hendricks, Shields) would find Askren a handful. Just look at the training footage of Askren and Shields together from earlier this year.
Would He Be Champion?
No. At least, not yet. We've seen GSP make those same elite wrestlers I just mentioned look like it's their first day on the mats when he faces them. If wrestling alone was all Askren could bring to the table (and right now, it is) I have no doubt GSP would use his head for Superman punch practice for 25 minutes.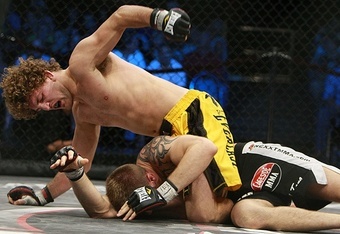 Lightweight: Eddie Alvarez
Would He Make It in the Division?
Oh hells yes. Eddie Alvarez may be Bellator's most legit champion. He's the only Bellator champ currently ranked in the top 10 of his division by most reputable MMA media outlets. I see fights with Anthony Pettis, Melvin Guillard and Clay Guida being very winnable fights for Alvarez—not to mention exciting as all hell.
Would He Be a Contender?
Again, yes. Alvarez as a fighter is the complete package. He can do it all, do it well and keep doing it until the final bell rings. That puts him in the ruling class of fighters at 155 lbs. Men like Frankie Edgar, Gray Maynard, Ben Henderson and Gilbert Melendez—Alvarez is on their level.
Would He Be Champion?
I think he's got the best shot of any Bellator guy. Frankie's speed and footwork would be a tough puzzle for Alvarez to solve, but you can say that about any fighter at LW. Alvarez has the power, poise and stamina to win that belt and defend it against the best in the world.
I'm going to leave Featherweight and Bantamweight out of the analysis for now, because those divisions are not yet deep enough (in either organization) to get a clear picture of where Bellator fighters would stand vis-a-vis the UFC.