NBA All-Time Starting 5: The Best Team to Ever Be Assembled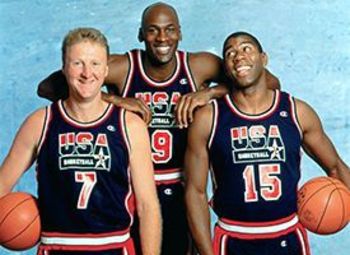 In a perfect world, we would be able to see if players in different eras could compete with those in the current times. Would Magic be able to play against Nash and Iverson? Would Jordan and Kobe go head to head? Who would be the more dominant center, Howard or Russell? These are all questions that we as fans like to run through our head and imagine results.
When determining a starting five, it is not due to how many championships a player has or how many awards they have received, but merely for the basketball skills that they have exhibited throughout their years of playing. Although in the long run a career is typically determined by how many championships one has, it is difficult to say that they are a bad player on the account they did not win a ring.
Also, their listed position is what puts them in that category. For example, Kobe will not be placed in the small forward position just to make the squad (because we all know who should be the shooting guard), and putting LeBron at point guard also violates the rules.
Well here you go and enjoy the greatest starting five in the history of the NBA.
Point Guard: Magic Johnson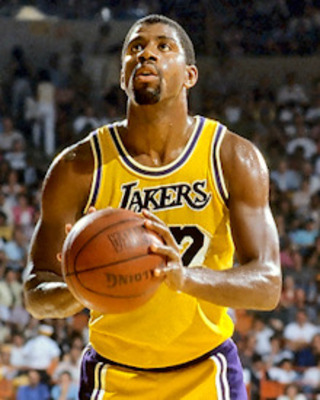 Magic Johnson and his showtime Lakers put on some clinics against their opposition during the roaring 80's. Johnson averaged 19.5 points a game alongside 11.2 assists and 7.2 rebounds. These stats are staggering and only scratch the surface for the type of player Johnson was.
If there were one word to describe Johnson, it would be swagger. He had it, he played with it and most of all, he was it. It was in the way he played, passed the ball and even carried himself on the court.
There was no challenge that Magic would be scared of and there is nothing that he would back down from. He changed the way the point guard position was played.
Magic was able to make some of the most creative passes never before seen in the game during his time. However, he was not the prototypical point guard in terms of size. He was long, lanky and his basketball IQ was off the charts. One of his strongest attributes was his vision on the court.
If he could be compared to players today, it was Rajon Rondo's skills in the size of Gerald Wallace's body.
Shooting Guard: Michael Jordan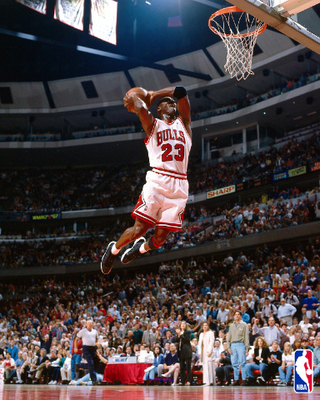 Michael Jordan is and forever will be the greatest to ever play the game. He revolutionized the sport and became one of the first players to become a worldwide household name.
He was marketed to every section of the globe and at the pinnacle of his career, chances of people having heard his name probably was close to 100 percent.
Ultimately, what made Jordan's career was his domination on the floor with his own personal flare for theatrics. He was athletic enough to go up for a dunk with one hand only to shift the ball to the other hand for an even harder lay-up. Some may ask why he did it, but simply put, because he could.
Even the final shot of his 90's career came with an NBA finals playoff clincher over the Utah Jazz. It figures that the career of the game's best end with a storybook finish.
Jordan finished his career with a regular season average of 30.1 points, 2.3 steals, 5.3 assists and 6.2 rebounds. Not to mention that he averaged 33.4 points, 6.4 rebounds and 5.7 assists during the playoffs. Never since Jordan has there been an average like this stat line during the playoffs.
He ranks third all time in scoring with 32,292 points only behind Kareem Abdul-Jabbar and Karl Malone.
When it was all said and done, he was a six-time NBA champion, five-time NBA MVP, a 12-time All-Star and a six-time NBA Finals MVP.
Michael Jordan is a one of a kind player. The day that the league lost him, was the day that the league lost the greatest of all time.
Small Forward: LeBron James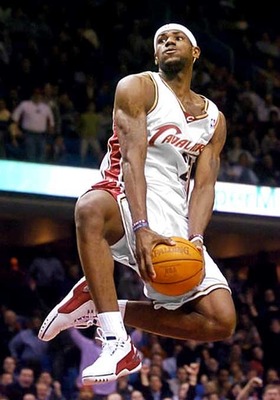 LeBron James is a special kind of player. Not since Jordan have we seen a player with the kind of physical prowess that just dominates the game.
James is 6'9" and close to 275 pounds. He also has a vertical jump that is in the low 40's. As seen on some of his dunks, there really is no stopping him when he takes flight unless committing a foul.
In eight years of playing in the league, James was able to put up some stats that rival some of the greats. He's averaged 27.7 points, seven assists and 7.1 rebounds. In the playoffs, he's averaged 28 points, 8.4 rebounds and seven assists.
What makes James so valuable is not his scoring capabilities, which are also off the charts, but his ability to have a triple double on any given night. He has a unique blend of vision, power and finesse.
Although his career is still young, his stats are very similar to those of future Hall of Fame player Jason Kidd. They both put up big numbers in all categories other than just points.
Unfortunately, until he wins a championship it will be tough for people to accept his greatness. Some awards he has received already are his two NBA MVP's, seven All-Star appearances, two All-Defensive team placements and the 2004 Rookie of the Year award.
Having LeBron James on this starting five adds in a player who can rebound, drive, dish out and basically do anything the team needs him to do.
Power Forward: Tim Duncan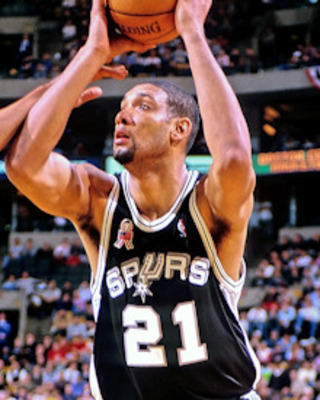 Tim Duncan, or as many people know him The Big Fundamental, is becoming an old man racking up 14 years in the league. However, it would be a shame if people did not remember the days when he would rip defenses apart with his patented bank shot.
During his career, he's averaged 20.6 points and 11.4 rebounds per game. It's impressive to maintain those numbers over a 14-year period. As a champion does, his stats only increased during playoff time. In the playoffs he averaged 22.7 points and 12.4 rebounds.
He was one of the greatest team players as well as defensive players. Duncan was named to 13 All-Defensive teams along with 13 All-Star appearances and four championships. His accolades are some of the best and it is tough to argue that he was one of the best players to ever play that position.
Along with the four championships, he also was named finals MVP in three out of the four he won. Duncan also won NBA MVP twice in the 2001-02 and 2002-03 season. It is rare that we see a down low position with that kind of recognition. Even in today's game, the best center in Dwight Howard cannot imagine doing what Duncan already has.
Tim Duncan is one of the best to ever play the game. He has shown poise in stressful times and has shown dominance while doing so. It is tough to argue that when he retires, he will be inducted into the Hall of Fame and his fate will be sealed in basketball immortality.
Center: Shaquille O'Neal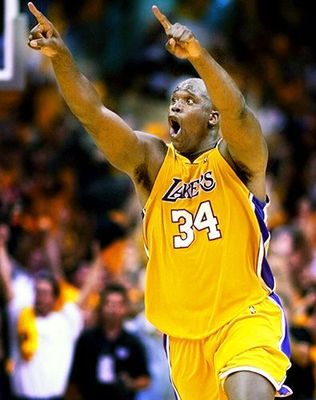 This one was tough because there are so many great and dominant big men in the history of the game. Some names that come to mind are Bill Russell, Dwight Howard, Patrick Ewing and the list goes on.
However, what really tipped the scale in Shaq's favor was the fact that when he first entered the league, there never has been a more athletic big man to play the game. Whenever he would get a rebound and lead a fast break, people went nuts. It was hard to imagine a behemoth 7'1" center going coast to coast and finishing with a dunk.
Shaq would post up defenders like he was playing in a JV league and his one dribble drop step dunks were some of the most athletic moves seen by centers.
He won four championships, three with the Los Angeles Lakers and one with the Miami Heat. During his career, he averaged 23.7 points and 10.9 rebounds per contest. During the playoffs he averaged 24.3 points and 11.6 rebounds and he routinely had the ability to score 60 points on any given night.
O'Neal is also fifth in the all-time scoring list only behind Kareem, Wilt, Jordan and Malone. Not too bad a list to be on.
If stats were not enough, he was nominated to 15 All-Star games and was named Finals MVP in three out of the four championships he won. During his tenure with the Lakers, it was almost impossible to name a better center in the game.
Since his days of playing, there hasn't been a center to put up the numbers and play with the absolute domination that he did during his time.
Keep Reading