SEC Football: LSU vs. Alabama and What You Need to Watch for in Week 9
October 25, 2011
Sam Greenwood/Getty Images
The Southeastern Conference has a great slate of games this weekend, but be sure not to mention it to ESPN talking heads.
Nearly two weeks away from the LSU-Alabama showdown, it seems to be all anyone can talk about. However, each week in the SEC seems to provide great entertainment and competitive football. This week should not prove otherwise.
In fact, Week 9 of the college football season could prove to be the most important week in the conference. At least for the Eastern Division.
Georgia takes its division leading Bulldogs to Jacksonville, Fla., for the World's Largest Outdoor Co...Oops!...I mean their annual rivalry game with Florida. In the meantime, South Carolina will attempt to topple Tennessee and new starting quarterback Justin Worley. With a win, the Gamecocks would continue their run atop the East, holding the head-to-head tiebreaker with Georgia.
Every week in the nation's best football conference (yeah, I said it!), there seems to be a whisper of something special. Could this week be the turning point in what has been a roller-coaster season for Tennessee? Could Kentucky climb out of the cellar when it hosts reeling Mississippi State?
So many questions abound, but so many answers can also be found.
Check out what to watch for this week in the SEC: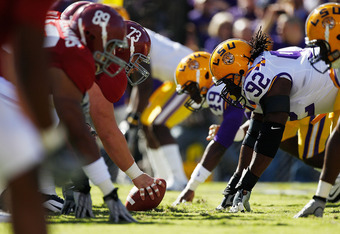 Chris Graythen/Getty Images
Alabama-LSU to Dominate Headlines
Despite the fact Florida and Georgia play this Saturday afternoon, most analysts and talking heads, sans Athens and Gainesville, will be worried more about the No. 1 vs. No. 2 showdown on Nov. 5 at Bryant-Denny Stadium. As long as Nick Saban is the head football coach at the University of Alabama, the LSU game will be of significant importance. Even when the stakes aren't this high. Therefore, expect to hear Paul Finebaum and every other human in the SEC media to hype this game to be the biggest in history—something it is not. 
Will Muschamp to Lose His Temper
It's not every day you see a coach go ballistic, but it does seem to happen a lot on Saturdays when the Gators are on the gridiron. Muschamp has apologized for his behavior and his, let's call it "colorful' language, but will he keep his cool in the biggest game of the season? I wouldn't bet on it.  
Steve Spurrier to Chuck His Visor
You can bet Derek Dooley is hoping he can find a way to tick Steve Spurrier off. The ol' ball coach will have a big test ahead of him this week, including how to cope without leading rusher Marcus Lattimore. The All-SEC performer went out with a knee injury and will not return this season. Can Spurrier channel the Fun 'n' Gun, or will he dial it back and try to keep his quarterback contained? Either way, something will happen that itches Spurrier's nerves, and he will take his visor and sling it to the turf.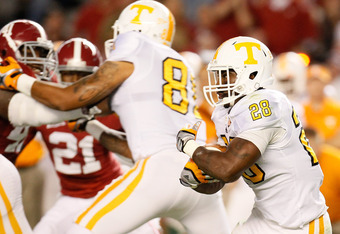 Kevin C. Cox/Getty Images
Tennessee to "Poole" Its Resources
Tennessee had been relying on the arm of sophomore-sensation Tyler Bray for much of the 2011 season. Relatively unknown running back Tauren Poole has been able to keep the Vols balanced in most of their contests this season, including rushing for 317 yards in the team's first four games. This week against Melvin Ingram and the South Carolina defense, the Vols will need to have everyone working as a unit to be able to compete, especially with Worley making his first start for the program.
Houston Nutt to Lose It All
To my knowledge, Ole Miss has never fired a coach midseason, and I don't expect that to happen this season. But you can bet Houston Nutt is on his way to the retirement line or at least the FCS. After the disappointing season the Rebels had last year and the disaster involving Jeremiah Masoli, the Rebs are faced with trying to lure a decent coach to the Magnolia State for the first time since David Cutcliffe. 
Verne Lundquist and Gary Danielson Will Mess Up
It never fails. At least once, OK...four times a game, these two bumbling idiots say something completely absurd. Listening to Lundquist used to be entertaining—much akin to Keith Jackson— but now it is heart wrenching to hear his voice during the most important games of the SEC season. Danielson, however, is the worst of the two. It is no secret he played football, but his knowledge of the modern game is simply inadequate to broadcast spectacular football contests. Give me Andre Ware any day over Danielson.