2012 MLB Offseason: Los Angeles Dodgers Fielding Breakdown
October 25, 2011
Christian Petersen/Getty Images
Frank McCourt is bouncing checks left and right. Well, maybe it isn't that bad, but the Dodgers went through hell this year and managed to come out of it above .500. Yet, that isn't that remarkable when you consider the fact that they have the favorite for the MVP award and Cy Young award on the same team. So, when you take those two guys out, there is quite a bit of dysfunction. 
Ned Colletti and his predecessors loaded the team down with huge contracts that they are still paying off. Fortunately, a lot of those contracts are clearing out. This allows him to reshape the team significantly for the first time in several years. He can surround Matt Kemp and Andre Ethier with a blend of young players and veterans. It remains to be seen how he will do it.
DER: .701 (9th)
RA: 612 (5th)
FLD%: .986 (5th)
Baseball Reference: -3 runs (19th)
Fangraphs: +4.2 runs (12th)
Fielding Bible: +5 runs (15th)
Baseball Prospectus: -17.6 (28th)
Composite Runs: -2.8 runs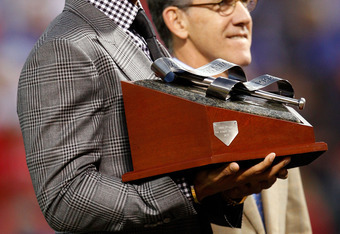 Tom Pennington/Getty Images
The composite runs might be a little misleading as Baseball Prospectus seems to be an outlier here. That being said, you could not call the Dodgers anything better than average defensively. If you look up and down the lineup you see some good and some bad. Now comes the time when Colletti must establish his priorities. Does he want to improve the defense or the offense?
Best Fielder
James Loney was a huge disappointment with the bat this year. He is arbitration-eligible, and there is a good chance he will be non-tendered. The new rules allow teams to re-sign their non-tenders, so that wouldn't spell the end for him necessarily, but other teams like the Phillies can use a player like him. Loney embodies the difficult decisions Colletti must make this offseason. Loney probably deserves the Gold Glove, but he won't win it.
Worst Fielder
In most seasons it would be Matt Kemp, but this year it ended up being Andre Ethier. Neither is gifted at all. However, Ethier is usually passable, but just struggled this season for whatever reason. Kemp should probably be in left field, but the Dodgers don't have a legitimate center fielder on the roster.
Possible Changes
The Dodgers have free agents at third base, Casey Blake, and potential holes at second base, first base and left field. This doesn't even count the mess that is behind the plate. Colletti could fill those holes with veterans or young players. Forecasting how much he will have to spend is like forecasting the stock market. It's unpredictable.
2012 Outlook
It says here that Colletti will look for more offense in the offseason. If that is the case, look for the Dodgers to be mediocre again with the gloves. If they choose to go the other way, the Dodgers could become the same kind of dominant pitching team they were when Koufax and Drysdale were winning pennants.