BYU Football: TCU Is This Season's Most Intriguing Matchup
October 25, 2011
Stephen Dunn/Getty Images
"You have to be careful what you wish for. If you are BYU, you have to be careful what you wish for." TCU coach Gary Patterson indirectly warned BYU fans that going independent would inflate the numbers in the Cougars' loss column.
With two losses, this year's BYU team shares that statistic with TCU.
Be careful what you wish for, Mr. Patterson, going into the Big 12. Baylor is only the beginning of your problems, buddy.
This Friday night's matchup at Cowboys Stadium is intriguing on many levels.
First, BYU and TCU have an established rivalry created over the last six years as Mountain West Conference foes. TCU's three-game win streak over BYU evens out the all-time series record at 5-5. The Cougars and the Frogs are 3-3 in Fort Worth and 2-2 in Provo. Even Steven.
Next, BYU was supposed to be selected by the Big 12 to replace Texas A&M. Right?
Cougar fans across the country were hit by a full-throttled heavyweight 18-wheeler truck with purple rims when the announcement was made that TCU would be joining the league.
TCU? Come on. Anyone but TCU.
Speculation still swirls around the college football conference realignment blogosphere that BYU will be invited to the Big 12 once Missouri takes its grand exit. West Virginia and Louisville have been named as prime candidates, but Big East commissioner John Marinatto is holding all teams in his conference to the contractual 27-month notice before they can bolt elsewhere.
Tom Pennington/Getty Images
Some think the Big 12 will not be able to wait 27 months to fill a hole and BYU's name, once again, is getting thrown around as the likeliest fit.
BYU athletic director Tom Holmoe, always careful with his words, said, "To this point, TCU has been invited and [BYU] has not."
The possibility that these two schools could extend their rivalry into the future as conference foes is still a reality.
As for the game this week, does Gary Patterson even want to be playing it?
After BYU announced its television contract with ESPN and its exit from the Mountain West Conference, TCU's coach infamously said,
Why would I want to schedule them? If I don't have to play somebody then why would I want to play somebody like BYU? Personally, I'd rather play somebody a little better, like from the PAC. I think they made a mistake by leaving the conference. So no, I don't think we will be playing them in years to come.
What changed your mind, Gary?
Money talks, I guess.
BYU and TCU have both impressed on the big Texas stage. Last year, TCU defeated Oregon State in the season-opening Cowboys Classic. In 2009 BYU defeated Oklahoma in the first ever collegiate game in the stadium large enough to fit the entire Statue of Liberty within its closed roof.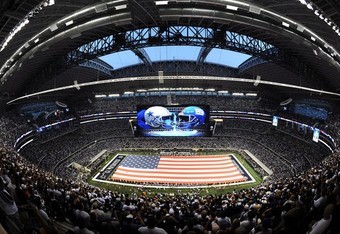 Everything is bigger in Texas.
Finally, this game will be intriguing on the level of the playing field. TCU is favored by 12 points.
Coming off disappointing starts to the season, both teams are riding waves of positive momentum.
BYU is rushing for more yards than it is passing. That sentence is worth repeating. BYU is rushing for more yards than it is passing.
Defensively, TCU is not as strong this year as in the past. The Frogs' biggest weakness has been pass defense.
If the Cougars are going to pull off another upset in Cowboys Stadium, they will have to be leading after the first quarter. Earlier in the season TCU lost the first quarter 14-0 to SMU, which created a deficit the Frogs could not hop over. TCU was also losing to Portland State 3-0 after the first quarter and to Louisiana-Monroe 17-14.
For BYU, the statistics show that the fourth quarter is where the Cougars shine. Just ask Central Florida and Utah State.
If 2011 is going to be the year that BYU finally gets the Horned Frog off its back, look for the Cougars to dominate the beginning and the end of this game.
If TCU loses game number three, Gary Patterson just might eat his emotions all the way to the emergency room. That is if he doesn't go into an epileptic shock on the sideline first.