NFL Picks Week 8: Picks for AFC North vs. NFC West Clashes
November 20, 2016
Patrick Smith/Getty Images
Week 8 of the 2011 NFL season is shaping up to be a Sunday full of mismatches, highlighted by three tilts between the AFC North and the NFC West.
The former doesn't have a single team with a losing record. The latter sports three squads with serious entries in the Andrew Luck sweepstakes.
See what I'm getting at here?
That being said, predicting which teams will win may not be as much of a slam dunk as you might think. After all, this is the NFL we're talking about—where "WTF?" happens.
Arizona Cardinals at Baltimore Ravens
A win for Baltimore at home over an awful Arizona team would've been a forgone conclusion had the Ravens not stunk it up so horribly against the Jaguars on Monday night.
As poorly as Joe Flacco, Ray Rice and the rest of Baltimore's offense played, it's tough to imagine the Ravens not beating the Redbirds in Week 8, if not dominating them entirely. The Cardinals are 26th in the NFL in total defense and 28th in scoring defense.
If the Ravens can't make against a defense with those sorts of stats, then you'll know they're screwed.
Even if that turns out to be the case, it's not as though Arizona is actually capable of putting points on the board. The Cards are lucky to put up 20 points on any given Sunday and will be even luckier to do so without the injured Beanie Wells against the league's stingiest scoring defense.
Prediction: Ravens 13, Cardinals 7
Cleveland Browns at San Francisco 49ers
So, the Browns managed just six points in Week 7 and they won?!
Good luck pulling that trick on the road against the 49ers. Colt McCoy and company may be lucky to match that point total against one of the league's stingiest and most physical defenses.
Not that Alex Smith and Frank Gore will have an easy time moving the ball against Cleveland's unit, which ranks fourth in the NFL in total yards per game allowed. That being said, the Niners should be able to muster just enough to hold serve at Candlestick Park in what figures to be a defensive struggle throughout.
Prediction: Niners 17, Browns 13
Cincinnati Bengals at Seattle Seahawks
Remember that game that Cleveland won with just six points? Well, the Seahawks were the sorry S.O.B.'s who couldn't muster up enough offense to overcome even that slender margin. You know a team's in bad shape when Tarvaris Jackson and Marshawn Lynch can't play and the offense actually gets worse.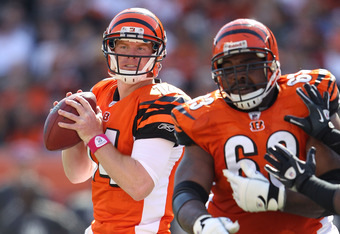 Andy Lyons/Getty Images
But that's what Seattle has on its hands after managing just three points and 137 total yards with Charlie Whitehurst at quarterback and Justin Forsett and Leon Washington at running back.
Lynch should be ready to play after hurting his back during pregame warmups on Sunday, though the 'Hawks will need more help than that against the Bengals, whose defense ranks fourth in scoring and first in yards per game allowed.
And judging by the way the Seahawks have struggled to put points on the board, Cincy won't need much from Andy Dalton and A.J. Green to succeed, even with Cedric Benson sitting out on a one-game suspension.
Prediction: Bengals 20, Seahawks 10