World Series Game 5 Live Blog: Cardinals vs. Rangers Updates, Analysis, Results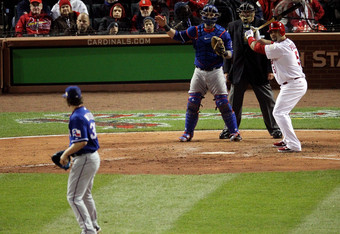 Jamie Squire/Getty Images
The St. Louis Cardinals are built to bludgeon left-handed pitching into oblivion, but in Game 4 of the World Series Sunday, Texas Rangers southpaw Derek Holland proved that is not the immutable fate of all lefties who face Albert Pujols' gang.
Tonight, C.J. Wilson will try to build on his teammate's success and give the Rangers a crucial 3-2 edge as the two teams head for St. Louis.
Chris Carpenter counters for the Cardinals, with considerably more momentum coming into this contest. Whereas Wilson has been flat and has struggled with command this month, Carpenter has three critical and impressive starts already this postseason.
The Cardinals are angling for happy flight. The Rangers are protecting their home turf, something they do as well as any team in baseball.
It's ace versus ace, Pujols versus Hamilton, and on and on.
Stay here for updates, analysis and commentary on all the action.
Ronald Martinez/Getty Images
Doug Pensinger/Getty Images
In the end, Game 5 of the 2011 World Series was won when Mike Napoli and the Texas Rangers executed better than the St. Louis Cardinals. It was solved on the field. The Cardinals jumped out in front with two second-inning runs, but did not score thereafter despite many opportunities to do so.
C.J. Wilson struggled badly early on, and control continued to be a problem for the lefty, but he held it together well enough to get through five innings. Thereafter, the Rangers walked tightrope after tightrope, intentionally walking Albert Pujols three times and generally putting far too many runners on base for St. Louis, but never breaking at key moments. Their defense came through in a big way.
No defender turned out to be as important as Mike Napoli behind home plate. The catcher cast out by the Angels last winter for supposedly lacking defensive skills pegged Allen Craig trying to steal second base twice, helping the Rangers step out of trouble frequently as they made their way back into the game.
Mitch Moreland and Adrian Beltre hit solo homers off Carpenter, Beltre's to tie the game in the bottom of the sixth inning. Napoli came up with a huge two-run double with the bases loaded in the bottom of the eighth, pushing across the winning runs.
The preeminent legacy of this game, though, ought to be hyper-aggression and micromanagement by each manager. Ron Washington handed out five intentional walks, only two of which made any sense at all. Tony La Russa authorized Craig to run twice in situations (Albert Pujols at the plate) wherein it made no sense. Each manager laid down a deleterious sacrifice bunt in the game, too.
Heading back to St. Louis, this Series looks like the best in a decade. One can only hope the managers stay out of the way and let the talent on the field decide the outcome.
Happy Flight: Rangers.
Rangers win! A strikeout of Berkman puts away Game 5, and Texas takes a 3-2 lead in the Series as the Classic heads back to St. Louis.
Matt Holliday walks in a protracted at-bat, and Lance Berkman becomes the tying run, the second time the Cards have managed to get there in this frame. Something tells me Holliday will stay put unless and until Berkman makes contact.
Neftali Feliz is sick and nasty and just bad to people. He threw a fastball right by Albert Pujols' face for out number one. And you know what? Allen Craig was running. And you know what? Mike Napoli threw him out again. The tying run is no more. Two out. Top of the ninth.
Fantastic eight-pitch battle so far between Pujols and Feliz. 3-2.
Neftali Feliz just hit Allen Craig with a pitch to lead off the ninth, making Albert Pujols the tying run.
Get to your TV.
Ronald Martinez/Getty Images
Elvis Andrus struck out to end the threat, and Jason Motte earned his manager's confidence by keeping it a two-run cushion going into the ninth inning. With 2-3-4 in the St. Louis order due up, two runs could be nothing. Then again, Neftali Feliz could come in throwing pills that make Albert Pujols look like Elvis Andrus, and this game could be over quickly. Buckle up.
Doug Pensinger/Getty Images
Another inning, another intentional walk. I think I agree with this one. It's certainly an interesting question. La Russa brought in Lance Lynn only because relief ace (NOT closer) Jason Motte was not ready, and now he goes to Motte to face Elvis Andrus--obviously, a friendlier proposition than facing Ian Kinsler. That was a clever gambit by La Russa, although people who have lives outside this game might not much like the dragging out of the game's final act here.
With Ian Kinsler coming to bat and two outs, the Cardinals go to their bullpen again, this time to Lance Lynn. If they get out of the inning without more runs scoring, the game is not over. If Kinsler comes up with a hit, there will be no Happy Flight.
"It's hard to say which hit was more valuable, the one by Murphy or the one from Napoli."
-Tim McCarver, comparing an infield single with two men on base to a two-run, tie-breaking double with the bases loaded
For the first time tonight, the Rangers have the lead. Mike Napoli continues to be an excellent, nearly invulnerable hitter, taking a solid pitch on the outer edge from Marc Rzepczynski and lacing it to the wall in right-center field for a two-run double. Two men remain ins coring position, one at third base with one out, and the Rangers now have a 4-2 lead.
Infield hit, David Murphy. Deflected off the pitcher, the ball skittered to the right side of the infield.
The bases are now loaded for Mike Napoli, who has a chance to solidify his Series MVP candidacy.
Ronald Martinez/Getty Images
The Cardinals chose to intentionally walk Nelson Cruz, bringing (theoretically) David Murphy to bat with two on and one out here in the bottom of the eighth. Tony La Russa has subsequently called upon Marc Rzepczynski to go after the next batter, be it Murphy, Craig Gentry or Yorvit Torrealba.
I want to moderate my criticism of La Russa. I had forgotten just how bad Dotel is against left-handed batters, so it was important he have Rzepczynski ready in case the inning got this far. The problem is that Scrabble now must stay in at least three batters, so if he cannot get out Mike Napoli between the two lefties in the Rangers' order, the Cards are sunk.
Marc Rzepczynski is up in the Cardinals bullpen, giving us all another chance to wonder what goes through Tony La Russa's mind. It seems Josh Hamilton with a man on in the seventh was insufficient cause to have a lefty warm up, but the specter of David Murphy has La Russa readying reinforcements.
Octavio Dotel enters in the bottom of the eighth, tasked with mowing down the all right-handed section of the Rangers batting order. Unimpressed, Michael Young doubled to lead off the frame, and now things get all tense and stuff.
Doug Pensinger/Getty Images
Given a second chance to throw out a key runner from the shortstop hole, Elvis Andrus got one to Mitch Moreland on the fly, and the Rangers get out of a mild jam in the eighth inning. The Cardinals continue to mismanage and poorly execute opportunities to score, and the Rangers continue to show the value of good defense in high-leverage situations.
Still tied, 2-2, headed to the bottom of the eighth.
Ryan Theriot pinch hit for Skip Schumaker, then promptly sacrificed Molina to second base. Why does Tony La Russa need to pinch hit in order to sacrifice bunt? Anyone?
Elvis Andrus just made a sensational play, really deep in the hole at shortstop. He jump-threw the ball all the way back on a long hop to Mitch Moreland at first base, in plenty of time to retire Yadier Molina. Unfortunately, Mitch Moreland could not scoop it.
One on, nobody out, top of the eighth, and we get a pitching change. Darren Oliver will enter for Texas, to face left-handed Skip Schumaker.
Doug Pensinger/Getty Images
The Rangers might want to think twice about running on Chris Carpenter and Yadier Molina. It's still an acceptable risk for Ian Kinsler or Elvis Andrus to try to steal as this game goes on, but it must be noted: Molina is a beast throwing runners out behind the plate, and Carpenter consistently saves the Cards runs by being hard to run against each year.
We are through seven innings, still deadlocked at two runs. Carpenter keeps going, though he might not be back for the eighth inning. Mike Adams figures to enter to face the bottom of the Cardinals order in the top of the frame here.
Ian Kinsler just keeps being a part of the game, drawing a one-out walk against Chris Carpenter. A stolen base attempt here would make much more sense than did Allen Craig's, because Elvis Andrus is a singles hitter.
Chris Carpenter remains in the game as we move to the bottom of the seventh inning. Just saying.
Tom Pennington/Getty Images
After loading the bases, in part, with two intentional walks, the Rangers miraculously escaped the seventh inning without allowing a run. David Freese made it happen with a fly out to end the frame. Ron Washington got very lucky despite terrible management in this inning, but then, Tony La Russa was as bad.
As the interminable seventh-inning stretch goes on, thanks to a six-minute rendition of 'God Bless America,' both managers might want to take a deep breath, step back and let their players play a bit the last two and a half innings.
Matt Holliday finally came through, for the first time all night, nearly making Ron Washington pay on the spot for the awful decision to intentionally walk Albert Pujols with the bases empty and two out. Albert Pujols might have been able to score on the play, a long single to left-center field, but did not pick up the ball well enough and was held up. Holliday reached second base on the throw home.
With two men on and two outs, Lance Berkman has now been issued a much more logical intentional walk. This time, by walking Berkman, the Rangers gain a tangible advantage. Berkman bats left-handed; David Freese bats right-handed. Ogando is a freak against right-handed pitching, a truly dominant force against them, so at last, a managerial ploy in this game makes sense.
Again, over-managing is not a good thing. Allen Craig took off trying to steal second base with one out and Albert Pujols (who hits a ton of extra-base hits, enough that trying to increase the benefit of a single doesn't make much sense) at bat, and got caught.
That could have put the inning pretty well away, but then, Ron Washington answered Tony La Russa's mismanagement with his own once again. With a 1-1 count, Mike Napoli stood and directed an intentional walk of Pujols to put a runner back on base with two outs. Again, if you think that was a good choice, you're WAY underestimating Matt Holliday.
I know this is off-topic, but is anyone else weirded out by the bulbous protrusion on the right side of Ogando's face? I've thought that to myself 10 times in this postseason if I've though it once. Anyway, he walks Craig to bring Pujols to bat with the tying run on base. Suddenly, the Rangers are back in trouble.
This article is
What is the duplicate article?
Why is this article offensive?
Where is this article plagiarized from?
Why is this article poorly edited?

Texas Rangers: Like this team?