Seattle Seahawks: Marshawn Lynch Injury Update, Week 8 Status and Fantasy Value
October 24, 2011
Mike Stobe/Getty Images
Marshawn Lynch was forced to sit out the Seattle Seahawks' loss to the Cleveland Browns on Sunday. The star running back will continue to be monitored ahead of the team's upcoming clash with the Cincinnati Bengals. 
Check back here often as we update the status of Marshawn Lynch and delve into the fantasy ramifications of his injury. 
UPDATED: Sunday, Oct. 30 at 3:21 p.m. EDT by Matt Faulconer
Just in case you needed some more evidence that Marshawn Lynch would be suiting up, ESPN's John Clayton confirms that he is active.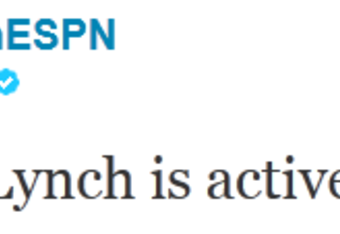 Nevertheless, fantasy owners should tread lightly as he faces the No. 5 rush defense in fantasy.
UPDATED: Friday, Oct. 28 at 1:15 p.m. EDT 
Marshawn Lynch should be ready to play Week 8 after sitting out Week 7 with a back injury, according to the News Tribune's Eric D. Williams.
"Lynch was a full participant in practice on Thursday, and expects to play this Sunday against Cincinnati.

'That's the goal,' he said. "It never happened to me where I've not been able to play, but I don't think it's something that I should be worried about too much, that it might happen again.'"
UPDATED: Wednesday, Oct. 26 at 5:40 p.m. EDT
Good news for Marshawn Lynch fantasy owners has surfaced today. According to Danny O'Neil of the Seattle Times, head coach Pete Carroll expects Lynch to be ready to play this weekend.
It sounds like fantasy owners should be able to comfortably place him in their lineups this week.
UPDATED: Monday, Oct. 24th 7:45 p.m. ET
Fantasy owners had to suffer through one of the most frustrating aspects of the NFL, a last-minute scratch. You can bet that the Seahawks' star running back was just as aggravated as he suffered a back injury in the pre-game warm-ups. 
We are now left to wonder if he will be healthy enough to yield positive results this coming Sunday at home against the Bengals. 
John Boyle, who covers the Seahawks for the Everett Herald, tweets what we are dealing with on Monday.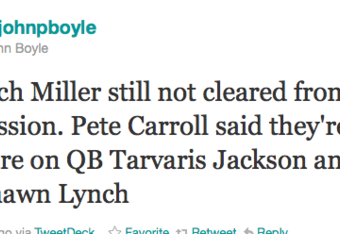 The official Twitter feed of the Seattle Seahawks gives some hope that Lynch will do everything in his power to feature in the Sunday matchup.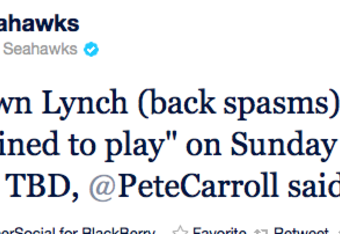 It is far too early to assess with certainty how much Lynch will yield from a fantasy standpoint this weekend. This is a classic case of wait and see. 
Lynch owners should, of course, search for a suitable replacement post-haste. There is nothing wrong in playing safe fantasy football. 
These are the kind of injuries that can linger, so make sure you are ready with a Plan B this weekend. If Lynch can't deliver on the promise of beast mode, you don't want it to harm your team's performance. 
We should know a lot more as the team practices in the coming days.