2012 MLB Offseason: Los Angeles Angels Fielding Breakdown
October 24, 2011
Steve Ruark/Getty Images
Tony Reagins fell on his sword late in the season. No one is quite sure, but some overheard him say, "E tu Wells" before he left the facility. In all seriousness, the Vernon Wells trade has to be the straw that broke the camel's back. What gets lost in all of it is that he and Mike Scioscia did a great job putting the players in position to help the team defensively,
Before the dust settles, the Angels could have half of the league's Gold Gloves. That is if the coaches voted for the people who actually had the best seasons. Pitchers like Jered Weaver, Dan Haren and Ervin Santana would not have had the seasons they did without the fielders behind them.
DER: .704 (3rd)
RA: 633 (7th)
FLD%: .985 (7th)
Baseball Reference: +54 runs (1st)
Fangraphs: +42.4 runs (5th)
Fielding Bible: +58 runs (2nd)
Baseball Prospectus: +18.2 runs (3rd)
Composite Runs: +43.2 runs
Whether the Angels are considered the best defensive team in the league is open to debate. The Tampa Bay Rays and Texas Rangers will have something to say about that. What is absolutely true is that the Angels pitching and fielding kept them in a division race they had no business staying in. Tony Reagins has a lot to answer for, but fielding is not one of those areas.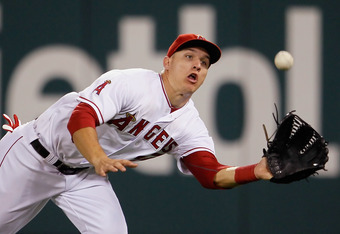 Jeff Gross/Getty Images
Best Defender
The single best decision the Angels made was moving Torii Hunter and Vernon Wells out of center field. Peter Bourjos came on and was brilliant all season long. Austin Jackson was likely a little better, but that could be debated. Hunter and Wells were used to covering more ground, so they took to left and right field like Gold Glovers themselves. That and keeping Bob Abreu at designated hitter made the Angels a top fielding team.
Worst Defender
This is an unfortunate pick since the whole club was good defensively. Erick Aybar would be closer to average and therefore rates as the worst fielder on this club. On any other team, Aybar would be a credit to the defense, but the Angels are loaded defensively.
Possible Changes
Just about everyone is under contract and due to come back. The Angels will try to upgrade their offense and Mike Trout has to be fit into the outfield picture somewhere, but otherwise they should return virtually the same lineup as least season. They will hope for improvement on the offensive end from the likes of Vernon Wells.
2012 Overview
Even if Mike Trout plays everyday, he is at least as good as Hunter and Wells defensively, so there will not be a drop off. If the rest of the lineup stays the same they should be as good in 2012 as they were in 2011.