Why Christian Ponder Has Better Long-Term Future Than Cam Newton
October 26, 2011
Hannah Foslien/Getty Images
Cam Newton and Christian Ponder were two first-round quarterbacks drafted to be the QB of the future for their respective teams, but there is reason to suggest it will be Ponder who will have the better long-term future.
Newton took everyone by storm in the beginning of the season, passing for over 800 yards and three scores, and he continues to play at an elite level despite coming back down to Earth just a bit.
But it isn't just his arm that makes him so lovable and respected on the field; rather, it's his ability to run.
Ponder, on the other hand, had to wait until just last week to make his NFL debut, and it didn't go over so well. He was, however, able to move the chains, and nearly handed the only undefeated team in the NFL its first loss of the season.
If we stop right there, many will simply say Newton is the far better quarterback over Ponder, and while that is arguably true, it is not the debate here.
The debate is who will have the better long-term future.
Newton has tremendous ability; that much is certain, but he also comes with a rather high-risk factor in that flashy mobility he has. Newton can run like a running back, but highly mobile quarterbacks have a much shorter shelf life than Ponder's variety, which is built on foundation and intelligence.
Quarterbacks such as Brett Favre and Joe Montana were never known for their ability to run like a RB—in fact, they were terrible runners.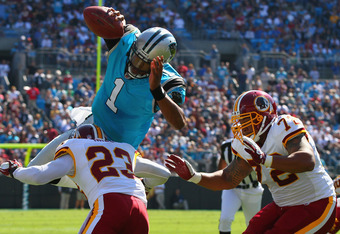 Dilip Vishwanat/Getty Images
These two examples, however, were known for their career durability, the kind of hardiness that afforded them lengthy careers.
Michael Vick is one of the most electric passers in the league right now and is the epitome of what we think of when we imagine athletic, mobile quarterbacks, but Vick has also never played a full season healthy.
Another mentionable point is the value of a pocket passer and how much of a positive effect it has on a quarterback's long-term future if he masters the art.
Athletic QBs traditionally never maturate into true pocket passers; rather, they rely too heavily on their athleticism instead of good old fashion football intelligence.
The obvious issue here is longevity, but also, these non-pocket passers struggle against certain defenses, such as the base 3-4 (Vick, again, is just one example).
Ponder is not at all known for his mobility, but he was touted as the most intelligent quarterback coming out of this year's draft.
When Ponder was drafted, he was more experienced out of the shotgun than any other set, but quickly adapted to the pocket passer role—a role all quarterbacks need to learn if they are to succeed in the long term as an NFL quarterback.
Newton is still struggling with his pocket presence consistently.
The bottom line as it stands now is that Newton is more talented while obviously being far more athletic and aggressive, while Ponder appears to be more methodical and mental.
However, when you raise a debate about the long-term future of a quarterback, that future is more reliant on health, intelligence and execution, rather than athleticism, flashiness and pizzazz.
The long-term outlook for Christian Ponder, and his type of quarterback, is simply better than the Cam Newton variety, but hey, it'll still be fun to watch them both for the next several years.