Manchester City: Enjoy the Spectacle Before You're Obligated to Hate Them
October 25, 2011
Laurence Griffiths/Getty Images
Being a soccer fan is pretty straightforward: Love your team, hate your immediate rivals. I often tell friends that I support two clubs—Liverpool FC, as well as any team that happens to be playing Manchester United on a given day.
On Sunday, I joined the ranks of fellow Reds fans, Chelsea supporters, Gunners faithful and many others in cheering on Manchester City at Old Trafford. Let's get this straight: Watching United lose in any circumstance is brilliant to begin with, but seeing them humiliated at home is even better. Add to this that City are a bitter derby rival and you're approaching ecstasy.
This weekend, City were simply a joy to watch. If it's not clear to the public already, David Silva is quite simply the best player in the Premier League. Others have more goals and assists, but the little Spaniard operates on a different dimension (his slip to James Milner for Balotelli's second goal is just one example of his ability to create chances). A volleyed pass to Edin Dzeko for the sixth goal was world-class and will haunt the nightmares of Rio Ferdinand for years to come.
Add to this the movement and technical skill of Sergio Agüero or the explosive driving force that is Yaya Touré and this 2011-2012 City side has proven to be very easy on the eyes. On the non-footballing side, we've all had our fair share of laughs over the never-ending Carlos Tevez roller-coaster, and it'll be sure to provide copious column inches in the weeks to come.
As a footballing force, City have officially arrived on the scene to challenge United and Chelsea—the dominant duopoly of the last decade—for supremacy of the English Premier League. It's a breath of oil-scented fresh air, and, for the time being, at least us bystanders (Gooners, Spuds and Scousers) can enjoy a team that won't be cowed by Old Trafford and Stamford Bridge.
Manchester City may win the Premier League this season. They may not. I may win the lottery tomorrow. I also may not.
All of this is irrelevant.
The point is, we need to enjoy the entertaining spectacle of City while it lasts, because pretty soon they will transition from that entertaining side that ousted United to evil, insidious overlords who dominate the land like an impenetrable black cloud.
Let me illustrate exactly what I mean here:
For years and years, Spain was a perennial underachiever at major international tournaments. World Cups and European Championships would come and go and, try as Raúl might, "La Furia Roja" just never seemed to be able to go the distance (as in, beat Italy on penalties).
At Euro 2008, we delighted in their scintillating drive to the finals, casting aside both Italy and Germany in order to hoist their first trophy in 58 years (the 1992 Olympics don't count). Then in South Africa, they overcame an opening loss to tiki-taka their way to glory. Exit the underdog and enter the boring, ball-hungry possession goblins who will no doubt pass their way to victory in Polkraine next summer. *Yawn*
It has taken Roberto Mancini some time, but he's moved past fielding four defensive midfielders and has brewed up a delicious recipe that may yet yield some silverware. As it stands, City's bench could probably play the pants off of 90 percent of the teams on the European continent. They'll continue to vacuum up talent until all their squad players score at least a 90 in the current FIFA PlayStation/XBOX 360 installment of that season.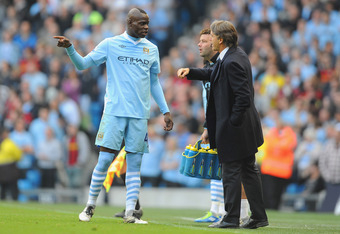 Michael Regan/Getty Images
The only possible salvation for City rests on the shoulders of a young man who is without a doubt the most entertaining personality in the game: It's obviously not Gareth Barry, but the one-and-only Mario Balotelli. Unless you played with him at Inter or are Jose Mourinho, there is no reason to find joy in the spectacle of City's resident prankster/potential world-beater.
His list of mischievous undertakings is longer than the list of females around the world who think Ashley Cole is a despicable human being. So far in his career "Super Mario" (probably the most unimaginative nickname ever) has blown hot and cold, albeit heat like dragon fire and cold like Leonardo DiCaprio felt while sinking into the ocean at the end of the Titanic (sorry, did I spoil it for you?).
I am already on the road to hating City, but I think Balotelli is brilliant. Compare him to similarly aged strikers like Daniel Sturridge or Danny Wellbeck, and his cheekiness is a breath of fresh air.
So drink it in while it lasts, football fans! Soon enough, you'll hate them just as much as you do Manchester's other club. Unless you're a Liverpool fan, of course, as it's unlikely we'll hate any more than we despise United.