2012 NFL Mock Draft: Predicting All 32 1st Round Picks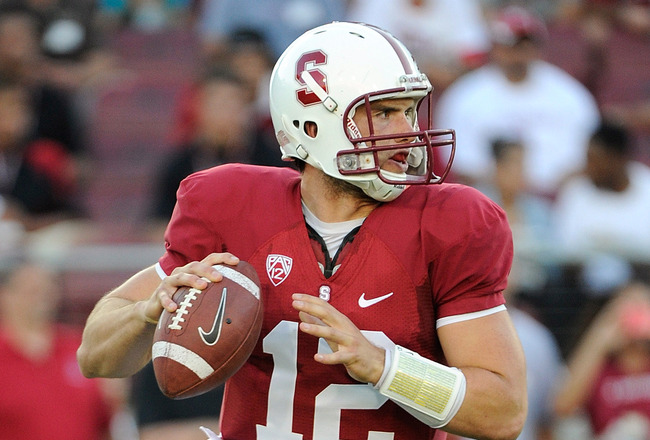 Thearon W. Henderson/Getty Images
For teams like the Green Bay Packers and New England Patriots, there's still a long way to go in the regular season: division titles, playoff games and possibly Super Bowl appearances.
For teams like the winless Miami Dolphins and St. Louis Rams, though, it's already time to start looking ahead to this April's draft. With all but guaranteed high selections, important voids can be filled, and you can bet these teams have an eye on the nation's top collegiate players.
1. Miami Dolphins: Andrew Luck, QB, Stanford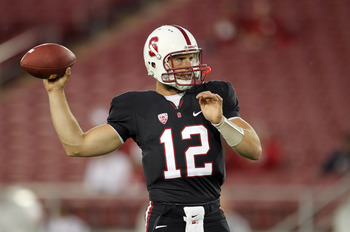 Ezra Shaw/Getty Images
If the Miami Dolphins can't beat the Denver Broncos after holding a 15-point lead with three minutes remaining in the fourth quarter, then they're certainly not going to win many games. Expecting two to three wins from this team is probably reasonable, and that should put them in a battle with the St. Louis Rams or Indianapolis Colts. I give the Dolphins the nod to finish worse because I think the Rams have a better team and easier division, and I think the Colts (even without Peyton Manning) are just better than the Matt Moore-led Dolphins.
Andrew Luck is the clear-cut favorite as the No. 1 overall selection in next year's draft, and he would be a perfect fit for a team that has struggled to find a franchise quarterback since Dan Marino retired. Luck is as close as a lock to succeed in the NFL as it gets, and he would certainly upgrade the Dolphins over both Chad Henne (out for the year) and Moore.
Then again, Luck has made it known he may not go to certain teams, similar to what Eli Manning did in 2004 (forcing a trade from the San Diego Chargers to the New York Giants) and John Elway did in 1983 (Baltimore Colts to Denver Broncos). Dolphins fans better hope this isn't the case, because guys like Luck come along at best once every decade.
2. St. Louis Rams: Matt Kalil, OT, USC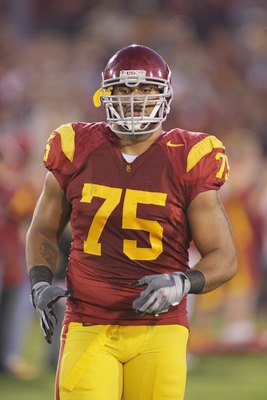 Jeff Golden/Getty Images
Offensive line has been a major issue this year for the St. Louis Rams, as Sam Bradford has already been sacked a league-high 22 times (entering today's contest). Bradford is an immensely talented quarterback, but he desperately needs some protection.
Jason Smith, the No. 2 overall pick in the 2009 draft, has proven to be nothing short of a bust in his three seasons in a Rams uniform. Matt Kalil is a can't miss NFL prospect who could play left tackle, while Roger Saffold. a good enough player who is struggling mightily this season, could slide to right tackle.
3. Indianapolis Colts: Landry Jones, QB, Oklahoma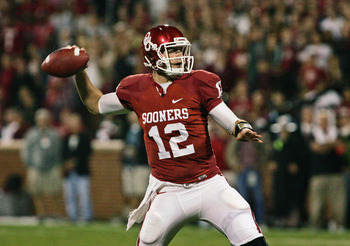 Brett Deering/Getty Images
Indianapolis Colts GM Bill Polian has made it clear that he is going to be looking into the future of the quarterback position more in detail in the future. With the Dolphins selecting Andrew Luck out of Stanford, that leaves Landry Jones as the next-best quarterback prospect in the NCAA.
Jones took over as quarterback in Oklahoma once 2010 first overall selection Sam Bradford departed for the NFL. Assuming Peyton Manning can return to health for the 2012 season, Jones will have a few years to learn from one of the best quarterbacks in the business before taking over full-time.
4. Minnesota Vikings: Jonathan Martin, OT, Stanford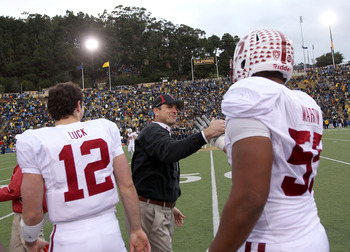 Ezra Shaw/Getty Images
The Minnesota Vikings acquired Charlie Johnson from the Indianapolis Colts in the offseason, hoping Johnson could take over right where Pro Bowler Bryant McKinnie left off.
Johnson has had a miserable year so far, and the Vikings will need a bookend left tackle for their new quarterback, Christian Ponder. Matt Kalil is the best offensive line prospect in the draft, but he will go to St. Louis at No. 2, so the Vikings will go with Jonathan Martin, Andrew Luck's blindside protector at Stanford.
5. Denver Broncos: Trent Richardson, RB, Alabama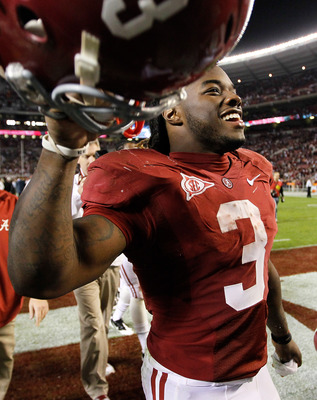 Kevin C. Cox/Getty Images
Knowshon Moreno hasn't lived up to the potential of the 14th overall pick the Denver Broncos used on him in 2009, as he has struggled to stay healthy and isn't even getting the majority of the carries in Denver when he is healthy.
Willis McGahee is having a good season, but at 30, he is in no way the long-term answer.
Enter Trent Richardson. Richardson is the most talented back in this year's NFL draft class, and is averaging 6.6 yards per carry with 17 touchdowns so far in his junior season for Alabama.
6. Jacksonville Jaguars: Justin Blackmon, WR, Oklahoma State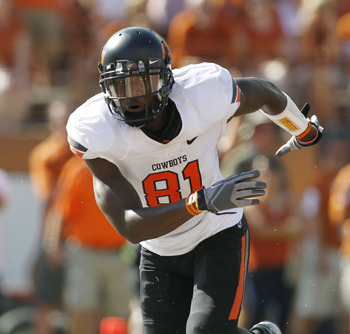 Erich Schlegel/Getty Images
The Jacksonville Jaguars need a top-notch wide receiver for Blaine Gabbert, and no one in their current group—Mike Sims-Walker, Jason Hill, Jarrett Dillard or Mike Thomasis a big playmaker who can draw double coverage from opposing defenses.
Justin Blackmon won the Fred Biletnikoff award as a sophomore and should make an immediate impact on the Jaguars.
7. Carolina Panthers: Alshon Jeffery, WR, South Carolina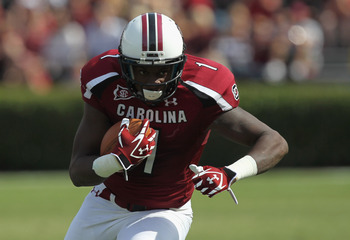 Streeter Lecka/Getty Images
Cam Newton is really impressing in Carolina, especially just as a rookie, and he would be much better with a big red-zone target like Alshon Jeffery.
Steve Smith has rejuvenated his career so far with Newton, but he is 32 and can't be expected to produce forever. Newton-to-Jeffery would become one of the best QB-to-WR combinations in the league.
8. Seattle Seahawks: Matt Barkley, QB, USC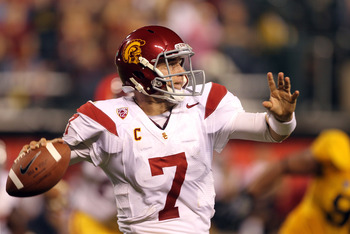 Ezra Shaw/Getty Images
The Seattle Seahawks certainly haven't found the answer to their quarterback position in either Charlie Whitehurst or Tarvaris Jackson. The last two quarterbacks to come out of USC as potential starters (Matt Leinart, Mark Sanchez) haven't lived up to their potential, but Matt Barkley is too good of a prospect to ignore.
Pete Carroll coached at USC, so he's bound to love Barkley, who has been described by his quarterbacks coach as a mix between Joe Montana and Tom Brady. Barkley was rated the No. 1 high school prospect in the nation following his senior year and prompted Mel Kiper, Jr. to say that Barkley would be the No. 1 overall pick in the draft in three years.
9. Arizona Cardinals: Riley Reiff, OT, Iowa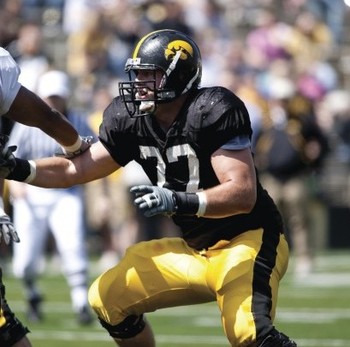 Kevin Kolb isn't living up to expectations in Arizona, and an offensive line that ranks among the worst in the game may be a big reason for that.
Levi Brown, the fifth overall pick in the 2007 draft, has been a disappointment thus far, and right tackle Brandon Keith is much better suited as a backup. Riley Reiff has good size and technique, and should be able to anchor the offensive line for the next 10 years.
10. Kansas City Chiefs: D.J. Fluker, OT, Alabama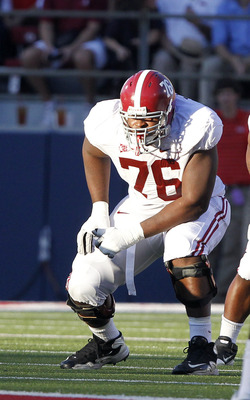 Butch Dill/Getty Images
This makes four offensive tackles in the first 10 overall picks in the draft. Right tackle Jared Gaither has struggled to recover from his back injury, and Barry Richardson is rated as one of the worst offensive tackles in the game, according to Pro Football Focus.
D.J. Fluker is a mammoth of a man at 6'6", 335 pounds, and he is a prototypical left tackle who should provide protection for Matt Cassel. Fluker is a strong enough pass blocker, but he's at his best as a run blocker, which should certainly benefit running back Jamaal Charles.
11. Cleveland Browns: Vontaze Burfict, LB, Arizona State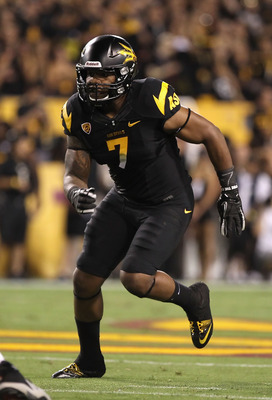 Christian Petersen/Getty Images
Add Vontaze Burfict to a front seven that includes future stars Phil Taylor and Jabaal Sheard, and the Cleveland Browns are in much better position to compete in the difficult AFC North.
Burfict is an inspirational player who brings a tough attitude to any defense he is on.
12. Washington Redskins: Robert Griffin, QB, Baylor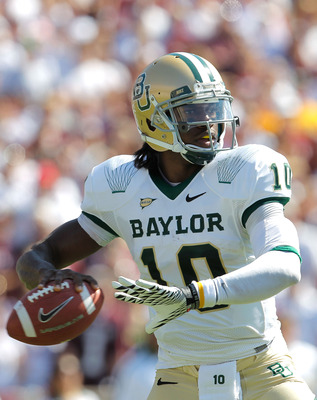 Sarah Glenn/Getty Images
This may be a bit of a stretch at pick No. 12, but Mike Shanahan can't possibly expect to contend with quarterbacks like Rex Grossman and John Beck.
Robert Griffin's stock is skyrocketing, and a good NFL scouting combine could help him even more. He has a big arm, accuracy and good mobility. If he comes out of college this year, he will probably go in the first round.
13. Cincinnati Bengals: Lamar Miller, RB, Miami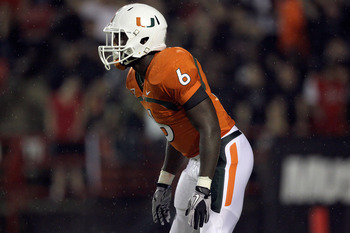 Rob Carr/Getty Images
There's no guarantee Lamar Miller, a redshirt sophomore at the University of Miami, will actually enter this year's NFL draft, but if he does, he will almost definitely go in the first round.
Miller is an explosive and playmaking runner with good speed. Cedric Benson is a decent option in Cincinnati, but he is in his seventh year already, and the Bengals will likely grab Miller as his replacement if he is available at the 13th overall pick.
14. Cincinnati Bengals (from Oakland): Courtney Upshaw, LB, Alabama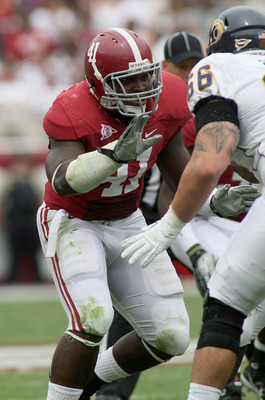 Greg McWilliams/Getty Images
The Cincinnati Bengals have owner Mike Brown to thank for this pick, as he sent Carson Palmer to Oakland for a first round pick in 2012 and a potential first-rounder in 2013.
Courtney Upshaw is expected to be the top 3-4 outside linebacker taken in this year's draft class. He has had a big impact on games in Alabama, although at times, he has been inconsistent.
If character issues don't deter his value, Upshaw will likely go in the first round of the 2012 draft.
15. Philadelphia Eagles: Manti Te'o, LB, Notre Dame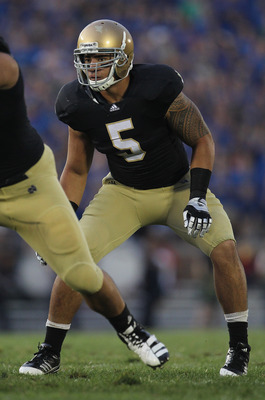 Jonathan Daniel/Getty Images
The linebackers are by far the weakest unit on this team, and Manti Te'o out of Notre Dame could instantly upgrade this group of underqualified players.
Te'o is a great cover linebacker, but he also has the skills and athleticism to play middle linebacker. This would be a superb addition to a team that historically has struggled to cover opposing tight ends and stop the run.
16. Dallas Cowboys: Morris Claiborne, CB, LSU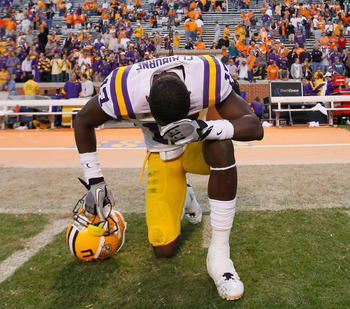 Kevin C. Cox/Getty Images
Terence Newman has had a strong career as a cornerback, but he is 33 years old and can't be expected to play at a high level for much longer. Mike Jenkins had a phenomenal sophomore season in 2009, but regressed substantially last year.
LSU's Morris Claiborne is a playmaker with a nose for the football. He would be important for a team in the same division with wide receivers such as DeSean Jackson, Hakeem Nicks and Jeremy Maclin.
17. Chicago Bears: Andrew Datko, OT, Florida State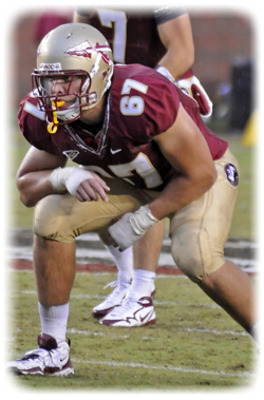 The Chicago Bears absolutely need to upgrade their offensive line, a unit that hasn't given Jay Cutler sufficient enough time to throw the football.
Andrew Datko out of Florida State University is a 6'6", 321-pound tackle who could fill in for either J'Marcus Webb or Frank Omiyale, neither of whom has gotten the job done this year.
18. Tampa Bay Buccaneers: Dre' Kirkpatrick, CB, Alabama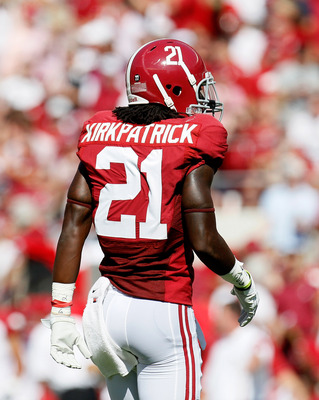 Kevin C. Cox/Getty Images
Ronde Barber is as old as they get for cornerbacks, and Aqib Talib, despite his immense amount of raw talent, is an off-the-field nightmare.
Dre' Kitzpatrick has all the tools to be a successful NFL cornerback, and he should instantly upgrade this unit.
19. Tennessee Titans: Brandon Thompson, DT, Clemson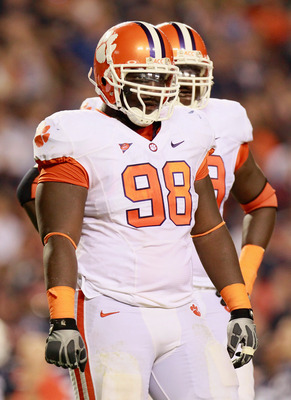 Kevin C. Cox/Getty Images
Brandon Thompson is a big plug for the defense line, and could probably play either defensive tackle in a 4-3 or nose tackle in a 3-4.
He will help improve a Tennessee Titans defensive line that is exceeding expectations so far in 2011.
20. Buffalo Bills: Quinton Coples, DE, North Carolina
Streeter Lecka/Getty Images
Some draft boards have Quinton Coples going in the top five NFL picks, but he has struggled so far in his senior season at UNC and could drop to a mid-first round selection.
Still, Coples should help a Buffalo Bills team that isn't generating consistent pass rush. He faces consistent double teams, and with this year's third overall selection Marcel Dareus on the other side, the Bills could have a pretty competent group of defensive ends.
21.Cleveland Browns (from Atlanta): Kelechi Osemele, G, Iowa State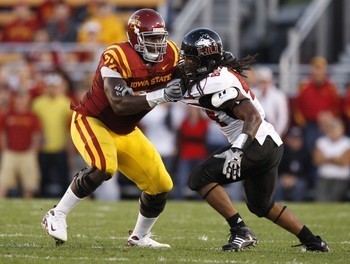 Kelechi Osemele is a mammoth of a man at 6'6", 347 pounds who can play both guard and tackle. He would probably be best suited as a guard on this year's Cleveland Browns because of the fine play of Tony Pashos at right tackle (and Joe Thomas at left tackle isn't going anywhere).
Either way, Osemele would definitely help the Browns on the offensive line, which should also help struggling quarterback Colt McCoy.
22. New York Jets: Jared Crick, DT, Nebraska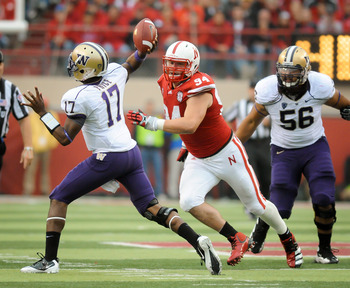 Eric Francis/Getty Images
Jared Crick is primarily a defensive tackle, but he can also play end, which may help the New York Jets, a team lacking a quality defensive end.
Crick played next to Ndamukong Suh in college his junior year, which may have inflated his sack totals, but he's still a quality lineman. The idea for Rex Ryan would be that the duo of Crick and last year's first round pick Muhammad Wilkerson would greatly boost the Jets front four.
23. Houston Texans: David DeCastro, G, Stanford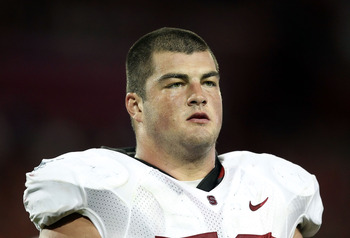 Christian Petersen/Getty Images
Offensive line has never been a strong suit for the Houston Texans, and current left guard Wade Smith ranks as the worst guard in the NFL this season, according to Pro Football Focus.
David DeCastro is a three-year starter at Stanford, a good pass blocker for Matt Schaub and an excellent run blocker for Pro Bowl running back Arian Foster.
24. New York Giants: Luke Kuechly, LB, Boston College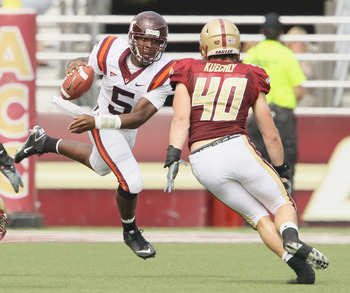 Elsa/Getty Images
Picking Luke Kuechly this late in the draft may be a steal for the New York Giants, who typically spend their first-round selection on a defensive end.
Kuechly is a linebacker who plays all over the field. He is smart and has fabulous instincts, and will help a New York Giants team that lacks dominant linebackers.
25. San Diego Chargers: Mike Adams, OT, Ohio State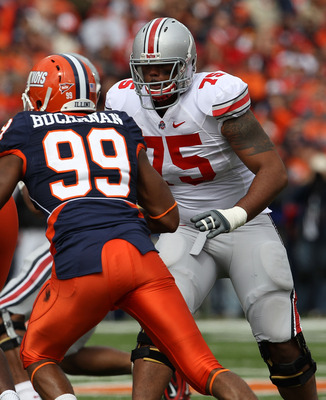 Jonathan Daniel/Getty Images
Mike Adams does have some character issues that will scare away some NFL teams, but this position is a glaring need for the San Diego Chargers. Left tackle Marcus McNeill is solid, but right tackle Jeromey Clary is frequently overmatched.
Adams has plenty of size, and he's a terrific run blocker who projects to be best suited as an NFL right tackle.
26. San Francisco 49ers: Michael Floyd, WR, Notre Dame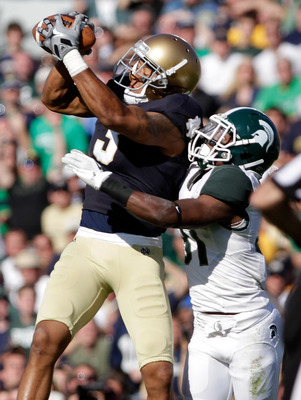 John Gress/Getty Images
The San Francisco 49ers have a dreadful group of wide receivers right now, and it's a miracle they've jumped out to a 5-1 start.
Michael Crabtree isn't the player the Niners thought he would be when they drafted him in the first round of the 2009 draft. Ted Ginn is a returner but no threat as a wide receiver. Josh Morgan is on IR, and Braylon Edwards has been a colossal bust since an August signing with the 49ers.
Michael Floyd is a playmaker with size, speed, quickness and the ball skills to be a star.
27. Pittsburgh Steelers: Alameda Ta'amu, NT, Washington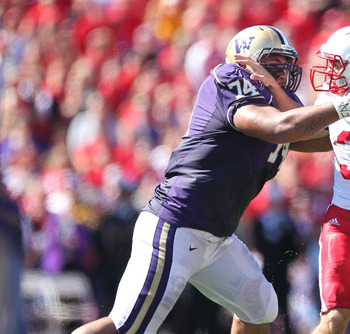 Otto Greule Jr/Getty Images
Offensive line is the biggest problem for the Pittsburgh Steelers, as all four positions (excluding center) could easily be upgraded. There aren't any offensive linemen available, though, that wouldn't be a stretch though, so Alameda Ta'amu gets the nod.
Ta'amu is a massive nose tackle who requires double teams and clogs up space at the line of scrimmage. The Steelers currently have Casey Hampton, a five-time Pro Bowler, but Hampton is 34 and the Steelers can't rely on him forever.
28. New England Patriots (from New Orleans): Brandon Jenkins, DE/OLB, Florida State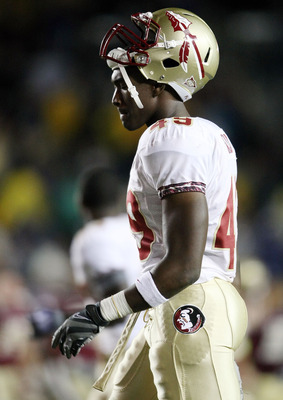 Elsa/Getty Images
Brandon Jenkins is listed as a defensive end, although he would also be suited as an outside linebacker, especially in a 3-4 scheme.
Jenkins is a strong pass rusher who faces a lot of double teams, and if anyone could get the most out of a player, it's Bill Belichick.
29. Baltimore Ravens: Stephen Gilmore, CB, South Carolina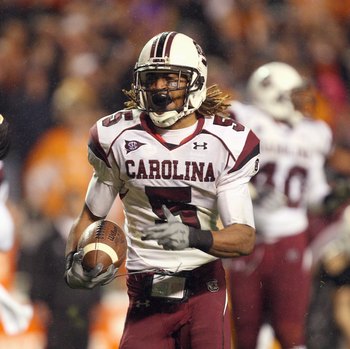 Streeter Lecka/Getty Images
Ronde Barber is as old as they get for cornerbacks, and Aqib Talib, despite his immense amount of raw talent, is an off-the-field nightmare.
Stephen Gilmore is the next best corner available, and he goes to Tampa Bay here.
30. Detroit Lions: Michael Brewster, C, Ohio State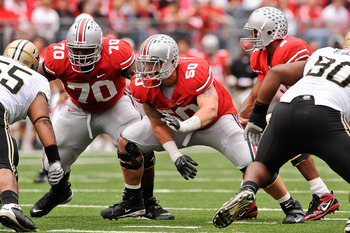 Jamie Sabau/Getty Images
The Detroit Lions could definitely use Michael Brewster, a strong run and pass blocker at Ohio State.
Domonic Raiola is 33 years old and rates as one of the worst centers in the game, so this is a necessity for the Lions.
31. New England Patriots: Ray Ray Armstrong, S, Miami
Joel Auerbach/Getty Images
An NFL draft wouldn't be complete without the New England Patriots getting their usual two first-round picks. The team could definitely use a big playmaker like Ray Ray Armstrong, an extremely talented safety with tons of talent who has had off-field issues.
This pick would be similar to when the Patriots picked Brandon Meriweather, and although he was cut in preseason, the Patriots did get a pair of Pro Bowl selections out of him.
32. Green Bay Packers: T.J. McDonald, S, USC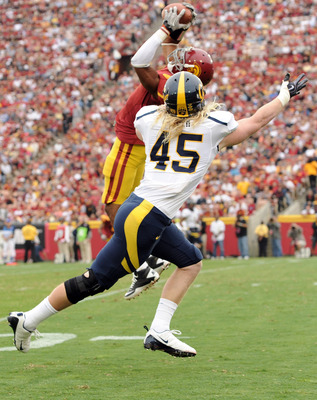 Harry How/Getty Images
When All-Pro safety Nick Collins went down with a neck injury earlier this season, it was revealed the Green Bay Packers star may not play again.
Charlie Peprah has struggled immensely in Collins' place. Enter T.J. McDonald, a star at USC, who is a good tackler in run defense and a ballhawk in pass defense.
Keep Reading