NFL Power Rankings Week 8: Who's Hot, Who's Not at Wide Receiver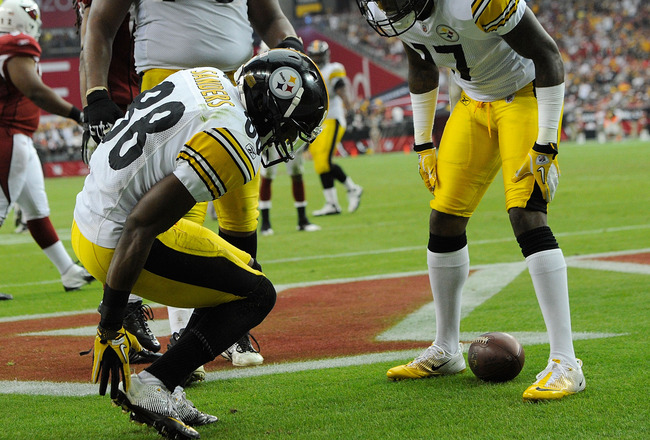 Karl Walter/Getty Images
Entering Week 8 of an exciting football season, we have seen a lot of great performances from wide receivers.
Some of these players are familiar faces to all, while others might work for UPS for all we know.
On the opposite end of the spectrum, we have wide receivers who might as well have stayed at home this weekend.
Let's take a look at which players were hot and which were as cold as the other side of the pillow.
Some of these might surprise you.
Hot: Marques Colston , New Orleans Saints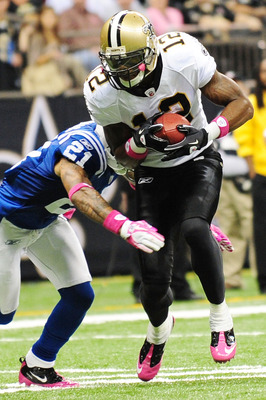 Stacy Revere/Getty Images
While Marques Colston is a familiar name, he hasn't had much of an impact on the New Orleans Saints' offense.
Breaking his collarbone Week 1 didn't help his cause either, as he missed the next two games, but Colston got back on track Week 6 against the Tampa Bay Buccaneers.
Drew Brees has been looking his way early and often since that game, and it has payed off. Colston had seven catches for 118 yards and a touchdown against the reeling Bucs.
Next up were the struggling Indianapolis Colts, who the Saints obliterated last night, 62-7.
Marques Colston was a big part of this massacre, snagging seven catches for 98 yards and two touchdowns.
Considering that his next game is against another horrible opponent, the hapless St. Louis Rams, Colston should explode again.
Historically he has been fairly successful against the Rams. In three career games against them, Colston has 15 catches totaling 192 yards with two touchdowns. He might match that stat line in one game the way the Rams are playing.
Hot: Antonio Brown, Pittsburgh Steelers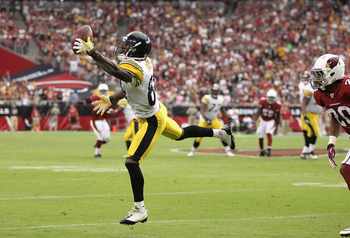 Christian Petersen/Getty Images
What can Brown do for you?
No, Antonio Brown doesn't work for UPS.
His job is similar though. Brown always delivers for the Pittsburgh Steelers and is becoming one of the best young wide receivers in the NFL. It helps that he is paired with Mike Wallace, but I'll get to him in a minute.
Brown had a career game in Sunday's win at Arizona, catching seven passes for 102 yards. He was targeted nine times, so Big Ben obviously trusts the guy.
Not only is Brown a terrific wide receiver, but an awesome kick returner as well. He had 103 return yards in this game, making his total 205 huge yards for the Pittsburgh Steelers.
I expect his role with the team to grow when Hines Ward retires, just as it did when Hines left Sunday's game against the Cardinals.
Hot: Greg Jennings, Green Bay Packers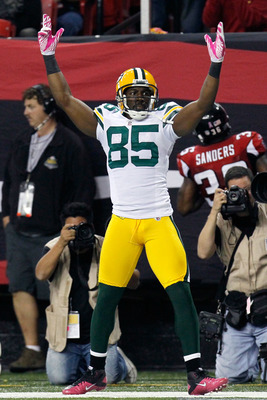 Kevin C. Cox/Getty Images
Greg Jennings is another great young wide receiver who continues to impress.
Jennings had a great day Sunday against the Minnesota Vikings with seven catches for 147 yards and a touchdown in the Packers' 33-27 victory.
He's consistently targeted by quarterback Aaron Rodgers, which says a lot considering the talent on the Packers' roster.
Over the last four games, Jennings has 24 catches for 414 yards and three touchdowns. This is an average of more than 100 yards a game.
The Packers are a pass-first offense, averaging 34 passes a game. That won't change, and neither will Jennings' role in the Packers' offense.
Hot: Plaxico Burress, New York Jets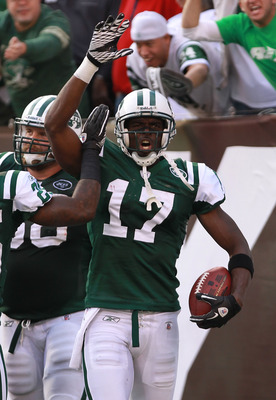 Nick Laham/Getty Images
Plaxico Burress has been missing in action all season.
I was starting to hear chatter about Plaxico being too old and slow to play in the National Football League anymore.
One also had to wonder if there was room in New York for Plaxico with so many huge egos already there (namely Santonio Holmes and head coach Rex Ryan).
Going into Sunday's game against the San Diego chargers, Plaxico had only 14 receptions all season.
Now he only has 18 receptions, but he made a home in the end zone!
Plaxico caught four passes, three of which were touchdowns, totaling 25 yards.
This stat line for Burress reminds me of another former Pittsburgh Steeler—Jerome Bettis. I'll never forget the times Bettis would score two or three touchdowns and only have a few yards.
I don't expect Plaxico to have any other games like this due to the Jets' offense, but he certainly earned a mention for his performance.
Mark Sanchez spreads the ball around and the Jets run a lot, but Plaxico reminded us all how good he can be.
None of those touchdowns came easy, he definitely earned them.
Hot: Mike Wallace, Pittsburgh Steelers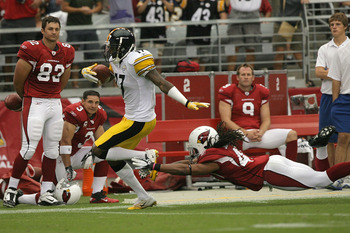 Karl Walter/Getty Images
Mike Wallace is widely considered to be one of the fastest, if not the fastest, wide receiver in the National Football League.
That showed Sunday afternoon against The Arizona Cardinals.
Wallace caught three passes for 118 yards, including a 95-yard touchdown in Sunday's win at Arizona. That 95-yard TD was the second-longest play from scrimmage in Pittsburgh Steelers history (Bobby Gage's 97-yard run against Chicago in 1949 is the longest). It was the longest pass play in Steelers history.
Wallace proved yet again that he isn't a one-trick pony. He can beat you deep, catch tough passes over the middle and isn't afraid to block either (Hines Ward is to thank for that!). Add crisp routes into this mix, and you have a legend in the making.
On the season, Wallace has 36 receptions for 730 yards and five touchdowns.This is an average of just more than 104 yards a game.
If he finishes his career as a Pittsburgh Steeler, he will almost certainly set a few more team records.
Cold: Chad Ochocinco, New England Patriots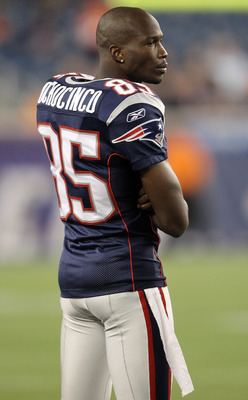 Elsa/Getty Images
Chad Ochocinco is about as useful to the Patriots at wide receiver as his poorly-translated last name is to people learning Spanish.
In six games, Ochocinco has just nine catches for 136 yards.
Even worse, he has yet to score a touchdown for the high-scoring Patriots.
His bark is worse than his bite, as usual. Don't get me wrong, Chad was once a great receiver. In 157 games, he has 760 receptions for 10,919 yards and 66 touchdowns.
Unfortunately for Chad, he isn't just cold this week—his game froze a couple seasons ago in Cincinnati.
The good news is once he retires there will be plenty of time for him to try his hand at another career—if he hasn't tried them all already!
Cold: Reggie Wayne, Indianapolis Colts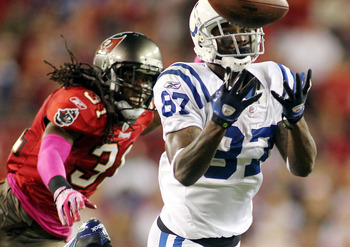 Marc Serota/Getty Images
Reggie Wayne is a Hall of Fame candidate, but something is missing...the man who made Reggie Wayne a star: Peyton Manning.
Wayne has just one touchdown on the season and has failed to eclipse the 80-yard mark thus far.
At 32 years old, Wayne isn't the receiver he once was. I almost left him off this list because of how great the Manning-to-Wayne combo has been, but maybe time is catching up to him too.
With 30 catches for 426 yards so far, there is certainly time for him to have a solid season. Fellow wide receiver Pierre Garcon could certainly use some help from the veteran.
Cold: Michael Crabtree, San Francisco 49ers
Jamie Sabau/Getty Images
If potential and hype determined how good a player was, Michael Crabtree would be one of the best of all time.
Coming out of Texas Tech, Crabtree was being touted as a can't-miss superstar.
Then came the contact disputes and trouble, even before he set foot on an NFL sideline.
Now that he is finally in the league, Crabtree hasn't done much to live up to the expectations everyone had for him.
In five games this season, he only has 20 catches for 209 yards and no touchdowns. You know things are bad when injured castoff Braylon Edwards is expected to be the No. 1 receiver this weekend against the Cleveland Browns.
If Edwards can't go, Crabtree had better put a game together.
If not, his days in San Francisco are numbered.
Cold: Santana Moss, Washington Redskins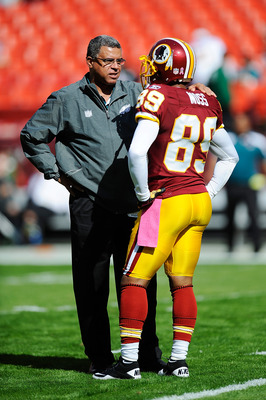 Patrick McDermott/Getty Images
Santana Moss is another aging wide receiver with an average quarterback who is on his way out.
Much like Patriots wide receiver Chad Ochocinco, Moss isn't being targeted nearly as much as he used to be; in six games he only has 25 catches and 301 yards.
While Rex Grossman is barely an average quarterback on a good day, it seems to me Moss has lost a step or two. He isn't getting any separation from defensive backs and no longer has the burst after the catch he used to have.
If he doesn't retire after this season at 32 years old, I hope Moss gets traded somewhere where his remaining skills can be utilized.
Cold: Hines Ward, Pittsburgh Steelers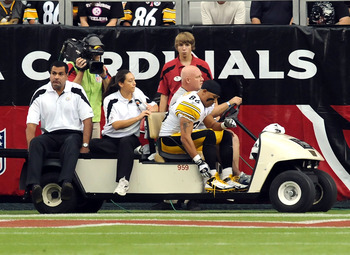 Norm Hall/Getty Images
As much as it pains me to say it, one of my favorite players of all time is being eased out of the Pittsburgh Steelers' offense.
Hines Ward, the Steelers' all-time leader in receptions and receiving yards, is nearing the end of his illustrious career. He has 960 receptions totaling 11,960 yards and 85 touchdowns.
With the Pittsburgh Steelers' young wide receivers Mike Wallace, Antonio Brown and Emmanuel Sanders emerging as the best receiving corps in the National Football League, there isn't much room left for an aging Hines Ward.
Still a great teammate, team leader and a fan favorite, Ward has only 26 catches for 258 yards and two touchdowns this season. He left Sunday's game against the Arizona Cardinals with an ankle injury, and Antonio Brown had a career day.
Ward was never great at anything, but he was good at everything.
He wasn't overly fast or quick, and didn't run the greatest routes. He certainly isn't tall, listed at 6'0", and I think they gave him an inch or so.
What he did have was heart and determination, and a willingness to do it all. Whether he was taking a bone-jarring hit over the middle or delivering one to a linebacker, Ward always had a smile on his face.
He will smile all the way to the NFL Hall of Fame in Canton, Ohio, someday too.
Keep Reading