World Series 2011: 5 Keys for the Texas Rangers to Beat the Cardinals in Game 5
October 24, 2011
Jamie Squire/Getty Images
After falling prey to Albert Pujols' three home run barrage as well as plenty of offense from the rest of the St. Louis Cardinals, the Texas Rangers found themselves trailing in the 2011 World Series 2-1.
Then Derek Holland pitched the game of his life and the biggest game in Texas Rangers history, as he shut down and shut out the Cardinals offense one night after they put up 16 on the Rangers in Arlington.
The Rangers now have their ace, C.J. Wilson, on the hill with a chance to give them their first-ever series lead in the Fall Classic—and the possibility to put the Cardinals away for good in St. Louis in Game 6 on Wednesday.
Of course, the St. Louis Cardinals have that same chance as well.  Here are five keys for the Texas Rangers to beat the Cardinals in Game 5 of the 2011 World Series.
Make Chris Carpenter work early
It's no secret that, like Josh Hamilton, Chris Carpenter isn't 100 percent.  He is a big-game pitcher and rose to the occasion in Game 1 of the World Series by doing enough to earn the win despite not having his best stuff or command.
Carpenter will have to stifle his elbow soreness once again for Game 5.  He'll have to be much sharper in tonight's game, however, if he wants to notch his second World Series win of 2011.
In the Rangers Ballpark in Arlington, mistake pitches are home runs rather than long fly-outs, as in Busch Stadium in St. Louis.
The Texas Rangers offense, easily overshadowed by the Cardinals ridiculous Game 3 output, is starting to heat up. Over their first two games, they averaged two runs per contest.  In their last two games, they've averaged 5.5 runs per game.
The best thing for the Rangers to do tonight is to make Carpenter throw as many pitches as possible by working the count.  Jumping on him early is crucial as he tends to settle in and improve as the game progresses.
Continued timely hits from the Rangers
This really goes without saying, but in their wins the Rangers have received big hits from key contributors.  In Game 2, it was the ninth inning combo of Ian Kinsler and Elvis Andrus getting back-to-back hits off of Cardinals "closer" Jason Motte to give Hamilton and Young runners to drive in.
In Game 4, it was Mike Napoli hammering the first pitch he saw from Cardinals reliever Mitchell Boggs for a three-run home run.
Tonight it might be Nelson Cruz, Adrian Beltre, or even Josh Hamilton.  Hamilton did look much "fresher" and less pained in in Game 4 than he has since early in the ALCS.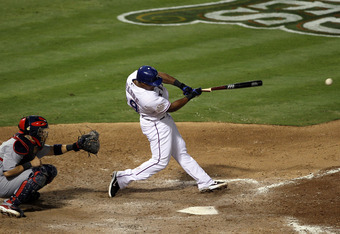 Ezra Shaw/Getty Images
But don't rule out David Murphy, Michael Young, Ian Kinsler, and, of course, Mike Napoli. Pretty much anyone 1 through 9 can step it up and carry the Rangers on any given night.
Continued solid defense
It's the type of play that isn't talked about enough, but it set the early tone in Game 4 and wasn't included in the 2010 Texas Rangers' skill set.
Adrian Beltre's leaping spear of a bullet off of Rafael Furcal's bat to start the top of the first inning was a play that Michael Young most likely wouldn't have made at third base.  To be fair, most third baseman couldn't make that play.
It increased the confidence of the infield's left side—and provided a boost to Derek Holland, who was absolutely unbelievable last night.
Obviously, Ian Kinsler and Elvis Andrus have been "flashing the leather" all postseason long, but especially in the World Series.  
This is a trend that should continue, and it could take the wind out of the Cardinals' sails as they know they won't be able to rely on errors or "cheap"  hits to get runners on.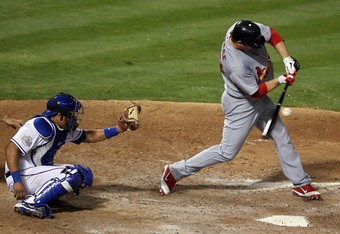 Ezra Shaw/Getty Images
Adrian Beltre and Albert Pujols
In Game 3, Adrian Beltre probably had the most quiet 4-for-5 game in the history of the World Series. That's what happens when Pujols goes historic with his five hits and three homers.  Plus, being on the wrong side of a lopsided 16-7 loss tends to make most overlook your box score altogether.
But Beltre's power stroke has cooled significantly since his three home run game in the Game 5 ALDS clincher against the Tampa Bay Rays.  
Both Pujols and Beltre have a three home run game this postseason and both men can single-handedly change the outcome of a game.
For the Rangers, continued success against Pujols is absolutely crucial for a win.  Remember that if you take away Albert Pujols' historic WS Game 3 performance, he's 0-for-10 against the Rangers.
The St. Louis Cardinals must keep Beltre in the yard, because he has clearly been hungry at the plate, especially in Game 4's Rangers win.  Look for Beltre to have a big game in Game 5 tonight versus the Cardinals.
Also:  The Texas Rangers finally held David Freese hitless in Game 4.  He, as well as the rest of the Cardinals core is still quite dangerous.  But there's something about the Rangers Ballpark in Arlington's short rightfield porch that probably looks about 200 feet away to Freese right now.  The Rangers need to continue to be careful pitching to the big third baseman.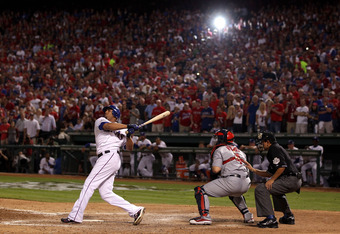 Doug Pensinger/Getty Images
C.J. Wilson channels his inner "Dutch Oven"
It's definitely an old baseball adage—and almost a cliche—that "momentum is only as good as the next game's starting pitcher."  
Derek Holland's Game 4 masterpiece may have helped the Rangers seized back momentum. Putting up a zero on a team that scored 16 the night before is astounding.
It is up to C.J. Wilson to keep the momentum.
Wilson has been very bad in the postseason for the Rangers.  He's been slightly better in the World Series than he was in the ALCS—and especially the ALDS. 
Wilson has this one last chance to show the Texas Rangers that he is not only their best regular-season pitcher, but he can also be their World Series ace.
Look for Wilson to have his best performance tonight as he pitches in front of the Texas Rangers faithful, at home, for what could be his last start as a member of the team.
If you crave more on the Texas Rangers...
Texas Rangers' Top 7 Postseason Pitching Performances
C.J. Wilson's Free Agent Stock is Falling
Why Colby Lewis is the Poor Man's Cliff Lee
Follow Timothy on Twitter @TMurrayHowell—he follows back, but not in a creepy way. Or hit him up on Facebook—you know you have an account.