Lions vs Broncos: Why Denver Starting Tim Tebow Guarantees Detroit Victory
October 25, 2011
Marc Serota/Getty Images
For an 0-6 team, the Miami Dolphins are pretty lucky (no pun intended).
Had they given up a 15-point lead with under three minutes left in the game to any other sub-.500 team, there is little doubt the focus would have been on the Dolphins, their utter futility and the "Suck for Luck" sweepstakes.
But no, they gave it up to the Denver Tebows, who showed exactly what everyone thought they would see. And now, quarterback Tim Tebow is all any of us are going to hear about all week. He's leading every major media outlet and this one is no exception.
You could say I'm helping the groundswell, but at least I have the excuse that he's playing the Detroit Lions—whom I'm a fan of—this week.
So, what can we expect from Tebow based on last weekend?
Well, Tebow was a terrible quarterback this past Sunday who couldn't complete over 50 percent of his passes; serving most effective as a pseudo-fullback. Somehow none of that matters because he's a "winner."
How else do you explain the events of last Sunday? Tebow gets sacked eight times, throws a game's worth of scattershot passes, fails to generate any offense for 55 minutes and then somehow leads back-to-back scoring drives to win the game, including a key two-point conversion on a draw play.
It was everything everyone hoped it would be: A comically atrocious game that ultimately resulted in a win for the man supporters would have you believe is the league's hardest worker.
Considering this week he'll be taking the field opposite Kyle Vanden Bosch and Ndamukong Suh, I'm not even convinced Tebow will be the hardest-working player in the pile he'll be at the bottom of on Sunday.
And I'll openly admit that I'm not intimately familiar with Tebow's work ethic, but in my defense, neither is almost anybody who praises it.
Of course, there are other considerations other than just Tebow going into this game, but nobody else is going to talk about Knowshon Moreno (replacing an injured Willis McGahee) vs. the Lions' run defense, as that's not going to be the win/loss factor in this game, anyway.
As more important is that Tebow and the Broncos aren't going to be able to get away with just three minutes of effective offense in this game.
Tebow doesn't know how to recognize a blitz or a coverage scheme, which is part of why the Dolphins were able to sack him eight times and hold him under 100 yards of total offense (that's with his legs and his left arm combined) until their fateful collapse.
Furthermore, I think it's safe to say that anything the Dolphins can do, the Lions can do better.
The defensive line will get after him, the linebackers are fast enough to spy him after he makes his second read and then runs (and they won't have to worry too much about abandoning coverage to do it, since he goes far enough in his progression to see it) and the secondary has the distinct privilege of covering a stable of receivers that no longer includes Brandon Lloyd.
Does this mean the Lions are the best team in football? In their division? Even a playoff team?
The answers to all those questions could be no (it's definitely no to the first two) and they'd still be several tiers above the winless Dolphins. So don't take this as Lions trash talk, especially after back-to-back home losses. If anything, Lions fans should be humbled.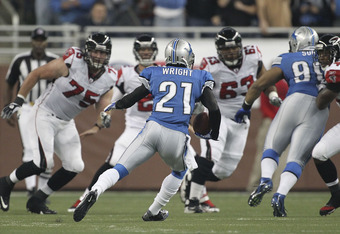 Leon Halip/Getty Images
However, this isn't about the Lions getting back on track, this is all about Tebow, whether we like it or not. And I, for one, am looking forward to seeing how he builds off his season completion percentage of 45.9 against a Top 10 pass defense.
But there's good news for those of you tired of hearing about the man.
The way I see it, the Broncos are really being taken hostage by Tebow. That's not to say Tebow's doing anything wrong, either. He's just a kid who wants to play football. He's just not all that good at this level and it's not his fault everybody likes him anyway.
Meanwhile, the Broncos can't label him a bust because he hasn't played, and they can't just ship him off because the massive contingent of the country that looks at him as the Football Messiah would be appalled.
Tebow's very presence on the team is divisive. The Broncos have probably doubled or tripled their fanbase by drafting him, but they're Denver Tebow fans, not Denver Broncos fans. They want to see him play football, and it wouldn't matter if he played for a UFL team (which I'm sure he will one day).
The only thing the Broncos can do is let the guy play, so that everyone can see for themselves how bad he is. Like a bad flu, he just has to run his course.
Once he completes a few hilarious games, head coach John Fox will shrug his shoulders and say, "Well, we did what we could to help him succeed, and we wish him the best moving forward."
Afterwards, Fox will finally be free to draft a quarterback to run the team, instead of an h-back.
This brings me back to the Lions. The Lions can actually do the Broncos a favor as a franchise by giving them a Kansas City-style beatdown this Sunday. It'll be like flu medicine, accelerating the symptoms.
Tebow will do his part to make it happen, but the Lions have to really step up and make sure the medicine takes.
Nobody likes throwing up all over the place, but the Broncos will do some of that this weekend. It's all part of getting over a bad flu.