NFL: Seattle Seahawks Take a Step Back in Loss to Cleveland Browns
October 24, 2011
Matt Sullivan/Getty Images
My first reaction to the Seattle Seahawks' performance against the Cleveland Browns was, "Yuck," or something that rhymes with that at least. I am sure that is a mild reaction compared to how the players felt after this game.
A total offensive output of 137 yards. 12 for 30 passing? 65 yards net rushing? Wow. Were we playing Pittsburgh again? 
As soon as the network tuned into this game, it was hard to watch. The first scene was Marshawn Lynch sitting on the bench with a towel covering his head. I often wonder what is going on under that towel when players do that. Most likely, he was keeping the cameras from reading his lips.
The game started with our starting quarterback, center and running back on the bench. Not good.
One of the articles I wrote before the game projected a huge win for the Hawks (31-14). My bad. In case you're wondering, crow tastes very bitter and it sticks in my throat like gargling with peanut butter.
We were given a perfect example of how important a consistent starting o-line is to offensive production. I lost track of how many times Charlie Whitehurst was sacked in the first quarter. The stats say there were only three sacks in the game. It seemed like there were that many in the first series. He remembers every one of them I am sure. And if he doesn't, he will when the team watches the film of this game on Monday. Boy, am I glad I don't have to do that!
I think Pete Carroll will call it "Be Honest Monday." He'll tell the players to take the lessons from the game and then move on. There is another team to play next Sunday, so there is little time to dwell on the struggles of this game.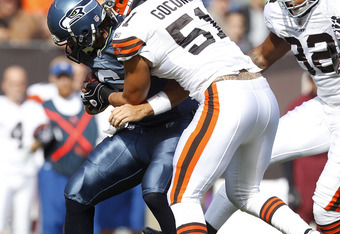 Matt Sullivan/Getty Images
Coming into Sunday's game with Cleveland, there was hope and a sense of optimism. Now I am not so sure. It looks as though the analysts that have placed Seattle in full rebuilding mode are closer to the truth than those of us who were expecting this young team to step up and build on what we saw against New York.
Certainly there was no one thing that did Seattle in today. Offensively, the Seahawk offense just sucked.
Penalties, missed receivers, dropped passes, and lack of a running game all played their part. I am going to say this as plainly as possible: We sucked.
Before I forget, give Cleveland's defense credit. They are much better than expected. Going into the game, Seattle thought they had a chance to establish the run. Not so. Cleveland's defense disrupted Charlie Whitehurst to the point of making him ineffective and unable to get into any kind of rhythm. 
On the other side, the Seahawk defense played hard, played consistent, and played way too much. The Seahawks defense was on the field for over 80 plays. Holding Cleveland to six points while playing that many downs is amazing.
This was not a game of statistics, it was a defensive struggle. It was the kind of game that happens when two teams meet that are building their offenses and expecting their defenses to keep them in the game. That is exactly what happened. 
There was a sense during the game that one spectacular play could and would change the whole complexion of this contest.
It just didn't happen. Three field goals were the highlight of both offenses. Two blocked kicks were the highlights of the Seattle defense.
I am sure the Seahawks learned a valuable lesson about playing on the road. Namely, it takes a much more focused effort to get things going. Penalties will have to be minimized and we hope Max Unger and Tarvaris Jackson don't miss too many games if Seattle has any chance of rebounding.