Week 8 Fantasy Football: Tim Tebow, Calvin Johnson, and 5 Players You Must Trade
October 24, 2011
Scott Cunningham/Getty Images
After Week 7, do you want to upgrade your team? Of course you do. Trade these guys while their value is highest. You will get more in return than they are truly worth. Here are the five players to sell high:
Demarco Murray, RB, Dallas Cowboys
Demarco Murray had a crazy good game on Sunday with 250 rushing yards on just 25 carries. That's over 10 yards per carry.
This is exactly why you should trade Murray. The Rams were one of the five worst teams against the run going into the game, thus surely inflating the rookie running back's numbers. He isn't going to have a game that good the rest of this season.
Felix Jones will likely reclaim the starting job when he returns from injury anyway. See what you can get for Murray from someone who needs a running back and shore up another position you are weak at.
Tim Tebow, QB, Denver Broncos
Tebow's fantasy value is mostly tied to his legs. Despite a poor day throwing, he still had a good fantasy day against the Miami Dolphins.
If Tebow is your best quarterback, hold on to him as he should continue to run for yards and be a solid fantasy quarterback.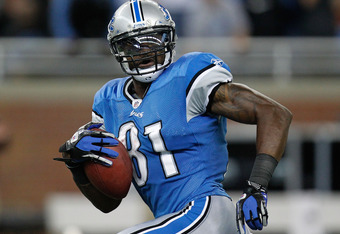 Gregory Shamus/Getty Images
If you have a better quarterback, then by all means shop Tebow. There is probably a big Tebow fan in your league willing to overpay for him now that he has had two good weeks. Or, you can offer him to a team with quarterback issues and nab yourself a flex option.
Mike Tolbert, RB, San Diego Chargers
Tolbert's back! That's what you need to be telling the other owners in your league, as he had over 50 yards and a touchdown on just 11 carries versus the Jets. He also had three consecutive carries at the goal line.
But let's not lose sight of the fact that Ryan Mathews was injured for a good chunk of the game. Despite this, he still had six more touches than Tolbert.
Mathews is the younger player with more potential and talent. The Chargers know this and will continue to use him more than Tolbert.
The game against the Jets was the first game in which Tolbert out-produced Mathews since Week 1. Don't expect that to occur again more than a once or twice this season.
Plaxico Burress, WR, New York Jets
Yes, Plax had three touchdowns against the Chargers. He also only had 25 yards on four catches. I highly doubt he will have three touchdowns on four receptions ever again.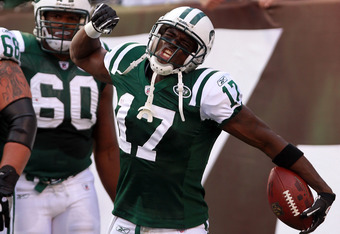 Nick Laham/Getty Images
Those four catches actually tied his season high. His season-high for receiving yards is just 72. Trade him for a WR2 or RB3 if you can get that for him.
Calvin Johnson, WR, Detroit Lions
I can hear the outcry (and outrage) already. Yes, he has been the best WR in the NFL so far. However, the gap between him and the rest of the top five will not be as big as it has been.
If it weren't for a blown coverage/tackle, Johnson would not have had his big touchdown versus Atlanta; in fact, his day would have been pretty pedestrian. I'm pointing this out to show you he is human and will have an average week at some point.
Trade him for a top five or 10 receiver and an upgrade somewhere else on your roster. If you can get a Mike Wallace or Greg Jennings type and another good player, do it.