Notre Dame Football: Home Is Where the Heart (Ache) Is for the Fighting Irish
October 26, 2011
Jonathan Daniel/Getty Images
In the wake of Notre Dame's frustrating 31-17 loss to arch-rival USC this past Saturday, many Irish fans found themselves looking backwards instead of forward.
After all, it wasn't supposed to have gone down like this. Notre Dame was going to be more physical and prove to be just as athletic as a Trojan team that had dominated them four straight times in their own stadium (The Matt Leinart "Bush Push" still provides a thorn).
This was going to be the Irish's statement game and provide insurmountable proof of their progress in head coach Brian Kelly's second year with the program.
But the Trojans punched the Irish in the mouth from the opening kickoff and drove it down their throat with successive touchdown drives. The Irish didn't wake up until almost 26 minutes into the game. By that time the men of Troy, who were assumed to be only shells of their former greatness as they languish under NCAA restrictions, had built a 17-0 lead.
Even when the Irish closed to 17-10, and later 24-17, they were undone by comical keystone kop/ football folly type turnovers—except that no one in the stands was laughing.
Why has Notre Dame Stadium become such a house of horrors for the home team? Throughout the past fifteen years it seems that the Irish have found a way to lose both big and small games alike inside the house that Rockne once built.
Let's take a look a some of the most consternating setbacks that the Irish have suffered in South Bend since the sun set on the treasured Lou Holtz era.

October 18, 1997 — USC 20, Notre Dame 17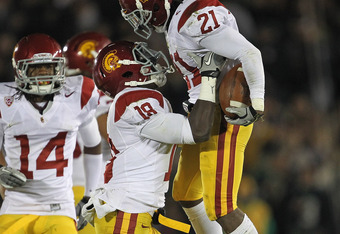 Jonathan Daniel/Getty Images
This was a strange game, that saw the Irish dominate the first half only to enter the locker room at the break with just a three-point lead to show for their hard work.
The Irish had piled up 139 yards rushing before intermission, but would only manage two yards on the ground in a third quarter that saw their offense run just six plays.
Notre Dame kicker Jim Sanson managed to miss three field goals as red zone implosions, unnecessary penalties and wasted opportunities slowly self strangled the team. A partisan home crowd, shocked with this breakdown, rained down boos onto the Irish bench as a mediocre Trojan team, which had entered the game with a record of only, 2-3, celebrated on the hallowed Notre Dame Stadium sod, Touchdown Jesus weeping in the background.
The loss dropped the Irish to a miserable 2-5. After the game, a visibly aggravated Notre Dame head coach Bob Davie vowed that he would not quit on his team. Which was more than most Irish fans could say.

November 20, 1999 — Boston College 31, Notre Dame 29
The Irish bolted to an early 14-0 lead but could not keep BC quarterback Tim Hasselback down. Hasselback's touchdown pass to Jamal Burke gave the Eagles a two-touchdown lead with just over twelve minutes left in the game.
Notre Dame mounted a furious rally, and were able to get the required touchdowns which would have tied the game—the last on Julius Jones' dynamic 67-yard punt return, but they were betrayed by a blocked extra point which made a failed two-point conversion attempt critical.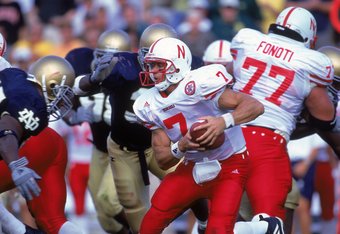 Jonathan Daniel/Getty Images
The defense hustled to give their offense one last possession, but their fate was sealed when Pedro Cirino intercepted a last-gasp pass.
BC players then drew the ire of the Irish student section when they carved out pieces of field turf to bring back to Boston as a trophy. The loss dropped Notre Dame to a disappointing 5-6. This was a senior-laden team, expected to contend for the national title.
Alumni had adopted the symmetrical theme that the Irish would be No. 1 in 1966, '77, '88, and '99. But it was not to be. With no hope for a winning record, they would now fail to nab even the lowliest bowl berth, causing Davie's seat to begin sizzling like a fajita platter.

September 9, 2000 — Nebraska 27, Notre Dame 24 (OT)
Coming off a big win over Texas A&M, the Irish seemed primed for their first huge upset of the millennium as they took on top-ranked Eric Crouch-led Nebraska.
But Notre Dame had trouble moving the ball from "go," and finished the contest with just 40 passing yards.
Two spectacular special teams plays—Julius Jones' 100-yard kickoff return and Joey Getherall's 83-yard punt return, both for touchdowns—drew the Irish even with the Cornhuskers at 21, forcing overtime.
On their first overtime possession however, Notre Dame could manage only a Nick Setta field goal and then had to watch as next season's ('01) Heisman Trophy winner Crouch sprinted seven yards for the game-winning touchdown.
Jonathan Daniel/Getty Images
After the game, the Irish faithful took offense to two in-game incidents. First of all, coach Bob Davie had elected to run out the clock when the Irish had the ball at their own 30 with just over a minute left in regulation.
Even though it was obvious that his team's impotent offense was inferior to Nebraska's high-powered attack, and therefore not very well suited to an overtime shootout, Davie still held his trigger.
Secondly, an apparent celebration ensued after the final whistle, where a bunch of Irish players removed their helmets and saluted the student section. It was a gesture which smacked of satisfaction with a moral victory. Something which should always be taboo at Notre Dame, which doesn't hang banners for boosts in confidence.

November 2, 2002 — Boston College 14, Notre Dame 7
The Irish came into this game 8-0 and ranked fourth in the nation.
Coming off an epic 34-24 win at Florida State, the Irish campus proudly proclaimed that their team had returned to glory.
First-year Irish head coach Tyrone Willingham broke out the green jerseys to ensure that his team would not suffer a letdown against an ordinary Eagles outfit who came in with a record of 4-3.
But the Irish self-detonated from the beginning by doling out five turnovers, the most foolhardy a 71-yard interception return by BC linebacker Jason Ott following an ill-advised shovel pass by backup ND quarterback Pat Dillingham.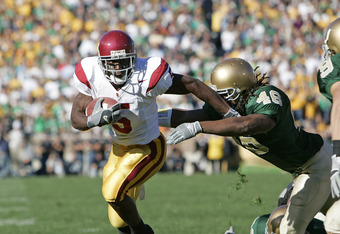 G. N. Lowrance/Getty Images
Dillingham had come into the game in place of ineffective starter Carlyle Holiday. But no matter who was running the Irish's punchless offense that day, they simply could not muster enough first downs to get back into the game after BC had opened up a 14-0 halftime lead.
Maurice Stovall grabbed a meaningless touchdown pass with 2:25 left to mold the final margin. Willingham missed a chance to join Ara Parseghian and Jesse Harper as the only Irish coaches to begin their careers at 9-0.
The loss sent Notre Dame's offense spiraling to an inglorious 109th out of 117 1-A teams. No one even had to mention the similarities and disturbing connotations in relation to the '93 Notre Dame-BC game to know that this was a painful defeat.

November 13, 2004 — Pitt 41, Notre Dame 38
The Irish secondary struggled early and often while making a folk hero out of pedestrian Pittsburgh quarterback Tyler Palko.
The freshman signal caller fired an appalling five touchdown passes—four in the first half alone—as Notre Dame surrendered 226 passing yards by intermission. This was no reincarnation of Pitt great Dan Marino, but the Irish still could not arrest Palko's anomalous productivity.
Palko's fifth and final touchdown pass to Erik Gill put the Panthers ahead 38-35 with 2:24 remaining.
But with the help of Irish sophomore quarterback Brady Quinn, Notre Dame drove for a tying D.J Fitzpatrick field goal with 1:11 left. On the first play of Pitt's next possession, Palko tried to locate Gill again but threw the ball right to Irish linebacker Mike Goolsby.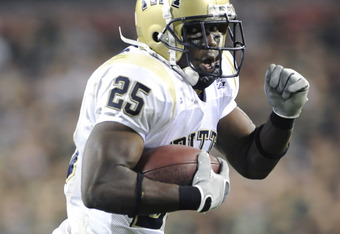 Al Messerschmidt/Getty Images
But instead of an interception, the ball somehow managed to shoot right through Goolsby's hands only to be snared by Gill, who then rambled 36 yards down the sideline to help set up the game-winning field goal.
As Josh Cummings's 32-yard kick sailed through the uprights, distraught Irish fans filtered out of the stadium in disgust.
Palko finished with 334 yards passing on 26-of-42 for the afore-mentioned five TDs, and was never heard from again. Two weeks later Notre Dame would be annihilated 41-10 in Los Angeles by an eventual national champion USC, and Willingham would be subsequently fired.  
September 17, 2005 — Michigan State 44, Notre Dame 41 (OT)
In first-year head coach Charlie Weis's first loss at the helm, a flat Irish team found themselves trailing by three touchdowns late in the third quarter.
But Notre Dame rallied behind three touchdown passes from white-hot quarterback Quinn to knot the score at 38. The Irish then missed a golden chance to forge ahead when safety Tom Zbikowski forced a fumble at midfield and Notre Dame recovered at their own 45 late in the game.
But despite being just 25 yards from field goal, range Quinn fired errant attempts on second and third downs and, after a delay of game penalty, the Irish were forced to punt with 49 seconds remaining.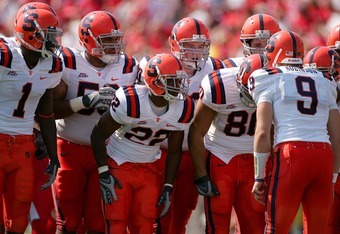 Matthew Stockman/Getty Images
On the first possession of overtime, an Irish offense which had looked doubtless and daring during their comeback, seemed out of sync and tentative, eventually settling for a D.J Fitzpatrick field goal.
When it was State's turn, running back Jason Teague raced 19 yards around the right end to the house, and it was all over. The Spartan players then infuriated the home crowd by planting the MSU block "S" flag at the 50-yard line while Irish fans booed until they were hoarse.
Quinn finished with 487 yards passing, but it was not enough as the Irish were upset by an MSU squad destined to collapse in Big 10 play where they would lose six of their last seven games to stumble to a 5-6 record.  

October 15, 2005 — USC 34, Notre Dame 31 
The Bush Push. I don't think that there's any thing I need to add here.

September 16, 2006 — Michigan 47, Notre Dame 21 
Notre Dame came into the game ranked No. 2 in the nation, but found themselves down 26-7 before they could even record a first down.
A much-maligned Notre Dame secondary was fried and exposed by three Chad Henne-to-Mario Manningham touchdown passes.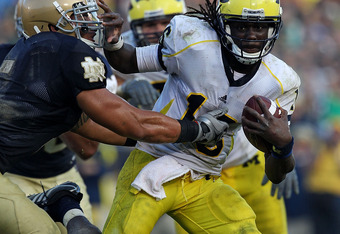 Jonathan Daniel/Getty Images
Irish quarterback Brady Quinn was harassed all day by an aggressive Michigan front and finished just 24-of-48 passing.
The 47 points that the Wolverines amounted at Notre Dame Stadium was second only to the 51 which Purdue dropped on the Irish in 1960.
Michigan used the same formula which Ohio State had employed in the previous season's Fiesta Bowl, repeatedly challenging Notre Dame's over-matched corner backs with deep passes. It was just the eighth time that the Irish had given up forty plus at home. In a suspicious side note, the Big 10 officiating crew called 10 holding penalties on the Irish while not flagging the Wolverines once. This was one of the early indicators that Charlie Weis' Irish program was beginning to lose a few bolts—just a year removed from his hiring.

November 3, 2007 — Navy 46, Notre Dame 44 (3 OT)
Mired in what was to become perhaps the worst season in Notre Dame football history, the only thing the Irish seemingly had left to smile about was their NCAA-record 43 game winning streak against Navy.
Weis, who was already under fire for leading his team to an abysmal 1-7 record, once again drew the ire of fans and prognosticators alike when he instructed his team to eschew a game-winning field goal, choosing instead to go for it on 4th-and-8 at the Navy 24 with just 45 seconds left in regulation and the score tied at 28.
Quarterback Evan Sharply was sacked on the play, and the game went to overtime.
Kiapo-Noa Kaheaku-Enhada's 25-yard touchdown strike on the first play of the third overtime put the Midshipmen ahead for good. After a Notre Dame touchdown, Irish tailback Travis Thomas was thrown back on a two-point conversion attempt, and Navy had downed the Irish for the first time since Roger Staubach was quarterback way back in 1963.
Notre Dame boasted 25 former high school Army All-Americans on their roster, Navy, of course, had none. Notre Dame would go on to lose six games at home for the first time in the school's history.  
November 1, 2008 — Pitt 36, Notre Dame 33 (4 OT)
In what was to become the longest game in Notre Dame Stadium history, the Irish seemed in control when they held a 17-3 lead midway through the third quarter.
But after they had appeared to force a Pittsburgh punt, freshman Irish safety Harrison Smith was called for a mindless personal foul penalty. The drive continued and Pitt narrowed the margin to 17-10.
Later, the Panthers scored the game-tying touchdown on 4th-and-6, with just 2:22 left in regulation.
In the second overtime, the normally impeccably accurate Irish quarterback Jimmy Clausen missed a wide open Micheal Floyd on what would have been a game-ending touchdown. Neither team could break the of the goal line plane in any overtime period.
But finally in the fourth additional period, Irish kicker Brandon Walker missed what would have been a bomb of a field goal from 50 yards.
His counterpart, the Panther's Conor Lee, calmly split the uprights from 22 yards to send the Irish on a fast track to ignominy.
Notre Dame continued its bad habit of making poor quarterbacks look like Heisman Trophy winners.
Like Palko had done only four years prior, Pittsburgh signal barker Brian Bostwick had performed so poorly in home games that his mother and father could not even sit in the stands for fear of reprisals from angry fans. But he still managed to lead the game-winning charge against the Irish.
Notre Dame also continued another disturbing pattern of faltering late in games and dying in overtime, calling their conditioning into question.

November 22, 2008 — Syracuse 24, Notre Dame 23
Playing with a lame-duck coach who had already been fired, Syracuse still managed to mount a late rally to upset a heavily-favored Irish squad.
Notre Dame had a plethora of opportunities to put a lowly Orange squad away, but their offensive line could not push a 2-8 team out of the way on senior day.
Orange signal caller Cam Dantley who, wouldn't you know it, was the son of former Notre Dame basketball legend Adrian Dantley, drove a dagger through the hearts of the Irish and their fans when he tossed an 11-yard yard touchdown pass to Donte Davis with 42 seconds left.
Notre Dame had one last chance to pull the game out of the fire, but Brandon Walker's 53-yard field goal was well short of the target. Many fans blamed Weis for not running one more play with seven seconds left, as 53 yards seemed well beyond Walker's range.
A fresh, new and louder call for Weis' ouster carried about the wind around campus, billowing through every nook and cranny of the school. Syracuse was the first eight-loss team ever to record a victory at Notre Dame stadium.  

November 21, 2009 — Connecticut 33, Notre Dame 30 (2 OT)
A teary-eyed Charlie Weis, perhaps realizing that this was to be his last home game at the helm, nevertheless led his embattled squad onto the field.
His team would soon give him something to cry about. Playing for the seniors—some of whom had been among Weis's first recruits to South Bend—the Irish raced to a 14-0 lead.
But UConn, led by (wouldn't you know it) former Notre Dame quarterback Zach Frazier, moved ahead 27-20 late in the contest.
Jimmy Clausen found Micheal Floyd for a four-yard equalizer late in the fourth quarter. In the second overtime, however, the Irish defense finally ran out of gas.
Andre Dixon gashed the tired Irish on several up-the-gut running plays before plunging in with the game winner from four yards out.
There now seemed to be no question that the Notre Dame players were failing physically late in games, especially on defense. And the call for a training table type nutrition program had reached a fever pitch.
Weis, however, would not be around to see any changes implemented, unless of course you count his eventual replacement as a change.
One week later, the Irish gamely battled a good Stanford team on the road before bowing 45-38. A week after that, Weis was dismissed as Notre Dame head coach. UConn had lost three straight coming in. The Irish solidified their reputation as everyone's program builder. 

September 11, 2010 — Michigan 28, Notre Dame 24
New Irish head coach Brian Kelly brought a lot of optimism and enthusiasm with him from Cincinnati, where he'd built a BCS program out of nothing, but the Irish were destined to be haunted by old specters at the stadium.
Notre Dame came out swinging and took it to the Wolverines on the opening drive for a 7-0 lead. But when quarterback Dayne Christ was shaken up, the complexion of the game changed. Notre Dame's offense was now in the hands of ill-prepared freshman quarterback Tommy Rees and journeyman signal caller Nate Montana (the son of you-know-who).
With this pair at the wheel the Irish seemed to lose all will to move the ball. Christ meanwhile stood on the sideline in full dress uniform while Michigan mauled his teammates. Eventually UM quarterback Denard Robinson got it going and once he did he didn't stop until he had amassed an astonishing 502 yards of total offense.
By halftime the Wolverines led 21-7. Christ however returned in the third quarter, leading to speculation that he should have been able to remain in the game all along. When he hit tight end Kyle Rudolph on a breath taking 95 yard touchdown with 3:41 remaining in the game it looked as if Kelly had had woken the slumbering echos and changed the negative culture which had surrounded the program for the past fourteen seasons. But with the Irish now leading 24-21 their defense could not get one stop when they needed it the most.
The slippery Robinson squirmed in from the 2 yard line with a mere 27 seconds left. Suddenly a great victory was turned into another gut wrenching, yet all too familiar, loss.  

October 30, 2010 — Tulsa 28, Notre Dame 27
The Irish thought that they'd already touched down on rock bottom the previous week when they were humiliated by a tricky Navy outfit 35-17.
Yet they were to be undone again by a series of bizarre plays and one freak injury. Irish quarterback Dayne Christ did not appear to be touched as he ran to the sideline, yet suffered a season ending knee injury. Backup Tommy Rees looked much sharper than he had in an earlier appearance against Michigan and it looked as if the Irish might be okay. They led 20-12 right before halftime and were poised to score again.
But Rees's pass was tipped at the line of scrimmage and bounced right to Tulsa's Shawn Jackson, who then returned it 66 yards for a touchdown to cut the Irish lead at intermission to 20-18. Later in the third quarter Notre Dame led 27-18 only to watch Tulsa's Damarius Jackson scoot 59 yards to the end zone on a punt return.
With the Irish clinging to a 27-25 lead and just over four minutes left in the game their defense once again failed to get off the field. Somehow allowing the Golden Hurricane to convert on a mission impossible 4th and 26. That drive lead to the field goal which put Tulsa ahead. Even after all this, the Irish still had a great chance to win.
They had set up shop with first and ten at the Tulsa 19 with 42 ticks left. Since they had a field goal kicker who had never missed, the consensus in the stands was that the Irish would run two rushing plays, kill the clock and celebrate as the game winner sailed over the cross bar. But coach Brian Kelly inexplicably instructed Rees to float the ball to the back corner of the end zone where it was intercepted.
The Irish had suffered another mind-numbing loss.