Texans vs. Titans: 5 Things We Learned from Houston's 41-7 Win
Joe Robbins/Getty Images
The Titans were embarrassed Sunday in a 41-7 loss to the Texans. While the loss only puts the Titans one game behind Houston, losing by such a large margin shows the Titans have a lot to work on if they want to have any chance of finishing above .500.
So, what did we learn about the Titans in their third loss? Here are the top five.
1. Chris Johnson Will Never Earn His Money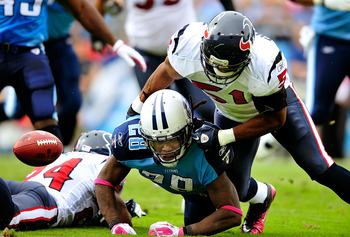 Grant Halverson/Getty Images
Chris Johnson did more damage receiving than he did as a running back. Johnson carried the ball 10 times, but only managed to put up 18 yards against the Texans. He also fumbled the ball once.
Javon Ringer, on the other hand, put up 31 yards on just three carries. Jamie Harper only managed four yards on two carries, but that still gave him a better yards-per-carry average than Johnson.
Even if Johnson does eventually get back into shape and start running like he did last year, it is now apparent he will never work off the $50 million he held out for.
In fact, if you ask me, it's time to bench Johnson and put Ringer and Harper in full time and see how they do when they get a larger share of the carries. I understand the Titans want to get their money's worth from Johnson, but now, since they never will, the better choice is to put in the player that gives you the best chance to win.
That player is not Johnson.
However, the running game overall has been subpar—even when Johnson isn't on the field—and it isn't all his fault.
2. Offensive Line Play Must Improve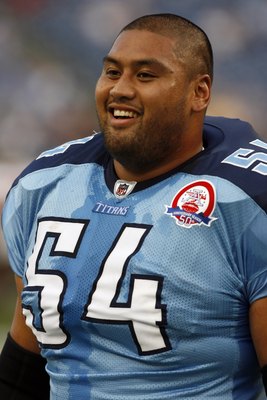 Joe Murphy/Getty Images
The offensive line has been inconsistent all year, especially at run blocking. However, pass blocking hasn't been superb either.
Matt Hasselbeck got sacked twice and hit four more times against the Texans, which doesn't sound too bad until you remember that Mario Williams, Houston's best pass-rusher (and maybe its best defensive player), is out for the season with a torn pectoral muscle.
Had he been playing, it could've been much worse for Hasselbeck.
Run blocking has been even worse, which explains why neither Ringer nor Harper have had breakout seasons with the Titans either.
The interior of the Titans line needs to be cleaned out entirely. Eugene Amano may still be a serviceable guard, but he is not capable at playing center at an acceptable level.
Leroy Harris is a subpar blocker and is a false-start machine (he still holds the record for false starts at his alma mater, NC State). Even Jake Scott, who has been a dependable right guard for years, is starting to show his age and will need a replacement soon.
After finding another receiver, the Titans' top priority in the draft and free agency should be to upgrade the interior offensive line.
3. Wide Receiver Is a Critical Area of Need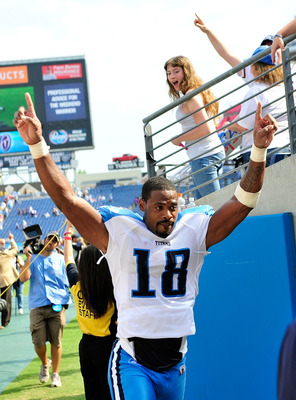 Grant Halverson/Getty Images
One of the good sides of such a horrible loss is that the Titans will now be in a better position to draft a wide receiver in the first round next year. They obviously need it.
Nate Washington is good, but he's obviously not a No. 1 option. Damian Williams obviously isn't the answer—he only caught one pass out of four targets. Hasselbeck targeted 10 different players, but Chris Johnson caught the most balls. Even though many targets were bad throws, better wide receivers would obviously be a great help.
Without Kenny Britt, the Titans are hurting at receiver. Even when Britt returns, there is no guarantee he'll be as good as he was before tearing two ligaments in his leg.
The Titans need help at receiver (although, for the record, Terrell Owens is not the answer).
4. The Defense Needs a Run-Stuffer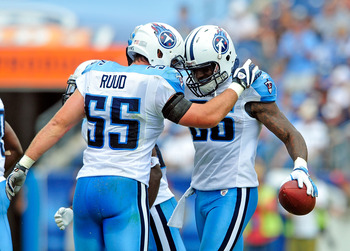 Grant Halverson/Getty Images
Jurrell Casey has been impressive in his rookie campaign. Karl Klug has as well, especially as an interior pass-rusher. However, Arian Foster exposed Tennessee's run defense for what it was: mediocre.
Barrett Ruud may be a better cover guy than Stephen Tulloch, but he's still a huge step down as a run stuffer, and the lack of a player like Tulloch is hurting Tennessee badly.
Maybe the defensive tackles are focusing too much on rushing the passer. Maybe Ruud is focusing too much on the passing game. Maybe the Titans just don't have a run stuffing defensive player on the roster.
The Titans staff needs to figure out how to more effectively stop the run. Maurice Jones-Drew and Arian Foster looked unstoppable against Tennessee, and that needs to change.
5. The Titans Are the Second-Best Team in the AFC South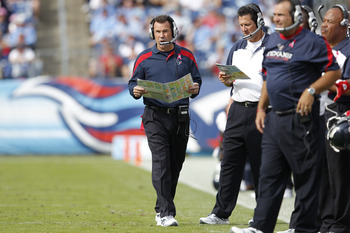 Joe Robbins/Getty Images
And by a pretty wide margin. Despite having neither Andre Johnson nor Mario Williams, the Texans whooped the Titans, plain and simple.
On the bright side, the Colts are terrible (a 55-point margin of loss proves that) and the Jaguars aren't much better.
On the down side, there is a big difference between the Titans and the Texans. The Titans are not out of the playoff hunt just yet, but they have a very long way to go.
There are a lot of winnable games left on the Titans schedule (two games against the Colts, another against the Jaguars, the Panthers and the Falcons), but there are also a lot of tough games (the Bengals, Buccaneers, Bills, Saints and Texans again). The Titans will be facing an uphill battle to get to the postseason.
In my humble opinion, the Titans are still a year off from playoff contention. However, with a little luck and a good draft next year, the Titans could be contenders in a year's time.
Keep Reading

Tennessee Titans: Like this team?