Blackburn Rovers vs. Tottenham: 5 Lessons Learned from Sunday's 2-1 Win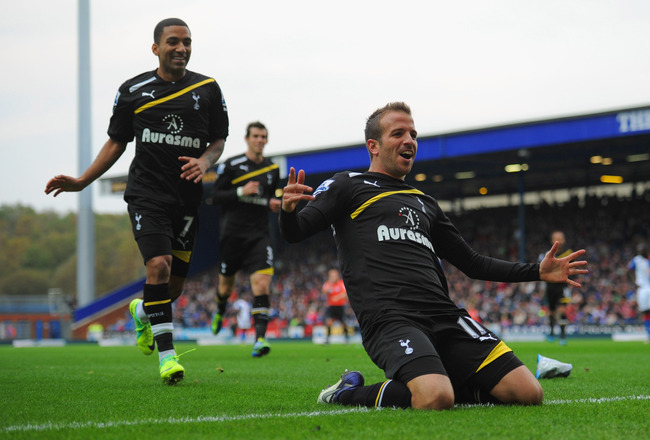 Michael Regan/Getty Images
Tottenham Hotspur beat Blackburn Rovers 2-1 this Sunday to jump to fifth place in the EPL with a game in hand (due to the postponed game against Everton at the start of the season).
Rafael van der Vaart's double got the job done and ensured that Tottenham took all three points back to White Hart Lane, but it was far from a vintage performance from Spurs.
Blackburn repeatedly threatened Spurs' goal, and probably would've scored more if they had better shooters and finishers. Meanwhile, Tottenham's offense, while decent, did not perform as well as it should have.
Spurs' fans will be happy and satisfied to have collected all three points, but there are definitely lessons to be learned from Sunday's game and hopefully built upon in the future.
Here are five such lessons.
Tottenham Have Two of the Best Attacking Fullbacks in the League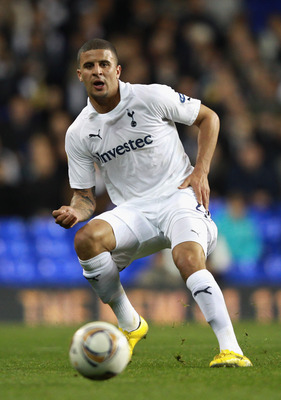 Ian Walton/Getty Images
Their defense may not be excellent (yet), but Benoit Assou-Ekotto and Kyle Walker are easily two of the most hard-working, attack-minded full-backs in the English Premier League.
Against Blackburn, each full-back picked up an assist on a Rafael van der Vaart goal.
Benoit Assou-Ekotto's assist was a bit of an accident, as the ball bounced to VDV after BAE was tackled by a Blackburn defender, while Kyle Walker's assist came as the result of an excellent run down the wing and into the box that left VDV unmarked and only needing to direct the ball into the net.
Should they both improve their defensive abilities just a bit over the course of the season, they could truly stake their claim as one of the most fearsome full-back pairs in the EPL.
Aaron Lennon Still Needs to Improve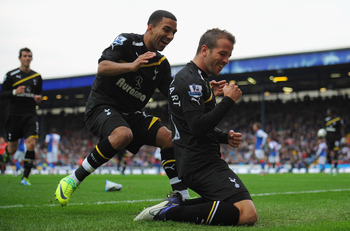 Michael Regan/Getty Images
Aaron Lennon on the right flank was an improvement over Rafael van der Vaart in that position. Unlike VDV, Lennon was actually willing to track back when Walker went forward, and was a bit more unselfish than the Dutch midfielder on the right as well.
But the usual flaws of Lennon's game were still very evident. Lennon was extremely reluctant to take on his opposing full-back, despite the fact that he had already been badly unsettled and outpaced by Kyle Walker at the start of the game.
Instead, Lennon chose to cut in from the right flank nearly every time he got the ball, slowing down play and yielding no remotely decent end result time and time again.
Fans of Lennon will likely point to the fact that Lennon just returned to match fitness in the midweek Europa League match against Rubin, and that it will take him time to get truly back in form.
This may be true, and indeed I hope it is true, but this flaw of cutting in way too frequently has been present in Lennon's game for as long as I can remember. Here's hoping he can gain the confidence to be more courageous and contribute more successfully to Tottenham's success.
If not, then I personally cannot wait for Niko Kranjcar's return.
It's Going to Be Very Difficult to Bench Van Der Vaart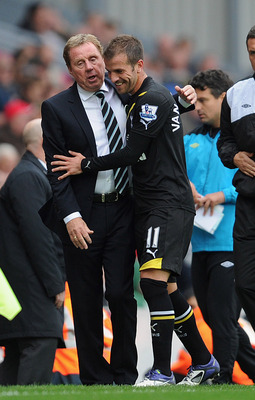 Michael Regan/Getty Images
I've been calling for Van der Vaart to be benched in favor of Defoe for sometime now, but following VDV's two-goal performance against Blackburn Rovers, its going to be nearly impossible to bench the Dutchman.
VDV has now scored five goals in his last four games, and had two assists in the two games prior. The guy is on fire.
I'd still like to see Emmanuel Adebayor get a little more involved in the goalscoring at Tottenham, and I think that Jermain Defoe can best facilitate this scoring, but with VDV on top of his game, it appears Defoe will have to wait for sometime to get his chance to prove his worth alongside Adebayor.
Whether that is a good or bad thing though, remains to be seen. I won't be convinced that VDV actually helps the team's fluidity and goalscoring until I actually see Tottenham consistently deliver the goods against the teams they should be beating.
Blackburn Need to Sack Steve Kean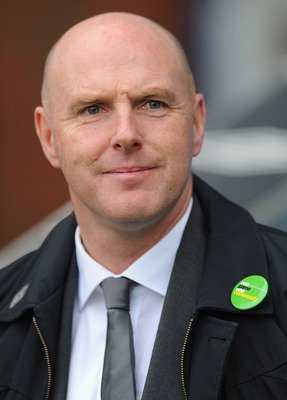 Michael Regan/Getty Images
Part of me wants to give Steven Kean the chance to stay on and prove himself...but the truth is that he's been under-performing at Blackburn from the day he replaced Sam Allardyce.
A reluctance to admit their mistake in sacking Big Sam and appointing Kean probably is a big reason why management has yet to sack Kean.
Under Big Sam last season, Blackburn were 6-3-8; not the best record, but certainly six wins was nothing to be scoffed at. Under Steve Kean, Blackburn finished the season's 21 remaining games with a record of 5-7-9, a record just as bad, if not worse, than Big Sam's.
In fact, despite a promising start under Kean, Blackburn fizzled out badly from February to April, recovering just in time to save themselves from getting too caught up in the relegation scrap.
This season, Kean has shown no improvement as a manager, and in fact looks to be one of the most lost managers in the EPL.
Despite having a former England goalkeeper, two of the best center-backs in England, a very promising winger in Junior Hoilett, and numerous other developing talents, Kean has not delivered results at all. Looking over the squad at Rovers, I had them pegged as comfortable 10th-12th place finishers.
At this rate, they'd be lucky to avoid relegation.
This squad is too good to be struggling this bad. The talent and upside is huge at Blackburn, but Kean is not the man to utilize it, as indicated by his preference of 33-year-old Jason Roberts over Yakubu Aiyegbeni, David Goodwillie and Ruben Rochina.
The sooner he goes, the sooner Blackburn can get things back on track.
Tottenham Will Need to Buy a Center Back in the Winter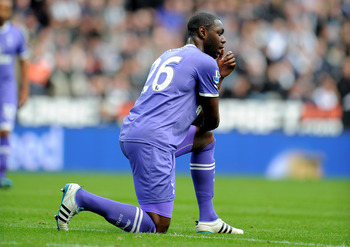 Michael Regan/Getty Images
This isn't a lesson from the match against Blackburn necessarily, only a point that needs to be made.
Against Blackburn, Tottenham's only two fit center-backs, Younes Kaboul and Sebastien Bassong, were not impenetrable, but they got the job done. Christopher Samba gave them both a bit of trouble in the air, but they both seemed up for the challenge, despite a few scares.
The problem, of course, is that these two are, in fact, Tottenham's only fit center-backs, and if they get injured, Tottenham will likely have to start sticking guys like Jake Livermore and Sandro Ranieri awkwardly in defense. This may work, but it is unlikely to yield good results consistently.
As I mention in my Tottenham transfer article here, Rio Ferdinand and Gary Cahill are two very good candidates for transfer, especially as the pressure continues to mount on Ferdinand at Manchester United and Cahill's Bolton continue to struggle at the bottom end of the table.
Other good center-back targets mentioned in the article include Marc Bartra, currently with Barcelona. Christopher Samba put a fine audition on for Tottenham with Rovers on Sunday, and would also be a very nice target.
With William Gallas seemingly out indefinitely, and Ledley King's status almost always up in the air, a center-back signing is not only favorable, but necessary. Yes, it'll surely cut into Younes Kaboul and definitely Sebastien Bassong's playing time when everyone is fit, but the needs of the team definitely come before the needs of the player in these cases.
And in any case, Bassong is strongly in favor of a move to QPR, and could partially fund the move for a more experienced, reliable center-back, or maybe even two.
Keep Reading

Tottenham Hotspur: Like this team?