2011 World Series: Texas Rangers Need Better Starting Pitching to Even Series
October 24, 2011
Bob Levey/Getty Images
Thanks to poor starting pitching, the Texas Rangers find themselves trailing the St. Louis Cardinals going into Game 4 of the 2011 World Series.
Trailing 3-1 might be too much for the Rangers to overcome, so the team will need to count on tonight's starter Derek Holland to get them back in the game. Unfortunately, he has not shown his best stuff in this postseason.
Holland finished the regular season tied for the team lead in wins with a 16-5 record to go with his respectable 3.95 ERA. The lefty finished the year strong by going 4-0 with a 2.20 ERA in September, including three starts of at least seven innings pitched with fewer than two runs allowed.
In the playoffs, however, Holland has not pitched more than five innings in any of his three starts. The Rangers need the young pitcher to keep his club in the game and not put too much pressure on the offense.
This World Series has not been kind to the starters for Texas. Colby Lewis came up big in Game 2, and it allowed the Rangers to remain in the game for a come-from-behind victory. C.J. Wilson was serviceable, but three runs allowed will not be enough to defeat Chris Carpenter this postseason.
Last night, Matt Harrison got rocked by Albert Pujols and the rest of the Cardinals lineup. The pitcher gave up five runs in 3.2 innings. None of the relievers were able to stop the bleeding, so the team was never in the lead, despite the Rangers' offense scoring seven runs.
This does not bode well for tonight's starter. Not only is the entire Cardinals offense red hot, but it is a right-handed heavy lineup that is ready to crush another lefty starter.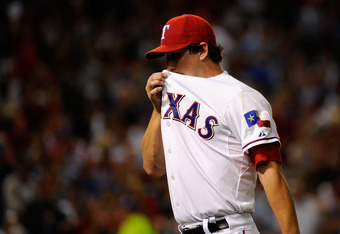 Kevork Djansezian/Getty Images
John Jay was the only left-handed batter in last night's starting lineup for the Cardinals. The big bats of Allen Craig, Albert Pujols and Matt Holliday are all right-handed, and Lance Berkman is a switch-hitter.
This season Derek Holland has been tough on southpaws, as they have only hit .235 against him. When facing right-handers, Holland has given up 19 of his 22 home runs, as well as a .272 batting average.
Holland needs to have his best stuff tonight for the Rangers to be successful, even if the odds are stacked against him.
Texas has an outstanding lineup, but it is tough for anyone to play catch-up all series long.