Cam Newton and 4 Players Who Are the Definitive Future of the NFL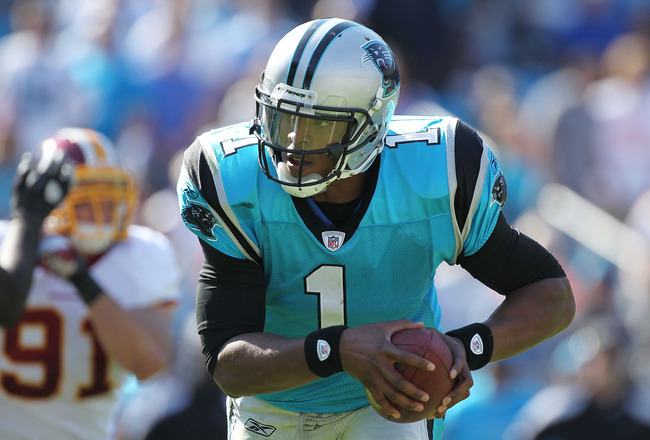 Scott Halleran/Getty Images
As Week 7 rolls on, there have been a number of impressive performances by young, up-and-coming players that make you think these players are the future of the NFL.
One of those players is Cam Newton, who got a ton of criticism by many, including myself, who didn't think he would make it in the NFL. Instead, he has carried the Carolina Panthers on his back the whole season and led his team to a big win over the stout Washington Redskins.
Who else could be premier NFL players in the future? Let's find out.
Honorable Mention: Tim Tebow, QB, Denver Broncos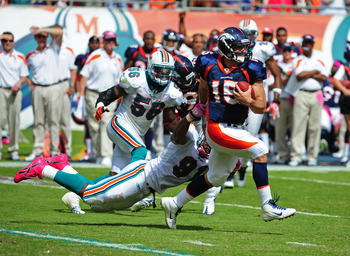 Scott Cunningham/Getty Images
Tim Tebow checks in as an honorable mention, simply because there is still a lot of controversy about whether or not he will succeed long term in the league.
However, he certainly took a big step towards proving himself today in a miraculous 18-15 comeback win over the Miami Dolphins.
Was the margin wide? Nope. Was the opponent impressive? Not really. But if one thinks back to previous games this season, you have to wonder whether or not Kyle Orton would have been able to orchestrate a comeback like that, especially against a defense as decent as Miami's.
Tebow struggled to move the offense early and was sacked a whopping seven times, but his late-game heroics prove that not only should he be Denver's starter, but he could be a star in the future as well.
Cam Newton, QB, Carolina Panthers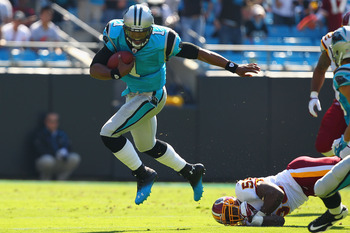 Dilip Vishwanat/Getty Images
Whether or not you're a fan of Cam Newton, he deserves some respect after what he's accomplished so far this season.
Newton has been far from perfect as a rookie, but not only have his stats been relatively eye-popping, now he's starting to win.
The Panthers' surprising 33-20 victory over the Washington Redskins was largely due to the stellar play of Newton, who completed 18-of-23 passes for 256 yards and a touchdown, while adding 59 yards and a touchdown on the ground.
Newton has also seemed to resuscitate receiver Steve Smith's career, who has had a few huge games this season and added another today, with seven catches for 143 yards.
If Newton continues to develop at a rapid rate, the Panthers could have one of the best quarterbacks in the NFL on a perennial basis before long.
DeMarco Murray, RB, Dallas Cowboys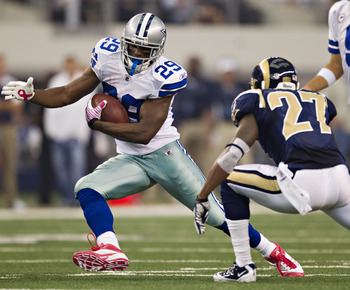 Wesley Hitt/Getty Images
It may be a little too early to be crowning DeMarco Murray as one of the top NFL backs of the future, but this is more of a projection pick. Given the way he's been tearing up the Rams in Felix Jones' absence, it's hard not to think big things.
Murray has averaged just 3.0 yards per carry through the first five games of his career, but he hasn't had many opportunities either; against the Rams, however, he set a franchise record with 253 yards on 25 carries, including a 91-yard touchdown scamper.
Murray has an exciting blend of size and speed, and considering Jones' injury history and the Cowboys' refusal to give Tashard Choice a significant amount of carries for whatever reason, the Oklahoma product could end up assuming the starting role in Dallas.
Don't be surprised if he rises into the upper echelon of NFL running backs in a short time.
Von Miller, OLB, Denver Broncos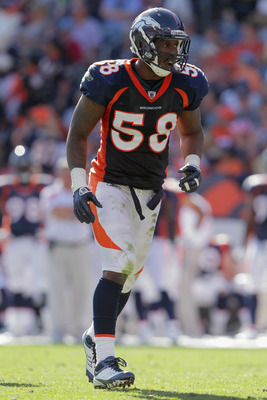 Doug Pensinger/Getty Images
Von Miller was picked right after Cam Newton in the 2011 NFL draft, and he may join Newton on top of the NFL before long.
Miller collected his sixth sack of the season against the Dolphins, and has 23 tackles and two forced fumbles as well. The Broncos' defensive system may not be ideal for Miller's strengths, and that was something I criticized when they made the pick, but it doesn't seem to be bothering him in the slightest.
Simply put, Von Miller is a monster, and he'll be one of the NFL's top pass-rushers in the near future. Denver took a big step towards returning to relevance with the second overall pick in the '11 draft.
Mike Wallace, WR, Pittsburgh Steelers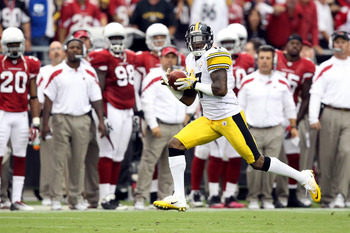 Christian Petersen/Getty Images
Mike Wallace is in his third year in the NFL, and he's already one of the top receivers in the game. He has Steelers fans saying, "Santonio who?"
Wallace came into the game against the Arizona Cardinals with 33 receptions for 612 yards and four touchdowns, and he added three grabs for 118 yards and a touchdown against the Cardinals.
Wallace is one of the top deep threats in the game, yet his consistency is remarkable. A Randy Moss type, we may be hearing his name mentioned in the same sentence as Moss in a few years.
Keep Reading

Carolina Panthers: Like this team?