Tim Tebow Girlfriend: Erin Andrews and Perfect Matches for Broncos QB
October 23, 2011
Kevork Djansezian/Getty Images
Sorry ladies, there are only a handful of girls in the world good enough for Tim Tebow. The Broncos quarterback is a polarizing figure on the field, but he's the best human in professional sports.
So who is good enough for Tebow? Every time he puts his arm around a hot girl, a media whirlwind is ignited, but it's going to take more than a pretty face to land America's least eligible bachelor.
Here are the only women who even have a shot at stealing Tebow's heart.
Erin Andrews
Erin Andrews is the perfect woman. She's the most famous sideline reporter ever and also happens to be a perfect 10. Dating Tebow would create a conflict of interest, but it may be worth it to Andrews, who wouldn't be able to pass up a shot at producing the perfect children.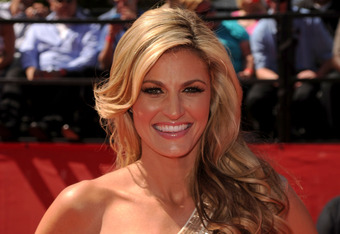 Jason Merritt/Getty Images
Andrews and Tebow's offspring would be professional athlete models who preach in their downtime. Andrews is one of the hottest women in the world, knows sports inside out and Tebow can bring her home to mom.
Oprah
Oprah is a huge philanthropist and a billionaire. Tebow isn't hard up, but dipping into those funds would allow him to help so many people, stepping into the Stedman role would be a no-brainer for Tebow.
Oprah may not be a model, but she's one of the most powerful women in the world and one of the only humans whose accomplishments grossly outweighs Tebow's. The Oprah and Tebow tandem would be a phenomenon so powerful that it could solve world hunger, cure cancer and maybe even bring a World Series win to the Cubs.
Elizabeth Hasselbeck
Elizabeth Hasselbeck has a thing for NFL quarterbacks and her morals are on point. She's happily tied down, but clearly Tebow would be an upgrade she wouldn't be able to pass on.
Hasselbeck is drop-dead gorgeous, and her conservative views and family values make her the ideal woman for Tebow. For a wholesome woman whose values are comparable to Tebow's, the QB might have to pull a robbery and snatch Hasselbeck away from Tim while she's still in her prime.